Sunday Supper
Sunday Supper is an important initiative by blogger Isabel Laessig of Family Foodie. Her simple mission is to bring back Sunday supper around the family table (whatever family means to you).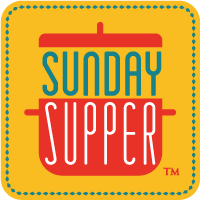 Joining her in this mission are food writers who agree that gathering at least once a week for a family dinner is the most important thing we can do as a family. And what starts out once a week soon grows into a daily habit. At my house, we are lucky enough to be able to eat dinner together each night. It's a time to share stories about our day, dream about the future, tell a joke, enjoy each other's company, tease…
Each Sunday, the #SundaySupper group puts together wonderful recipes based on a theme. For more information check out Isabel's page.
Here are my posts that contain all of the group's recipe links since I first joined:
2014
Fall Foods: Hatch Chile Hummus (Sept. 21, 2014)
Squash Fest: Copycat Spaghetti Squash Casserole from True Food Kitchen (Sept. 7, 2014)
Tantalizing Trays: Heirloom Caprese Salad (Aug. 31, 2014)
Saving Summer: Raw Raspberry-Vanilla Chia Jam (Aug. 10, 2014)
Celebrate Beef: Meatball Lover's Sandwich (Aug. 3, 2014)
Grilling with Gallo: Grilled Caesar Salad (July 13, 2014)
Summer Chillin': Avocado Hummus Dip (July 6, 2014)
Picnic for July 4th: Red White and Blue Fruit and Cheese Salad (June 29, 2014
Man Food: Lacquered Short Ribs in the Slow Cooker (June 15, 2014)
Father's Day: Baked Lentil Chilaquiles Casserole (June 8, 2014)
No-Bake Summer Recipes: Creamy Chocolate Blender Mousse (June 1, 2014)
Recipes from the Garden: White Bean Cilantro Chopped Vegetable Salad (May 25, 2014)
Potato Salad Possibilities: Deconstructed Potato Salad with Smoky Fingerlings (May 18, 2014)
Mother's Day: Scotch Tea Cookies (May 11, 2014)
5 Ingredients or Less: 4-Ingredient Butterscotch Peanut Butter Marshmallow Sweets (April 27, 2014)
Easter/Passover Feast:  Smoked Salmon Dip with Greek Yogurt and Capers (April 20, 2014)
Stuffed: Endive Stuffed with Blue Cheese, Walnuts and Honey (April 13, 2014)
National Grilled Cheese Month: Roast Beef Horseradish Arugula Grilled Cheese   (April 6, 2014)
The Best Recipes Always Have a Story: World's Best Turkey Meatballs (March 23, 2014)
Eat Your Greens: Pixie Dust Salad with Avocados, Pixie Tangerines and Radishes (March 16, 2014)
Meatless Meals: Chickpea Chile Soup with Greens and Grains (March 9, 2014)
Fat Sunday (Fat Tuesday!): Baked Endive and Pears in Blue Cream Sauce (March 2, 2014)
Chili Contest:

I WON!

  Chili Mole with Red Beans and Raisins (Feb. 23, 2014)
Gallo Wines: Fruity Burgundy Sangria (Feb. 16, 2014)
Valentine's Day: Kumquat Vanilla Marmalade (Feb. 9, 2014)
Game Day: Honey Mustard Pretzel Crunch (Feb. 2, 2014)
Gallo Wines: Spinach Balls (Jan. 26, 2014)
Tapas: Cowboy Caviar (Jan. 19, 2014)
Sunday Supper 2nd Birthday: Day at the Beach Healthy Tuna Salad (Jan. 12, 2014)
Slow Cooker: Slow Cooker Chickpeas (Jan. 5, 2014)
2013
2012