Print This Post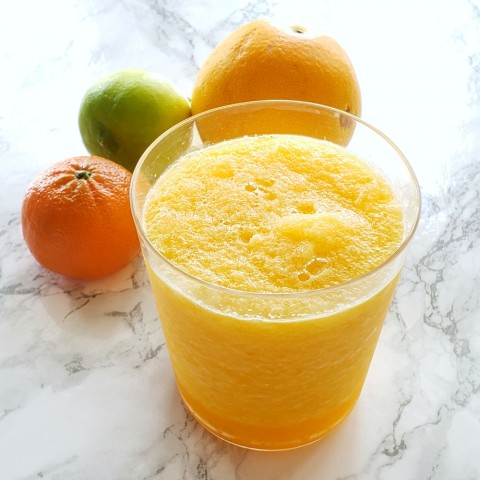 A cooling, soothing, cooling, citrusy slushy that will tame a sore throat, offer extra Vitamin C for an impending cold, and make everything better. This is good for what ails you.
If your kid or spouse or heck, even YOU, happen to come down with a sore throat, get out the blender.
In 30 seconds you will have a soothing, good-for-you beverage that might help. It will certainly cool down your throat, and honestly, it cannot hurt.
Three kinds of citrus combine to give you a sweet-tart icy beverage that swallows easily and leaves you refreshed.
Background on Vitamin C
In the 1970s, Nobel prize winner Linus Pauling popularized the theory that Vitamin C helps treat colds. He published a book about cold prevention using megadoses of Vitamin C, or up to 18,000 mg daily. (For comparison, the Recommended Dietary Allowance is 75 mg for women and 90 mg for men. These numbers vary by age, and you need more if you smoke, are breastfeeding, etc. The RDA is based primarily on the prevention of a deficiency disease like scurvy.)  At that time, no reliable studies had proved the idea about cold prevention to be true.
But in the following few decades, multiple randomized controlled studies examined whether the vitamin had any effect on the common cold. While it appeared that supplementing with Vitamin C did not reduce the risk of catching a cold, a supplement of 6-8 grams did show several benefits,  including:
–Reduced cold severity: They reduced the symptoms of a cold, making it less severe.
–Reduced cold duration: Supplements decreased recovery time by 8% in adults and 14% in children, on average.
That's enough for me. I will take those odds! Any reduction in symptoms and duration is a win in my book. (If you want to read more deeply into the science of Vitamin C, you can read a fact sheet for health professionals here. And further, here's an overview brief on Vitamin C from the Mayo Clinic.)
How do you make a Sore Throat Slushy?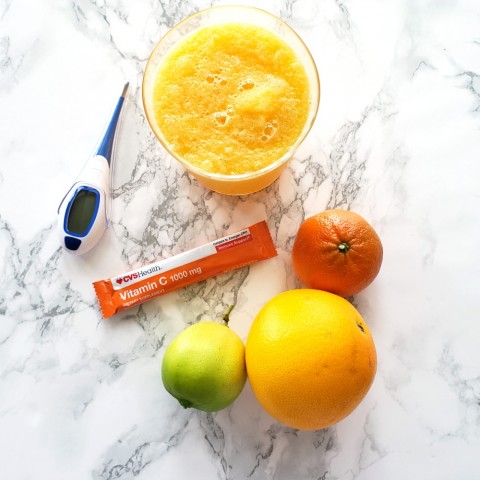 It's easy. Simply combine the juice of a lime or Meyer lemon, juice of an orange, a whole peeled tangerine and a packet of Vitamin C in a blender and whir until it is well combined. Add a squirt of sweetener (agave?) and a half a glass of ice cubes, and whir again for 15-30 seconds or so, until it turns into a slushy!
That's it. Without making any unsubstantiated health claims about this delicious drink (other than there is 100% chance of it cooling down a raging sore throat), I say we'd best be off to make a Sore Throat Slushy.
And if you don't have a sore throat, you can make it an enjoy it anyway! It's based on my beautiful Strawberry Citrus Frappe, which my son begs for.
A cooling, soothing, cooling, citrusy slushy that will tame a sore throat, offer extra Vitamin C for an impending cold, and make everything better. This is good for what ails you.
Ingredients
1 lime, juiced
1 tangerine, peeled
1 orange, juiced
1 packet Vitamin C (such as Emergen C or generic version)
Agave, a squirt
Ice cubes
Directions
In a blender, add lime juice, peeled tangerine, orange juice and packet of Vitamin C. Blend on high about 15-30 seconds to pulverize.
Add a squirt of agave and half a glass of ice cubes, and whirl again, 15-30 seconds, until slushy consistency. Taste and add more sweetener if you like, but remember this is not supposed to be an overly sweetened drink. It should taste refreshing. (I am suggesting a liquid sweetener like agave so it dissolves easily and you aren't left with gritty sugar crystals on the bottom of the blender.)
Pour into glass and serve.
Makes 1 serving.
Notes
Recipe source: Dorothy Reinhold | Shockingly Delicious
https://www.shockinglydelicious.com/sore-throat-slushy/
Copyright Dorothy Reinhold | ShockinglyDelicious.com. All rights reserved.
If you like this recipe and want to save it, pin the image below to your Pinterest board!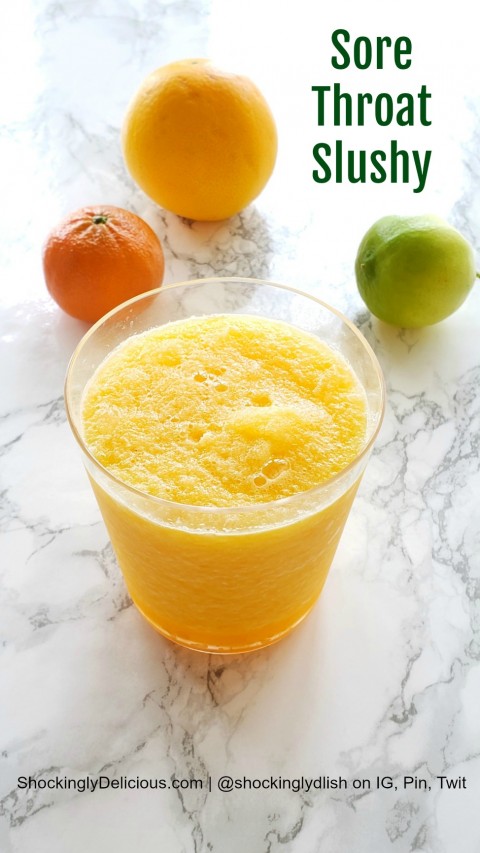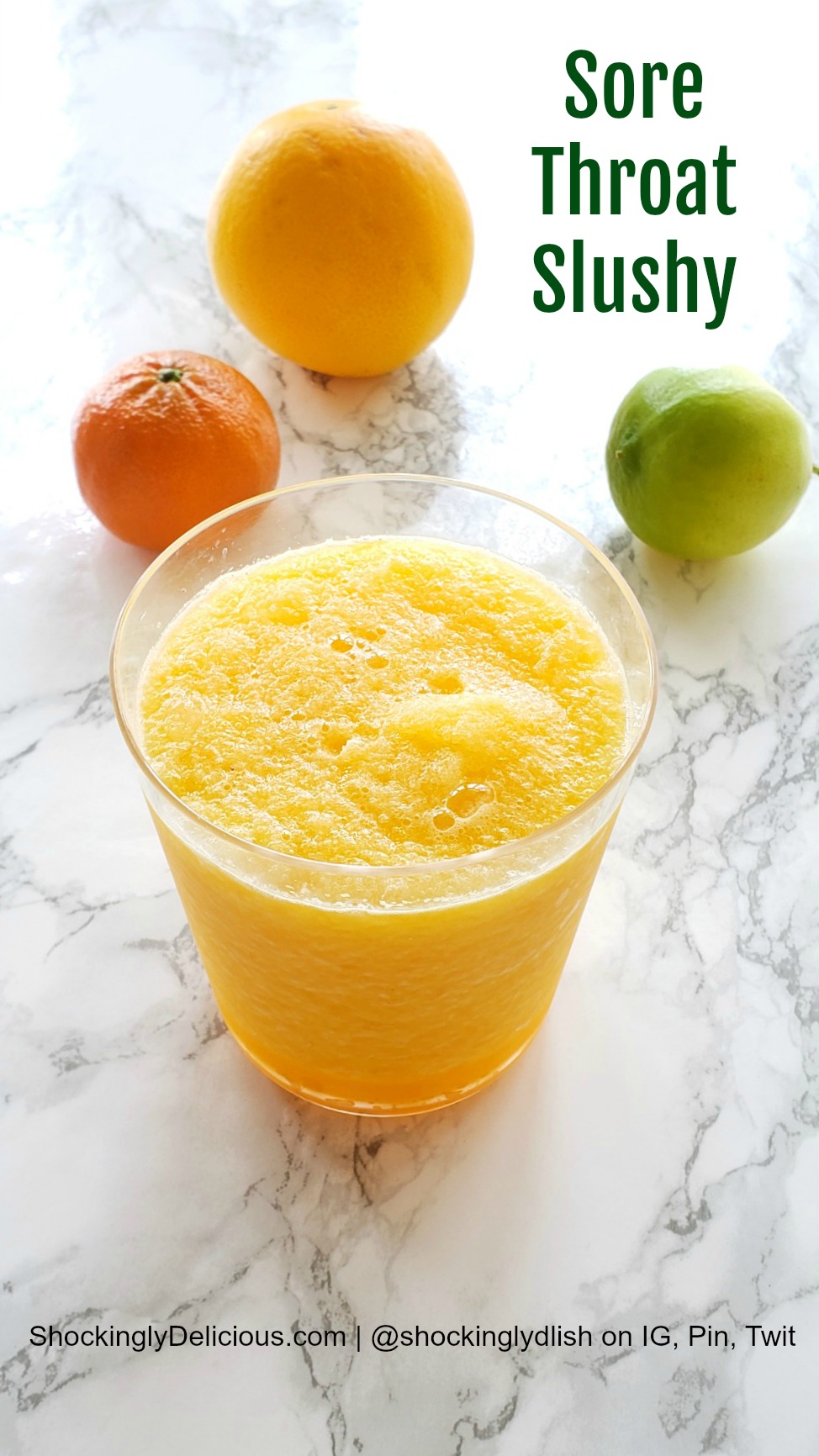 Thanks for visiting…are you hungry for more? Follow Shockingly Delicious on…
FACEBOOK | PINTEREST | INSTAGRAM | TWITTER
…for all the latest recipes, ideas and updates!
This post may contain affiliate/referral links. It is a way for this site to earn advertising fees (at no cost to you) by advertising or linking to certain products and/or services that I approve and prefer.