Print This Post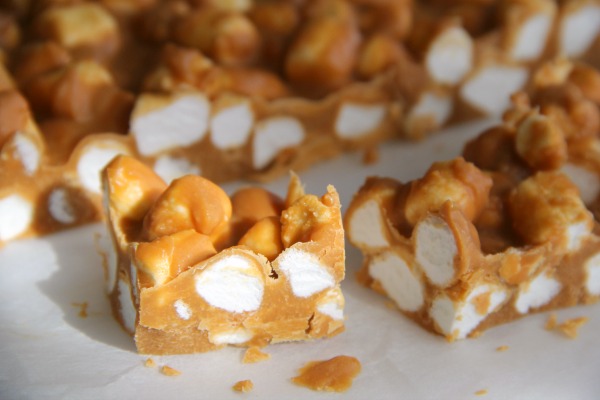 I predict you're going to want to slap me after you make this sweet treat. Easter is barely over, and here I am with a butterscotchy, sugary, marshmallowy bit of sin.
Get over it! You need this easy thing for all the events you have coming up. You know, the spring flings, the Mother's Day brunches, the piano recital/play performance/athletic awards banquets you have looming towards the end of the school year. Or maybe you need them just because.
Bonus? There are only four ingredients, and double bonus, the Sunday Supper crew has a whole list of suggestions of delectables all under five ingredients this week. Easy is our collective middle name.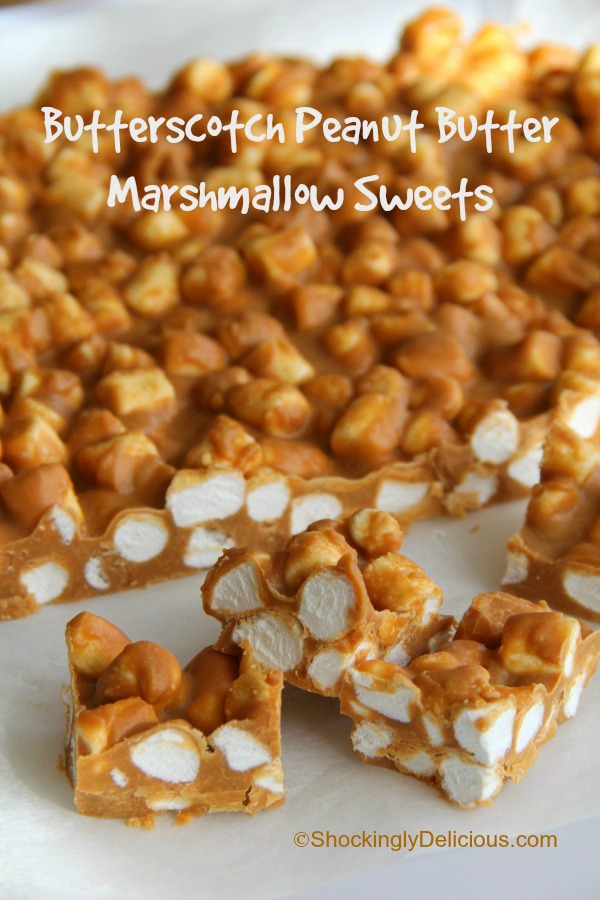 Recipe: 4-Ingredient Butterscotch Peanut Butter Marshmallow Sweets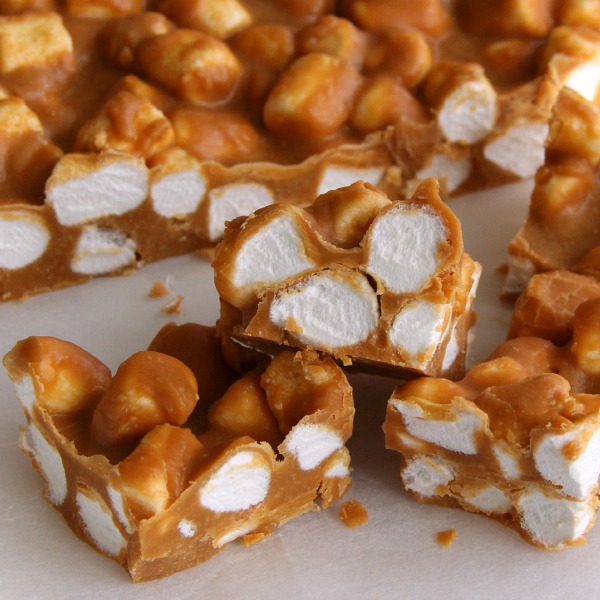 Summary: 4-Ingredient Butterscotch Peanut Butter Marshmallow Sweets: Chewy, fluffy, sweet, nutty and utterly addictive, these make a great offering for a brunch or dessert party.
Ingredients
1 stick (1/2 cup) unsalted butter
3/4 cup peanut butter
1 (11-ounce) bag butterscotch chips (scant 2 cups)
4-4 ½ cups mini marshmallows
Instructions
In a medium saucepan over medium heat, add the butter, peanut butter and butterscotch chips. Melt, stirring frequently, until smooth; do not boil. Turn off heat and allow to cool for 15 or so minutes.
Prepare a 9-inch square baking dish by lining the bottom and sides with parchment paper. Allow some paper to extend so it can be used as "handles" to remove the sweets from the pan later. Set aside.
Meanwhile put marshmallows into a mixing bowl. When butterscotch mixture is slightly cool, add it to the marshmallows and stir until all mallows are fully coated. (If you add it while super hot, it will melt the marshmallows and ruin the effect you are going after.) Scrape mixture into the prepared pan, smooth top lightly to tamp down any rogue mallows, and refrigerate for 1-2 hours, until the slab is set and firm.
Remove from refrigerator, and using the parchment handles, remove the slab from the pan. Cut using a long sharp knife into squares or bars of your size preference. It's rich and sweet, so small is good.
Make 40-56 bars, depending on size.
After cutting, store in refrigerator or better yet, the freezer! They are so good straight out of the freezer. Not that I would know.
Recipe source
Dorothy Reinhold | ShockinglyDelicious.com
Variations
When I posted a photo of this on Facebook several people piped in saying it needs bacon. You know what? It would be awesome with bacon! And that would still live within the 5-ingredient rule for today, so add cooked bacon pieces if you like. Another person said it looked like "a heart attack on a plate." Well, bacon plays along with that notion, too. So if you are so inclined, you have my blessing to add bacon!
Cooking time: 10 minutes
Cooling time: 60 minutes
Number of servings (yield): 25
Culinary tradition: USA (General)
My rating 5 stars:  ★★★★★