Print This Post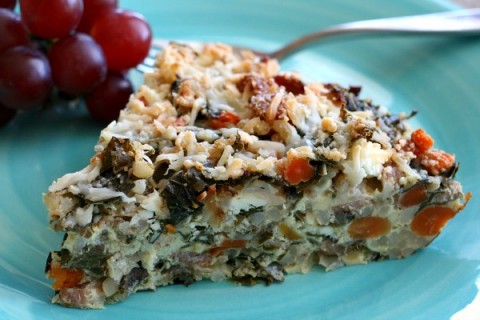 Breakfast for dinner – brinner, if you will – is always a favorite. If my husband is cooking, he will skew towards the standard scrambled eggs, bacon, hash browns and toast.
Nothing wrong with that (either him cooking, or his food choices)!
If I'm cooking, I lean towards a quiche. Lately I'm partial to a crustless number, filled with some whole grain and my beloved kale. And feta…always feta.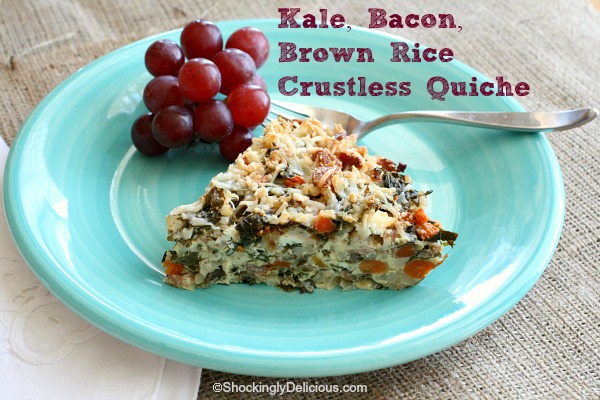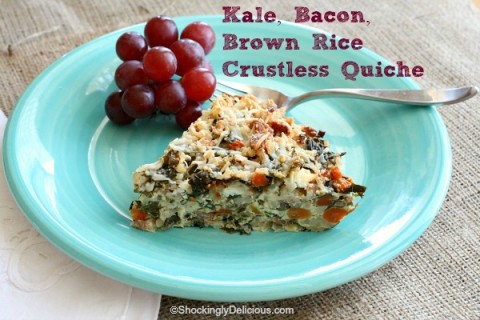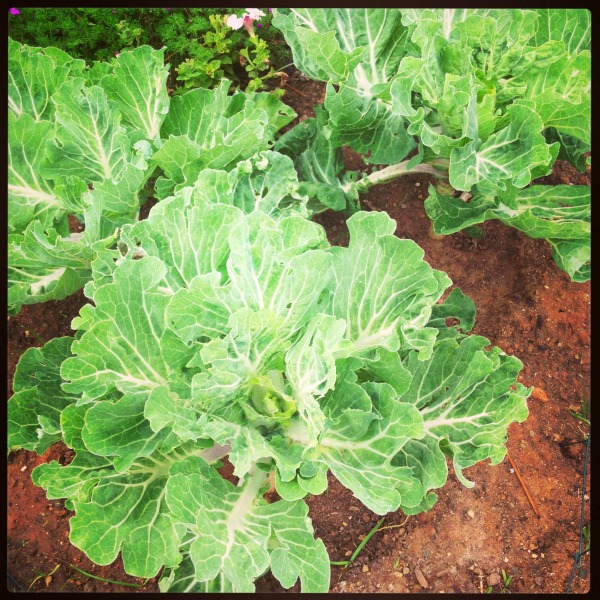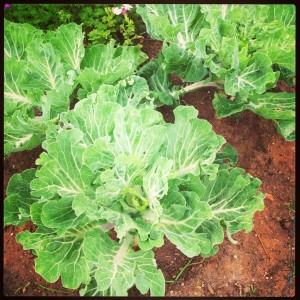 Speaking of kale, take a look at this little crop, which I'm growing in my front parkway. I have enough for me and some neighbors.
This delicious wedge o' goodness combines the best aspects of breakfast or brunch to make a satisfying dinner – eggs! Bacon! Cheese! Kale and carrots!
Hey, nothing wrong with working some vegetables into your brinner!
Recipe: Kale, Bacon, Brown Rice Crustless Quiche
Summary: Crustless quiche stuffed with kale, bacon and feta makes a satisfying and healthy breakfast, brunch, lunch or dinner.
Ingredients
6 slices bacon
1 onion, chopped
2 garlic cloves, minced
1 bunch kale, washed, stemmed and chopped (I used the kale I'm growing in my front yard!)
1 cup day-old cooked brown rice
1 cup cooked carrots, chopped (optional; use if you have them, for good color)
¼ cup milk
2 tablespoons water
6 drops Tabasco (I used Tabasco Habanero)
5 eggs
¼ teaspoon freshly grated nutmeg
Freshly grated pepper
½ cup crumbled feta cheese (I used Raw Goat Feta from Redwood Hill Farm)
¼ cup shredded Parmesan cheese
Garnish: Serve with pico de gallo or salsa if you like (I served with a mango-pineapple salsa)
Instructions
Heat oven to 350F degrees. Mist a 10-inch pie dish with nonstick spray and set aside.
Cook bacon in a skillet until crisp. Remove strips to a plate lined with paper towel to cool. When cool, chop or break into small pieces.
In skillet with bacon fat, sauté onion until it begins to brown, about 7-8 minutes. Add garlic and sauté another minute or two. Scrape onion mixture into a large mixing bowl.
In same skillet, add kale and sauté until wilted, 6-8 minutes, stirring often. Scrape kale into the bowl with onion. Add cooked rice to the bowl, along with cooked carrots, if using, and cooked bacon. Stir to combine everything well.
In a 4-cup measuring cup, add 1/4 cup milk, 2 tablespoons water, Tabasco, eggs, nutmeg and a few grinds of pepper. Whisk to combine.
Spoon one-third of the onion-kale mixture into the prepared pie dish. Sprinkle on half the feta. Spoon half the remaining onion-kale mixture on, followed by the rest of the feta, and then the rest of the onion-kale mixture. Pour egg-milk mixture evenly over top (it may look like it isn't enough; don't worry). Sprinkle Parmesan on top.
Bake uncovered for 45 minutes, until the quiche browns a bit on top. It will be set in the middle.
Remove from oven and allow to cool for 10-15 minutes before cutting to serve. Alternatively, bake it ahead, cool and then keep refrigerated until serving time. Reheat slices briefly in the microwave, on 50% power, if you like. This also is wonderful served at room temperature. Offer salsa at the table for those who want it. 
Serves 6.
Sunday Supper
See this page for all the wonderful #SundaySupper dishes I have made since I joined this group, and links to all the other delicious dishes made by my fellow cooks.
Preparation time: 20 minutes
Cooking time: 45 minutes
Gluten-Free
Number of servings (yield): 6
Culinary tradition: USA (Nouveau)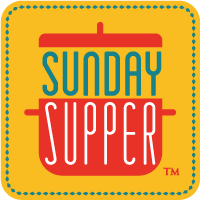 This week our #SundaySupper crew is celebrating
Breakfast for Dinner
. Check out the variety of things we have cooked up for you! Try my healthy Kale Crustless Quiche, or find something else from the menu below that floats your boat:
But wait, there's more!
Normally it would be socially unacceptable to have wine with your breakfast, but seeing as this is closer to sunset than sunrise, we say go for it!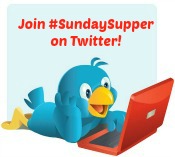 Come celebrate Breakfast for Dinner with the Sunday Supper Team! We would love to have you join our Twitter #SundaySupper chat starting today at 7 p.m. EST. Follow the #SundaySupper hashtag throughout the day to see the amazing recipes. We look forward to seeing you.  To join, simply follow the #SundaySupper hashtag and share your favorite tips and recipes. And be sure to check out our #SundaySupper Pinterest board for more delicious recipes and photos.