Print This Post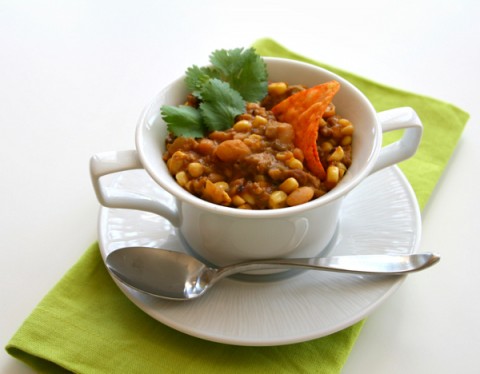 Holiday weekends demand lots of flexibility.
Are you eating outside to capture the remaining lovely summer evenings before it's too cold? Are you invited somewhere and need to take a winning potluck dish? Do you want to treat your family to some good home-cooked food?
Today's recipe for Newfangled Cowtown White Chicken Chili satisfies all those needs, and more. It's a perfect bowl of dinner with the family Sunday night, or any night. In fact, it tastes even better as leftovers, as most chilis do, so make plenty and eat it again on a weeknight.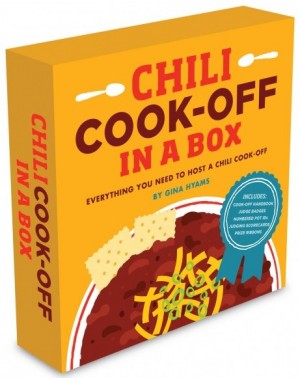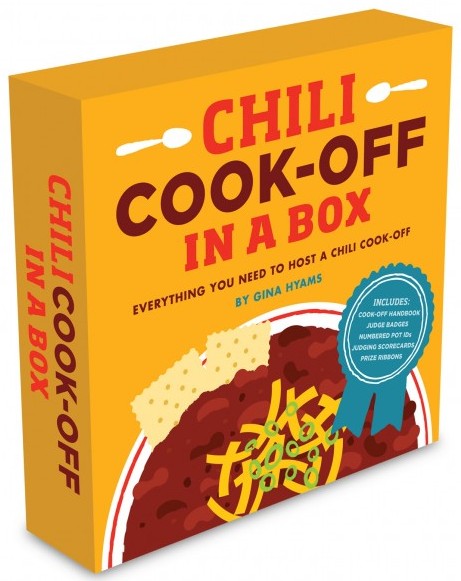 The recipe came from a funny new kit called "Chili Cook-Off in a Box: Everything You Need to Host a Chili Cook-off" by Gina Hyams (Andrews McMeel Publishing; $14.99). You might remember the author from her first "in a box" book kit, the clever "Pie Contest in a Box."
This continues the theme, and teaches you everything you need to know to host a chili cook-off. Hey, THAT would be a great Labor Day party, wouldn't it? The box includes judge badges, numbered pot IDs, judging scorecards, prize ribbons, and priceless advice in a handbook on planning, setting the stage, a supplies checklist (water pitcher!), tips for judges, theme suggestions and, of course, prize-winning recipes.
It would make a fun gift book kit for a chilihead, and certainly is a must-have for anyone hosting a chili throwdown.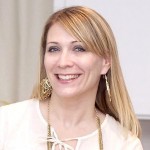 This recipe, by Aimee Lane, was the People's Choice Winner at the Lane family Halloween chili cook-off. Lane writes the crafty cooking blog It's Overflowing, and cooks for her family in Fort Worth,Texas. She advises chili cook-off hosts to "relax and enjoy the process."
I chose it because I love a good white chicken chili, and I had most of the ingredients. It turned out to be a wonderful bowl o' white!
Recipe: Newfangled Cowtown White Chicken Chili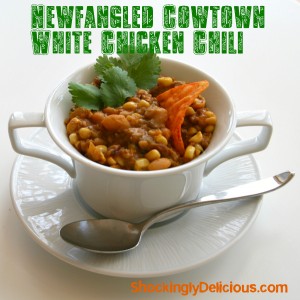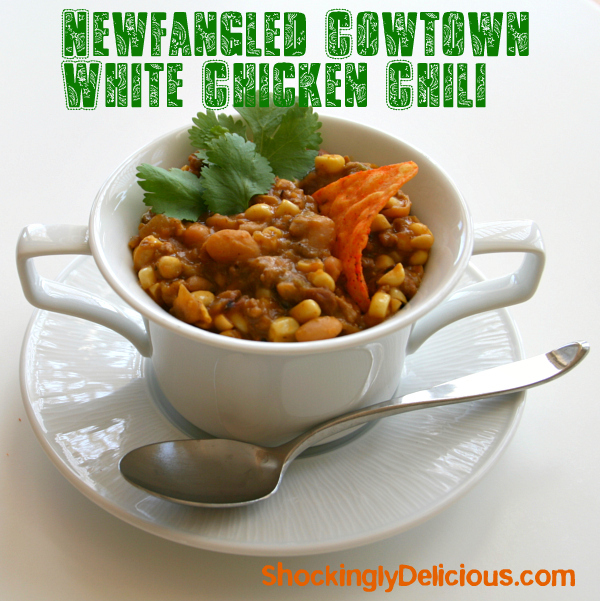 Summary: Green chiles, cumin, cayenne, oregano and garlic enliven this White Chicken Chili that was a people's choice winner in a Texas chili contest. Use Hatch green chiles if you have them!
Ingredients
1 tablespoon olive oil
2 medium onions

(I used 1 humongous onion)

4 garlic cloves, crushed
1 (4-ounce) can green chiles (I used 5 Hatch chiles, roasted, skinned, seeded and chopped)
4 cups cooked and shredded chicken

(I used 1 20-ounce package lean ground turkey)

2 teaspoons ground cumin
1 ½ teaspoons dried oregano
¼ teaspoon cayenne pepper
6 cups vegetable broth
3 (15-ounce) can Great Northern white beans, drained and rinsed

(I used 1 can each of Great Northern, white beans and pinto beans)

2 tablespoons flour
Salt and pepper
4 ears of corn, kernels stripped off

(this is my addition because I had corn!)

Garnishes: Sour cream, grated cheddar or Jack cheese, tortilla chip,

chopped fresh cilantro
Instructions
Heat the oil in a large pot over medium-high heat. Add the onions and sauté about 10 minutes, until translucent; add the garlic during the last minute with the onions.

(If you are using ground turkey, as I did, add it here and cook for about 10 minutes.)

Add the chiles, chicken (if using), cumin, oregano and cayenne pepper. Sauté for 2 more minutes. Add vegetable broth, beans and flour. Cover, bring to a boil, reduce the heat and simmer for 2 hours or longer, stirring occasionally.

(I simmered it for only about 1 hour, leaving the lid off for the last 30 minutes because it looked a bit soupy for my taste. I also added the corn kernels during this last 30 minutes.)

Ladle into bowls and garnish as you like. I used a hefty toss of chopped cilantro and some grated Mexican-blend cheese.
Serves 6-8.
My changes and additions
I'm a big fan of using what you have, so I had ground turkey but not chicken, so I used the turkey. It is Hatch chile season, and I had some, so I used Hatch instead of canned green chiles, and my corn needed to be used, so into the pot it went. Follow her original recipe, or use my tweaks…suit yourself!
Source
Aimee Lane of Fort Worth, Texas, from "Chili Cook-Off in a Box Handbook" by Gina Hyams (Andrews McMeel Publishing; $14.99).
Preparation time: 10 minutes
Cooking time: 1 hour 30 minutes
Number of servings (yield): 6-8
Culinary tradition: USA (Southwestern)
I'm bringing this delicious chili to our virtual #SundaySupper Labor Day Cookout. The talented #SundaySupper team has lots of great suggestions below for your holiday cookout. Choose something, invite some friends over, and enjoy the last days of the season!
Labor Day Cookout Recipes from #SundaySupper cooks:
Starters & Snacks
Salads & Sides
Drinks
Desserts
Wine Pairings
Labor Day Cookout Food And Wine Pairings by ENOFYLZ
Please be sure you join us on Twitter throughout the day during #SundaySupper. We'll be meeting up at 4 p.m. PST for our weekly #SundaySupper  live chat where we'll talk about our favorite cookout recipes. All you have to do is follow the #SundaySupper hashtag, or you can follow us through TweetChat!
The Hatch chiles were sent from Melissa's Produce for recipe trial. The "Chili Cook-Off in a Box: Everything You Need to Host a Chili Cook-off" was sent by the publisher for review.