Print This Post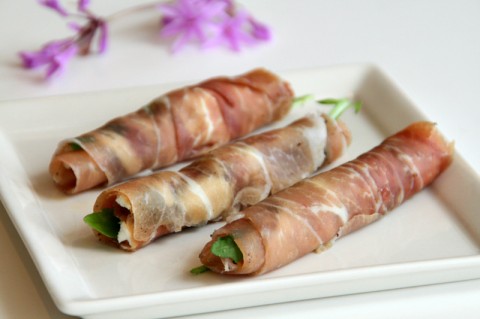 As our nation grieves for the families in Connecticut, it might seem disconcerting for us in the food blog world to urge you to keep on going. Keep on making Sunday dinner for your families, embrace them and draw them close to you at the Sunday dinner table, especially in these tough emotional times. The best way for all of us to recover our stability is to focus on family and celebrate the relationships we have that we hold dear. We're sharing our dishes around the family table today, but our #SundaySupper Twitter chat held each week is cancelled today in honor of the victims and their families.
In that spirit, I offer possibly the best appetizer I have made in forever. This roll combines salty prosciutto, tangy, earthy goat cheese, sweet fig, peppery arugula and aromatic lemon and garlic to make a party in your mouth! Truly!
Prosciutto cigar anyone? Yes please!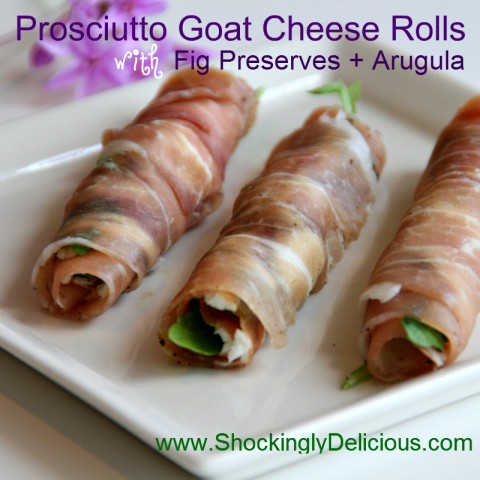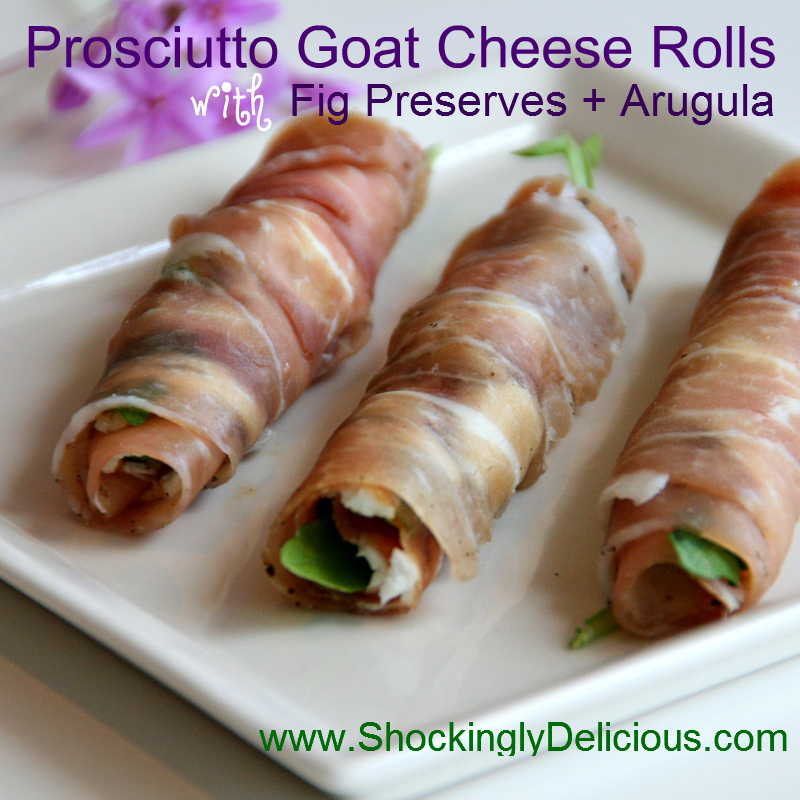 I say let's just go ahead and declare that appetizers can be dinner. Are you with me?
This one would make a perfect Christmas, New Year's or holiday-time appetizer. You would be the hero of the party if you brought these.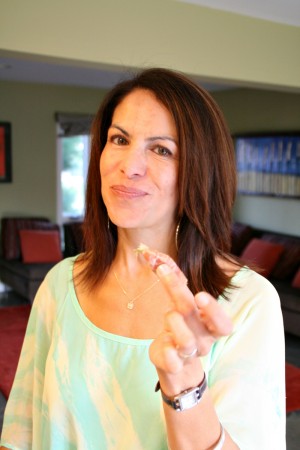 I made it for my friend Teri, who was throwing herself a birthday party, and you can see that it was well received! My pal Michelle kept sneaking them. (I find that endearing.)
In addition, I made Tapenade, which also went over well. That's another wowser flavor that makes an easy party appetizer.
We were having a wine tasting, with many delicious appetizers brought by guests, and may I just recommend that as a party theme? Major success!
The recipe makes 24. I could lie and say it serves 24, but really, it serves no more than 12, because each person is going to eat one, and then grab another one immediately.
Oh, who am I kidding? It serves you and me, and that's it!
Recipe: Prosciutto Goat Cheese Rolls with Fig Preserves and Arugula
Summary: This appetizer is a party in your mouth, with salty prosciutto, tangy goat cheese, sweet fig, peppery arugula and aromatic lemon and garlic.
Ingredients
2 tablespoons extra-virgin olive oil
2 teaspoons grated lemon zest
1 tablespoon fresh lemon juice
6 ounces soft goat cheese, at room temperature
2-3 cloves garlic, peeled and minced
12 slices (not paper-thin) prosciutto, halved crosswise
1⁄2 cup fig preserves (I used Just Jan's Kadota Fig Fruit Spread)
1⁄2 bunch arugula, trimmed
Freshly ground black pepper
Instructions
Whisk oil, lemon zest, and lemon juice together in a small bowl and set aside. Mix goat cheese and garlic together in another small bowl and set aside.
Spread a thin layer of the goat cheese mixture on each piece of prosciutto, spread a thin layer of fig preserves over cheese, and top with 1–2 arugula leaves. Drizzle with some of the lemon vinaigrette and season to taste with pepper. Roll prosciutto up around filling and arrange on serving platter, seam side down. Garnish platter with parsley, if you like.
Makes 24.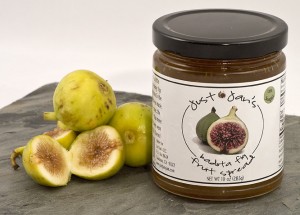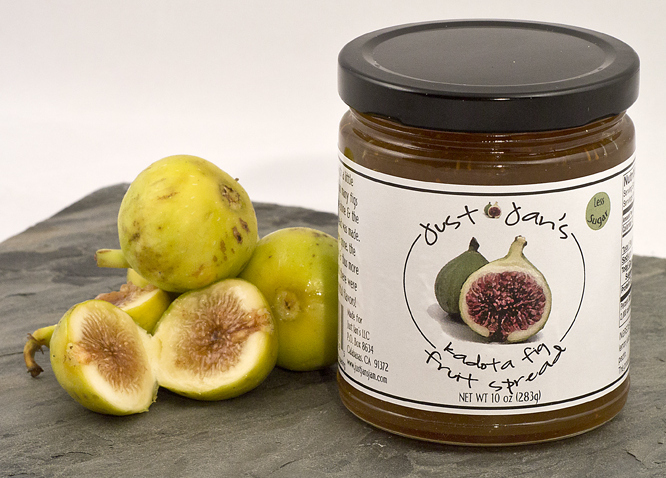 This is a premium local preservers maker who uses local fruit, a minimum of sugar, a splash of lemon juice and some pectin. That's it! Jan can't call it jam because the sugar content is too low to be classified as jam, so it gets labeled "spread." That works for me, because less sugar means more fig flavor. She has other spreads, including raspberry, pomegranate, a zippy mango chipotle and apricot, for example. They are the truest, purest flavors you can imagine! I recommend them highly. Just Jan's sent a sample of the Kadota Fig Fruit Spread for recipe testing. 
Preparation time: 30 minutes
Number of servings (yield): 12
Culinary tradition: USA (Nouveau)
My rating 5 stars:  ★★★★★
Here's a list of all the recipes I have brought to our #SundaySupper virtual meals so far. Browse through them…lots of good ideas in here!