Print This Post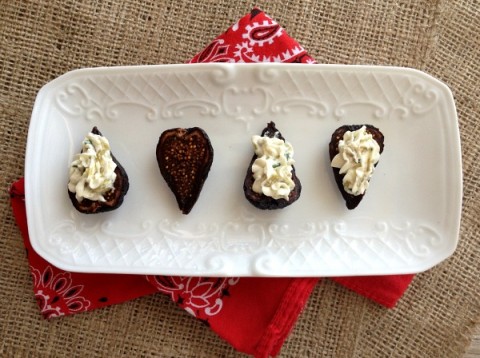 I'm going to let everyone else bring the hamburgers, steaks, fried chicken and potato salad to the Labor Day potluck tomorrow.
I'm bringing something a little special, a lot seasonal, a little frou-frou and a lot tasty: California dried Mission figs, topped with fresh goat cheese flavored with roasted Hatch chiles and snipped chives.
Can you stand it? You only have to cool your jets for about 10 minutes, and they'll be all done, plated and ready for you to snitch. Go ahead, I'll make more.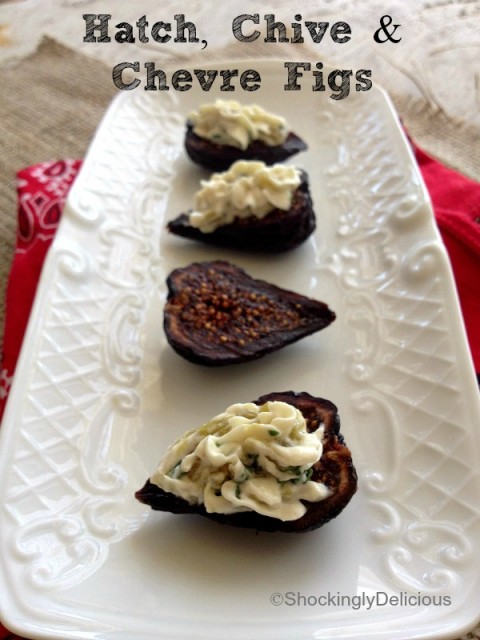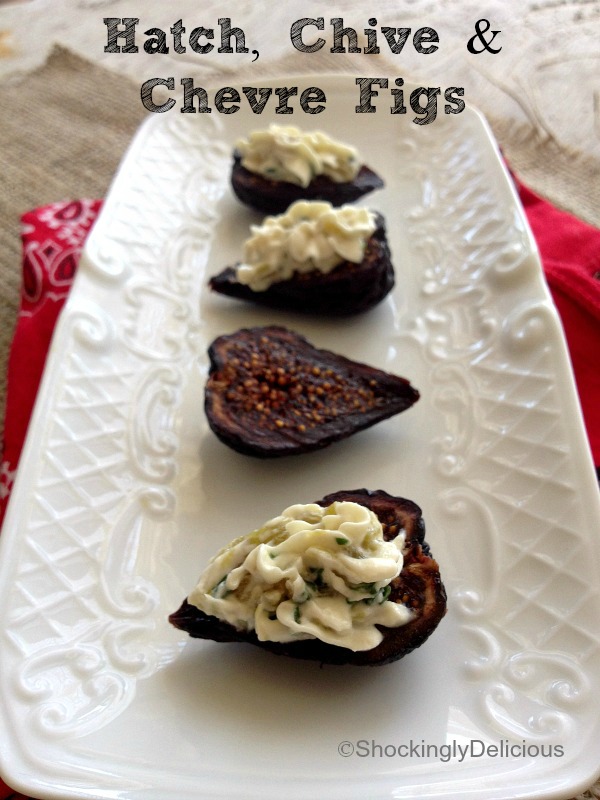 Recipe: Hatch, Chive & Chevre Figs
Summary: Sweet dried California figs are topped with a rich chevre flavored with roasted New Mexican Hatch chiles and chives – the perfect appetizer!
Ingredients
Instructions
Roast Hatch chiles on the grill or as described here. (You may do this ahead of time to save prep time on the day you want to make this.) Peel the skin off, remove stem and seeds, and dice.
In a mixing bowl, add chevre and beat for 30 seconds until soft. Add chiles and chives and stir well to combine.
Remove stems from dried figs and slice figs in half vertically. Top each fig half with flavored chevre, either using a spoon, a piping bag or a snack-size zipper-top bag with a corner cut off (to mimic a piping bag).
Place on a pretty platter and serve.
Allow 2 fig halves for each person. Serves 10.
Source
Dorothy Reinhold / Shockingly Delicious
Sunday Supper
See this page for all the wonderful #SundaySupper dishes I have made since I joined this group, and links to all the other delicious dishes made by my fellow cooks.
Preparation time: 10 minutes
Cooking time: 20 minutes
Diet type: Vegetarian
Diet tags: Gluten free
Number of servings (yield): 10
Culinary tradition: USA (Nouveau)
My rating 5 stars:  ★★★★★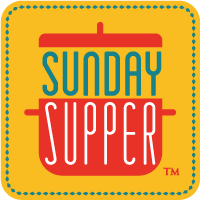 This week our #SundaySupper crew is having a Labor Day potluck. Check out the variety of things we are bringing to the party. Try my fancy fig appetizer,  or find something else from the menu below that floats your boat:
Refreshing Drinks
Amazing Appetizers and Sides
Enviously Good Entreés
Delicious Desserts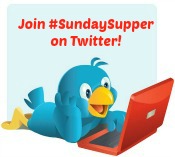 Come celebrate Labor Day with the Sunday Supper team! We would love to have you join our live  #SundaySupper Twitter chat starting today at 7 p.m. EST.
Disclosure: Melissa's Produce sent the Hatch chiles and Redwood Hill Farm sent the cheese for recipe testing.