Print This Post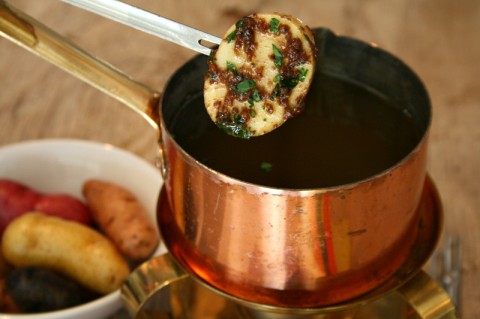 An Italian version of a fondue, Bagna Cauda (translated as "hot bath") is basically heated garlicky olive oil amped up with anchovies and used as a dip for vegetables and bread.
What could be more delicious?
Well, since you asked, this version, which I created for the Idaho Potato Commission, in which I added a few other aromatic ingredients to the dip, and instead of bread, we're using steamed potatoes!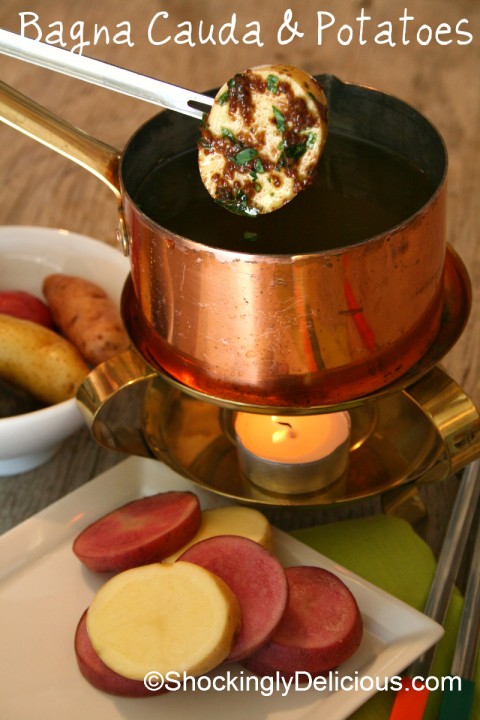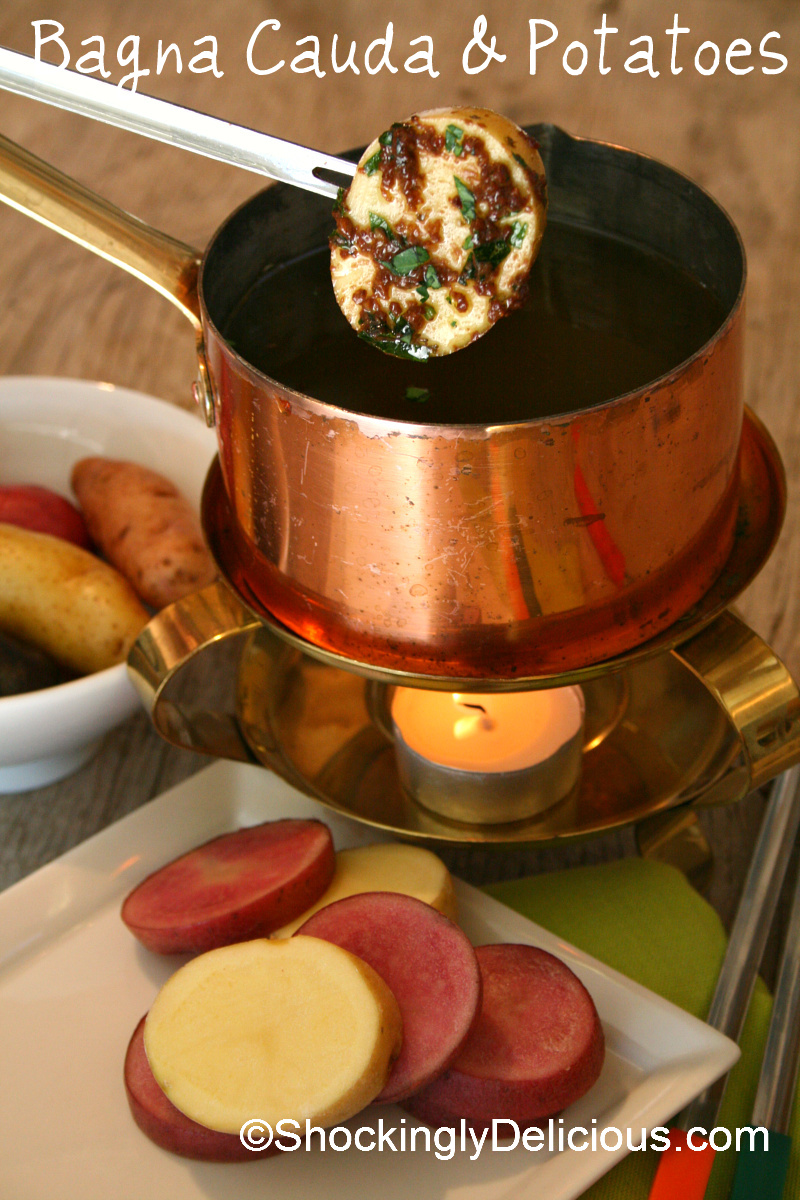 This is not my Italian grandmother's Bagna Cauda. Rather, it is a new, updated version for a new year, so if you want to advise me it isn't strictly authentic, I'll save you the trouble and admit it myself.
It uses a whole tin of anchovies, which end up melting into the oil, so don't worry, you won't have fish filets staring up at you in your dip. If you aren't sure if your family will accept them, use half a tin the first time, but I say go big, or go home. This is meant to be a pungent dip!
Traditionally this is served as part of a fun Italian Christmas Eve buffet, and guests dip any combination of vegetables and hold a slice of bread underneath to catch the drips. Of course, then you eat the bread, too! But I'm saying kick the bread to the curb, and use steamed potatoes as your dippers, along with whatever other veggies you like, and serve it any time you like.
Dip in good health, and Happy New Year!
Recipe: Bagna Cauda and Potatoes
Summary: Garlicky olive oil amped up with anchovies and other aromatics makes a delicious bath for steamed potatoes.
Ingredients
1 pound Idaho Baby Dutch Yellow Potatoes (or use Terra Rosa, a new red-fleshed variety, or a medley of fingerling potatoes)
1 (2-ounce) tin anchovy fillets in oil (about 12 or so)
6 large garlic cloves, crushed or minced
Pinch crushed red pepper flakes
6 pitted Kalamata olives
2-3 teaspoons fresh oregano leaves (or 1/2-1 teaspoon dried)
1-2 cloves Black Garlic (optional)
3/4 cup olive oil
4 tablespoons (1/2 stick) unsalted butter
Freshly ground pepper
2 tablespoons finely minced fresh Italian parsley
Squeeze of lemon juice (1-2 teaspoons)
Other dipper options:
Assorted fresh vegetables, cut into bite-size pieces: fennel, Belgian endive, red bell peppers, celery, radishes, button mushrooms
Steamed vegetables: artichokes, asparagus spears, cauliflower, Brussels sprouts
Fish: Large poached shrimp with the tail on (hold the tail as you dip)
Instructions
First, get the dippers ready: Scrub potatoes and place them in a steamer basket over 1 inch simmering water. Cover and steam until tender, about 10-15 minutes. You may also steam them without additional water in the microwave, about 4-6 minutes. Test with a fork to make sure they are done; they should be tender but hold their shape. Cut the whole potatoes into thick slices, and cut any large fingerlings in half; leave the small fingerlings whole. Your goal is to have bite-size pieces. Place steamed potatoes in a serving bowl or on a plate.
Wash and cut any fresh vegetable dippers you are using (see suggestions above), and lightly steam or blanch any that need slight cooking (see other suggested list above). Place these on a serving plate or platter.
Now, make the Bagna Cauda: In the bowl of a small food processor, add anchovies with their oil, garlic, red pepper flakes, olives, oregano and black garlic (if using). Whirl into a paste, adding a tablespoon or 2 of the olive oil if needed.
Transfer the paste into a small saucepan, add rest of olive oil, stir and cook over low heat. Simmer on lowest heat for 10 minutes, which will cook the garlic and incorporate the anchovies into the oil.
Turn off heat and whisk in butter, a grinding of black pepper, parsley and a squeeze of fresh lemon juice. Transfer hot dip to a small fondue pot or other serving bowl that can take the heat. You can serve the dip with a flame under it (if you have a fondue setup), or simply in a heatproof bowl.
Position the potatoes, any vegetables you are serving, and some skewers or fondue forks nearby, and encourage guests to dip and enjoy!
Leftover dip?
Drizzle over grilled steaks or lamb, or grilled fish, or toss with cooked pasta.
Baby Dutch Yellow Potatoes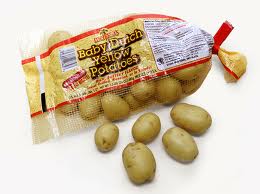 Baby Dutch Yellow Potatoes are grown in Idaho and are the perfect size for many things, including this Bagna Cauda. They have thin skins (leave the skin on!),  cook quickly and have a buttery flavor. Melissa's Produce sent these over for recipe testing.
Preparation time: 20 minutes
Cooking time: 25 minutes
Number of servings (yield): 8-10
Culinary tradition: Italian
My rating 5 stars:  ★★★★★ 
This week our #SundaySupper cooks are tackling things on our culinary bucket list. Mine was to cook something from my Italian heritage, thus this Bagna Cauda. Join us today (Sun. Jan. 6) at 4 p.m. Pacific time on Twitter as we share our bucket list recipes during our #SundaySupper chat.
This week's Sunday Supper recipes:
Sunday Supper Specialty Breads:
Sunday Supper Main Dishes:
Sunday Supper Desserts and Snacks:
Join the #SundaySupper conversation on twitter each Sunday. We tweet throughout the day and share recipes from all over the world. Our weekly chat starts at 4 p.m. PT and you do not want to miss out on the fun. Follow the#SundaySupper hashtag and remember to include it in your tweets to join in the chat. Don't forget to also check out our #SundaySupper Pinterest board for more fabulous recipes and food photos.