Print This Post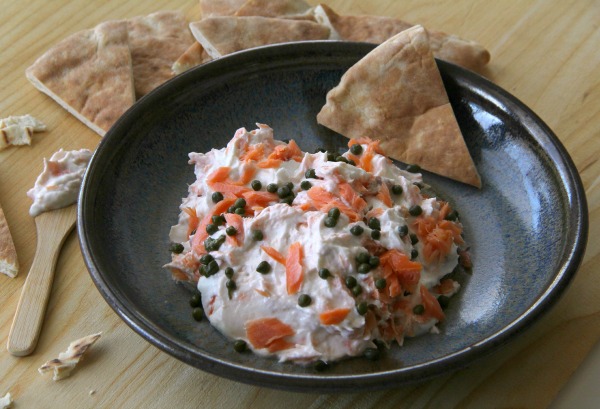 After this morning's egg hunt, after the baskets have all been found, half the Peeps eaten and the See's candy box left in tatters, somehow, impossibly, you're still hungry.
Or perhaps you're just hungry for real food instead of sugar food.
Whether it's lunch you need or simply an appetizer before the feast, this dip fits the bill. It has only three ingredients, and one of them – Greek yogurt – is a stand-in for higher-fat sour cream or mayo. So you're golden.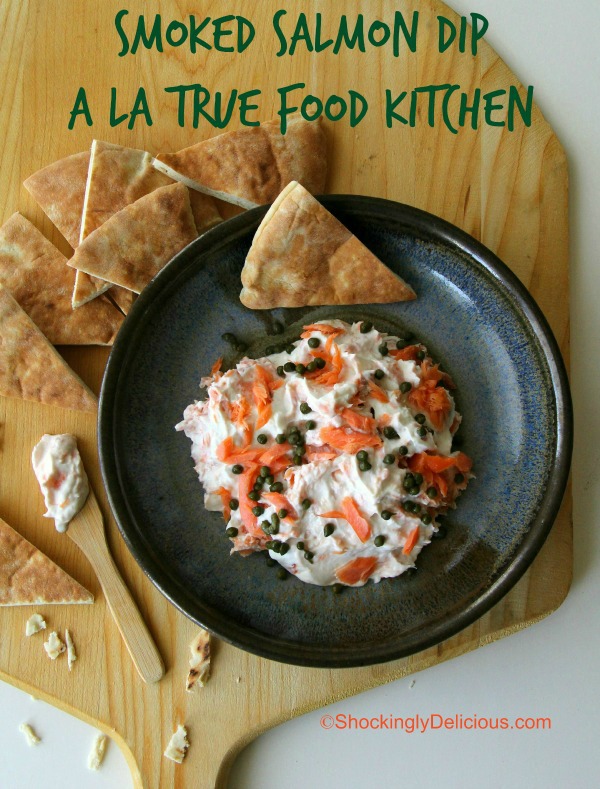 It's modeled after a dip we fell in love with at a local restaurant. It's described in only a few words in the "starters" section on the True Food Kitchen restaurant menu, but my family can't stop thinking about this dish after we ate it a month ago during a family outing.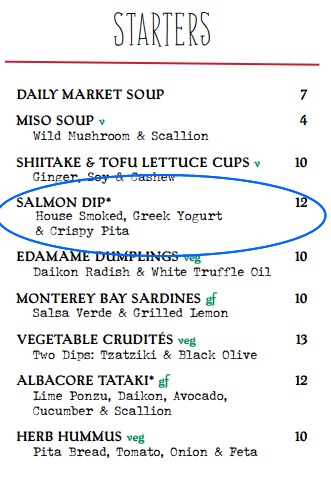 SALMON DIP $12
House Smoked Salmon, Greek Yogurt & Crispy Pita
Moments after the server slid it onto our table, we inhaled it, fought over who had the communal plate in front of them for longer than the other person and assigned blame to the guilty party who scraped the last little bit up off the platter. I swear someone lifted up the plate and licked it clean right there. Unembarrassed, we vowed to order two the next time we came there. Just your standard dinner out with the Shockingly Delicious husband and children. 😀
And so I looked for an ideal time to see if I could make it myself at home. Easter is that time, so I offer it today for our Sunday Supper Easter feast. The buffet table will be groaning with all that we brought, so take a look at the list under my recipe.
Happy Easter!
PASSOVER NOTE: To make this for Passover, ditch the pita and use matzah instead!
Recipe: Smoked Salmon Dip with Greek Yogurt and Capers
Summary: Smoky, creamy and with a salty pop from the capers, this Smoked Salmon Dip is versatile as a shared lunch or appetizer, scooped onto pita wedges.
Ingredients
1 (7-ounce) container Greek yogurt (I used Fage 2%)
4 ounces hot-smoked salmon
1 tablespoon capers
2-4 pita breads
Garnish: Chopped tomatoes (optional)
Instructions
Scoop the yogurt into a bowl. Using your fingers, flake the salmon into the bowl, and stir to combine. You can stir well to make sure it is a uniform consistency, or stir lightly and leave it more rustic looking.
Scrape into a serving bowl or plate. Drain capers and sprinkle decoratively. Surround it with chopped tomato if you are using that.
Cut pita breads into wedges and serve alongside. If sharing this for a meal for 2, count on 1 pita per person. If serving as an appetizer for more people, you'll need at least 4 pita breads.
Serves 2-6
Recipe source
Dorothy Reinhold | Shockingly Delicious. Modeled after a similar dip from True Food Kitchen restaurant.
Sunday Supper
See this page for all the wonderful #SundaySupper dishes I have made since I joined this group, and links to all the other delicious dishes made by my fellow cooks.
Preparation time: 5 minutes
Diet type: Pescatarian
Diet tags: Gluten free
Number of servings (yield): 2
Culinary tradition: USA (General)
My rating 5 stars: ★★★★★
Save
Save