Print This Post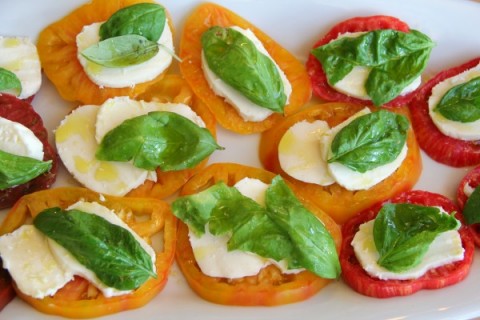 Even though school is back in session, summer is still going strong here, and heirloom tomatoes are bursting out everywhere!
A Sunday morning trip to the farmers market or supermarket is not complete until I have a satchel full of heavy tomatoes in every color, gnarled and ridged, striped and flecked with imperfections — a particular brand of unique beauty only heirlooms have.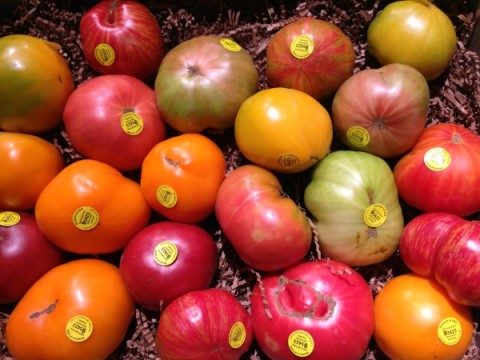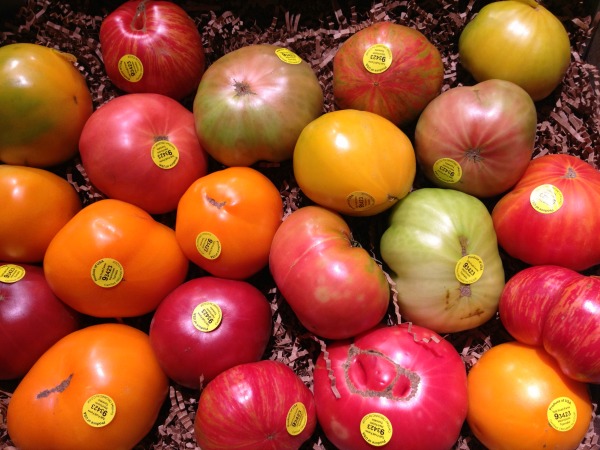 Heirlooms also have unbeatable flavor, which is why we use them in a classic Caprese Salad.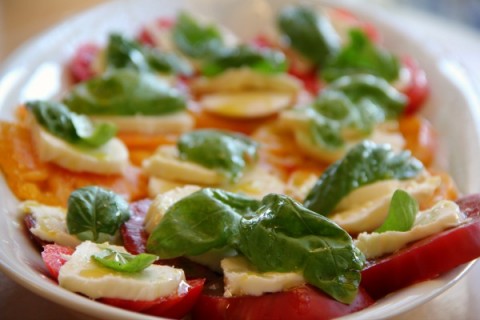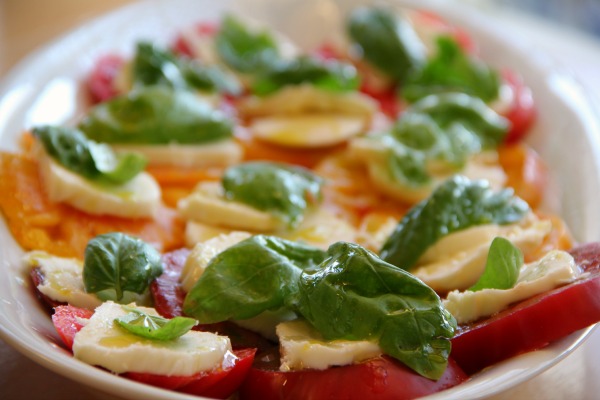 You know caprese, right? Fresh mozzarella (not the rubbery stuff), a slice of juicy heirloom tomato, a fresh basil leaf, a pinch of salt and a drizzle of olive oil. Hint: The salt I use is my secret ingredient.
That's really the entire recipe right there. But of course I'll write it out for you, in case this is your first time making it.
We can make a whole lunch or dinner out of this, with some good French or Italian bread, a glass of wine, and maybe a couple of bites of something else. Salami? A green salad? Dessert? You decide.
Make this, before the heirlooms are gone and Fall descends.
Classic Caprese Salad gets a flavor boost from late-summer heirloom tomatoes, fresh basil and a splash of good olive oil. The secret ingredient is truffle salt!
Ingredients
Heirloom tomatoes (use a variety of colors if you can)
Fresh mozzarella
Fresh basil
Extra-virgin olive oil
Truffle salt (or kosher or sea salt)
Directions
On a serving tray or platter, assemble stacks, with a tomato slice on the bottom, topped with a mozzarella slice and a basil leaf.
When you have the platter filled, drizzle over all with olive oil. Sprinkle with a pinch of truffle salt. If your family doesn't like truffle salt (first of all, what's wrong with them? Second of all, send me your bottle!), substitute kosher salt or sea salt or another favorite flavored salt. How about Pink Hawaiian salt, for example?
Allow 1-2 stacks per person for an appetizer or side salad dish, or perhaps 4-5 if you are using this as a main course. Make plenty!
Notes
Recipe source; Dorothy Reinhold | Shockingly Delicious. This is a classic recipe and each person makes it her own way, but most recipes for this are similar.
https://www.shockinglydelicious.com/heirloom-caprese-salad/
Copyright Dorothy Reinhold | ShockinglyDelicious.com. All rights reserved.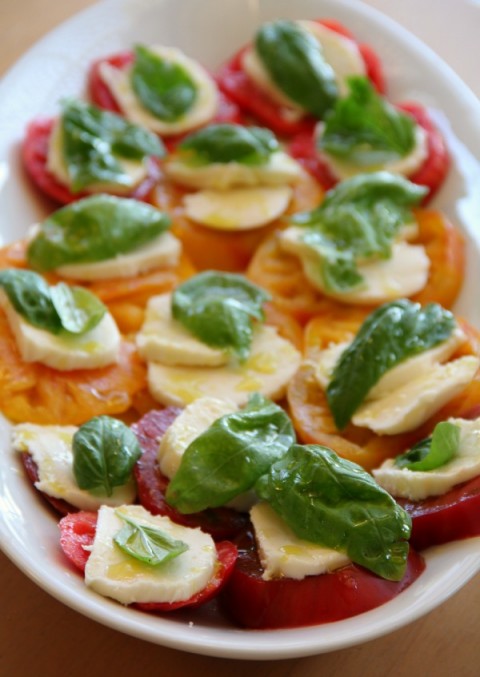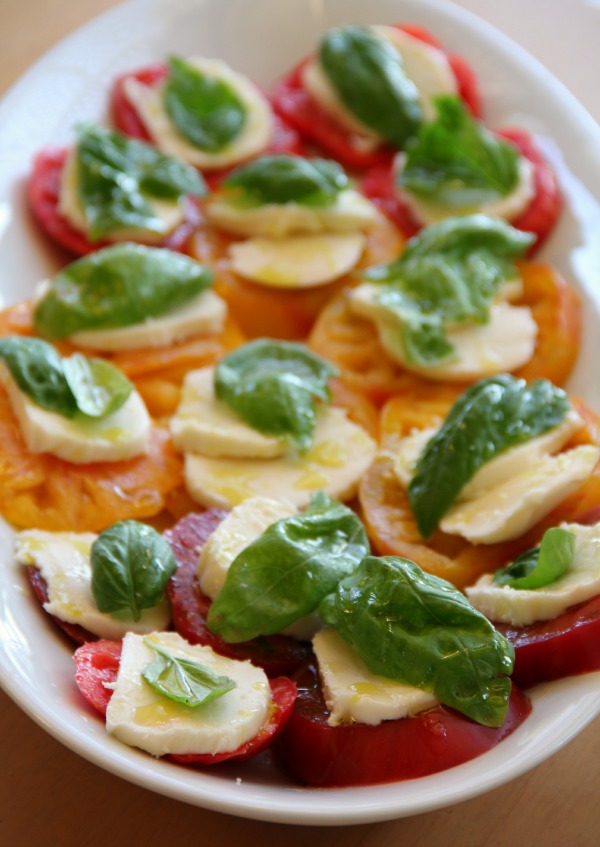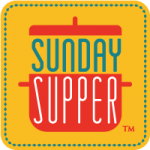 Today our Sunday Supper group offers you food on Tantalizing Trays, hosted by Constance from The Foodie Army Wife. Try my Caprese Salad or something else from the list below that floats your boat!
Now let's hit the kitchen. Sunday Supper will be here before you know it!
Savory Bites:
Sweet Treats:
Join us around the family table for #SundaySupper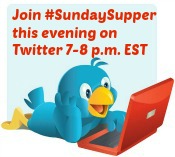 Twitter how-to

: Follow the #SundaySupper hashtag throughout the day on Twitter to see our recipes. To join the conversation anytime, simply use the #SundaySupper hashtag to share your favorite tips and recipes.
Pinterest: Check out our #SundaySupper Pinterest board for more recipes and photos.

Join

: To join the Sunday Supper Movement, sign up by clicking here → Sunday Supper Movement.