Print This Post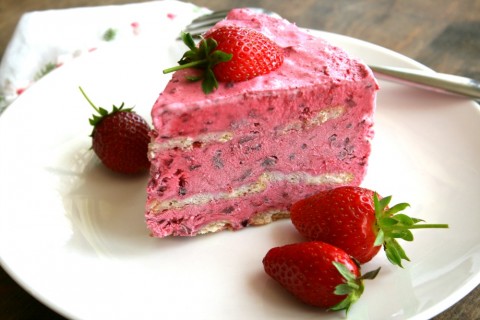 It's berry season, y'all! I vote we make a national holiday for fresh berries, surely nature's most perfect dessert, eaten plain, as-is.
Of course, on occasion, you might want a touch of lemon whipped cream with them.
And on other occasions, you might like this sublime frozen "cake." I have that in quotation marks because we are using that term loosely. Can cracker layers define a cake?
Yes, when the result is this delicious. Don't tell anyone, but this recipe also has marshmallow fluff (my secret love; now not so secret).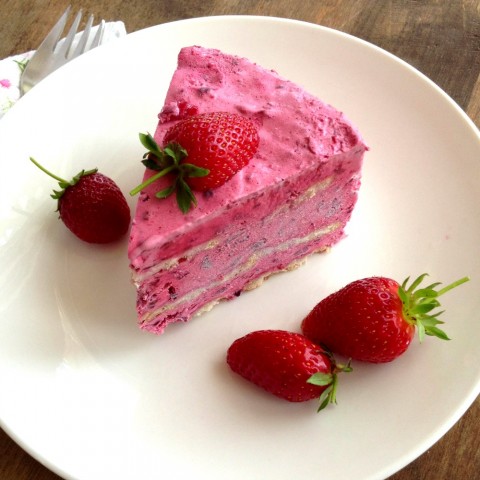 My husband asked for this again. Soon, he said. Like tomorrow.
Recipe: No-Bake Frozen Berrylicious Cracker Cake
Summary: A sublime frozen "cake" made by layering fresh berries, whipped cream and the secret (marshmallow whip). Don't tell. Just eat.
Ingredients
1 (6-ounce) container fresh blackerries (I used Driscoll's)
2 (6-ounce) containers fresh raspberries (I used Driscoll's); divided use
1 tablespoon sugar
1 cup heavy cream
1/4 teaspoon vanilla paste (I used Heilala Vanilla Paste)
1/4 teaspoon almond extract
1 (16-ounce) container marshmallow creme, such as Fluff
1 sleeve butter crackers (about 38), such as Ritz
Garnish: Fresh strawberries
Instructions
Lightly mist an 8-inch Springform pan with nonstick spray and set aside.
Place blackberries, 1 container of raspberries and sugar in food processor, and whirl for 15-20 seconds or so until they are soupy. Set aside.
Using an electric mixer, whip the heavy cream, vanilla and almond extract until stiff. Pour in the berry puree. On low speed, mix in the marshmallow cream until mixture is smooth – 15-20 seconds or so.
Assemble the cake: Place a layer of crackers on the bottom of the prepared pan to cover, breaking a few of them in half as needed to fit into an even layer. Spoon one-third of the berry mixture on top; top with another layer of crackers, then sprinkle half of the remaining whole raspberries on top. Add half the remaining berry mixture, a final layer of crackers and then the remaining whole raspberries. Top with the remaining berry mixture and smooth the top.
Place the Springform pan in the freezer and freeze for at least 4 hours.
To serve, remove from freezer, loosen outside ring of pan and cut into 10 slices. Top each slice with halved fresh strawberries and serve. You might like to cut the cake with a warmed, thin, sharp knife (warm it under hot water from the tap) for best presentation.
Serves 8-10.
Source
I tweaked this recipe to leave out the gelatin, changed the berries and amounts, added flavoring and made it a frozen rather than refrigerated dessert. Inspiration from Cakeduchess, who got her inspiration from Strawberry Marshmallow & Cracker Cake by Cristina Tosi featured in Rachel Ray Magazine.
Berries
Driscoll's provided the berries for recipe testing. Visit their website for lots of great recipes and berry information. 
Preparation time: 20 minutes
Freezing time: 4 hours+
Diet type: Vegetarian
Number of servings (yield): 8-10
Culinary tradition: USA (Nouveau)
My rating 5 stars:  ★★★★★
If you like this recipe and want to save it, pin it to your Pinterest board using the image below.

Sunday Supper
This week our #SundaySupper crew is celebrating summer berries. Look at the variety of things we have cooked up for you! Try my frozen berry dessert, or find something else from the menu below that floats your boat:
Breakfast & Brunch
Sweet & Savory Berry Recipes
Jams, Jelly, Sauces & More
Desserts
Cocktails, Drinks & Smoothies
Party Planning
Have a delicious day!
Save
Save