Print This Post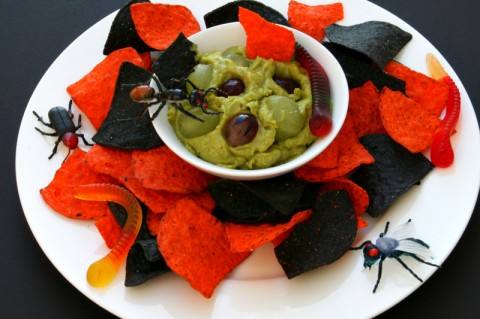 Most of the fun of Halloween after you outgrow the candy-scarfing stage is thinking up scary snacks and treats to gross-out your family and friends.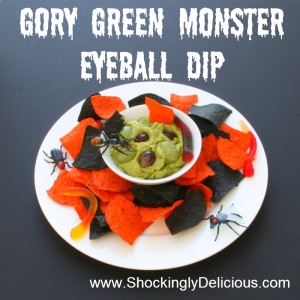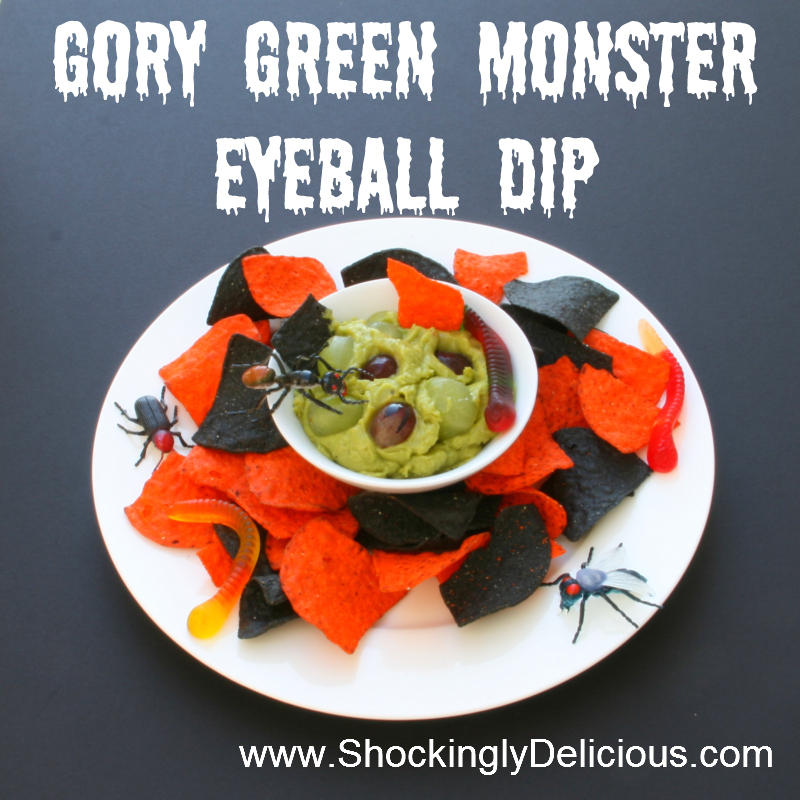 Sometimes just naming them is a creative act.
Like Banana Scream Pie. Or Boo(ger) Burgers or how about Hallow Wienies? Slime on a Slab? Guts on a Stretcher? Bloody Worms, Ogre Butt…or, let's see…Scabs and Fingertips could be Pico de Gallo and chips. You can practically see the food that goes with each name.
Am I right?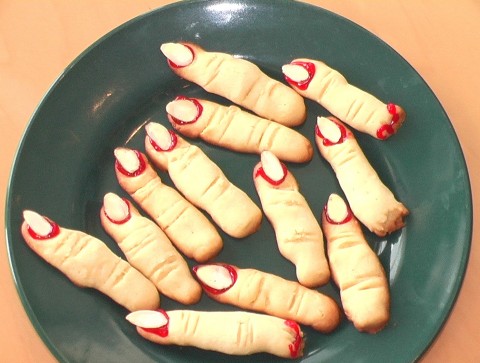 Case in point: Witches' Digits, the best Halloween cookie EVER!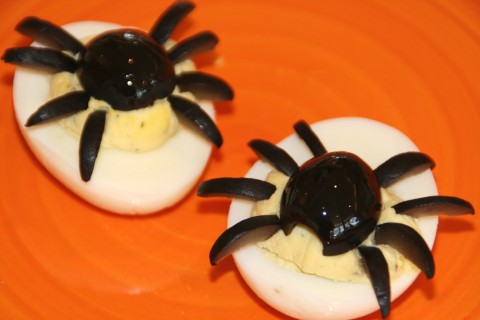 Second case in point: Deviled Spider Eggs, the best Halloween appetizer EVER!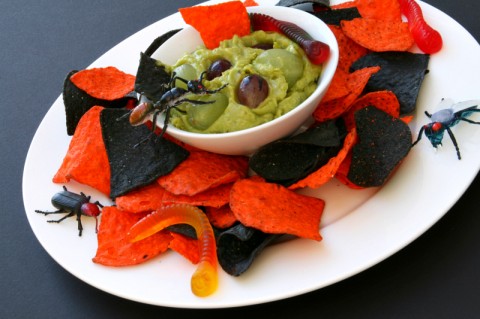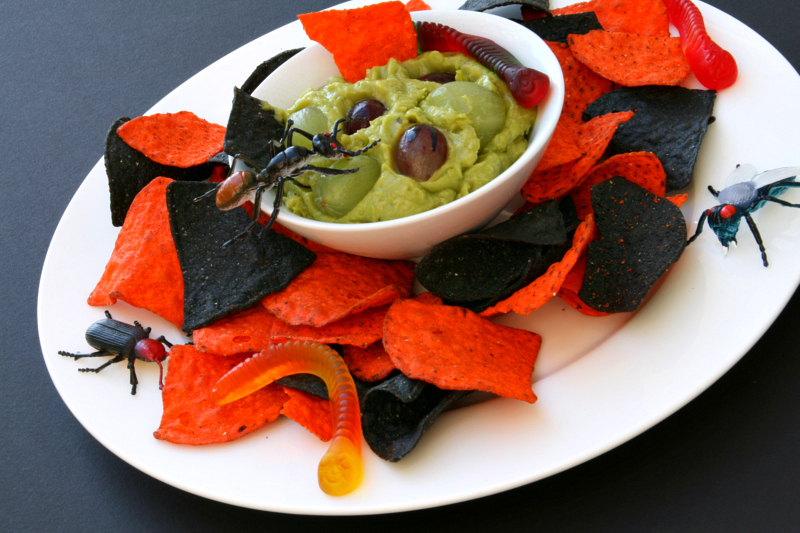 Those two Halloween Hall of Famers are now joined by Gory Green Monster Eyeball Dip, which from the cook's point of view is the simplest idea ever, and from the unwitting partygoer's point of view might be too disgusting to contemplate. Perfect idea for both.
Make a grand entrance, announce the name of this dish, stand back, watch the horrified faces, and smirk. Never, ever admit to what it actually is.
Recipe: Gory Green Monster Eyeball Dip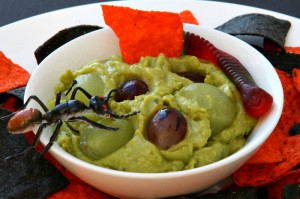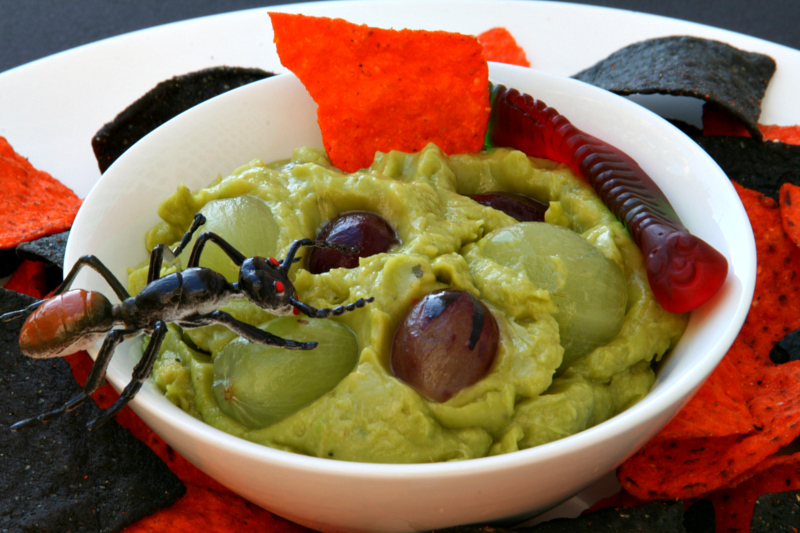 Summary: Lumpy with eyeballs and unidentified chunky stuff, this is a super simple yet tasty Halloween gross-out appetizer. Ewwwww!
Ingredients
A handful of grapes, both green and red, or whatever color grapes you can find
Guacamole (either chunky homemade or store-bought)
Mission brand Halloween Tortilla Chips (or any tortilla chip or vegetable dippers)
Instructions
Wash, dry and peel the grapes, using your smallest paring knife.
Fold skinned grapes into prepared guacamole, scoop into serving bowl (make sure eyeballs are showing on top of dip), and surround with chips or vegetable dippers.
Be sure to label the dip in your spookiest printing.
Guacamole
My favorite new prepared guacamole is Cabo Fresh Guacamole, which is 95% avocado, and the rest seasonings (no preservatives). It's organic, and delicious! If you want, make your own version from ripe fresh mashed avocados, chopped onion, tomatoes and cilantro, a squirt of lemon or lime juice, a pinch of salt, and maybe some fresh garlic. You can use Elizabeth Rafeedie's great recipe, or wing it.
Chips
I found these Mission brand Halloween Tortilla Chips, in black and bright orange, in Vons. Look for them, or use regular tortilla chips, and/or whatever vegetable dippers you like.
Preparation time: 15 minutes
Diet type: Vegetarian
Number of servings (yield): 8
Culinary tradition: Mexican
The #SundaySupper cooks are conjuring up some magic in our bubbling cauldrons to bring you everything from Ghoulish Gruel to Haunted Snacks to Spooky Sweets, and of course a few Bewitching Brews!
Witches, ghosts, goblins, vampires, zombies, monsters…everyone is invited.  You don't want to miss this hair-raising party.
On the menu for our Trick-or-Treat #SundaySupper Halloween Party:
Bewitching Brews
Ghoulish Gruel:
Haunted Snacks:
Spooky Sweets:
Please be sure you join us on Twitter throughout the day, today during #SundaySupper.  We'll be meeting at 4 p.m. (PST) for our weekly #SundaySupper live chat where we'll talk about all things Halloween.  All you have to do is follow the #SundaySupper hashtag, or you can follow us through TweetChat.