Print This Post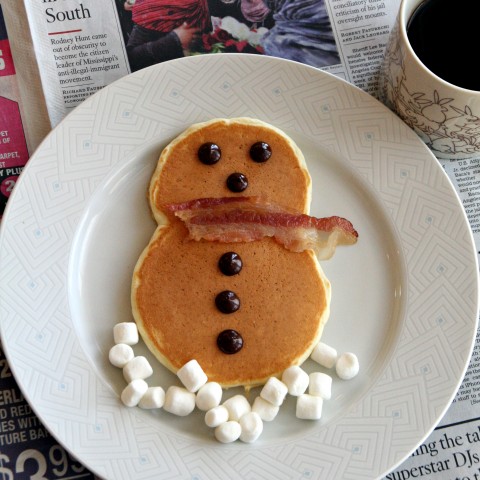 As 2013 comes to a close, today our Sunday Supper cooks reflect on what comes naturally this time of year — thoughts about the year that has passed and resolutions for the coming year.
I share with everyone else what is probably the usual litany of resolutions — more exercise, healthier eating, less procrastination, more order in my life — but those are mundane matters.
As I ponder 2013, I realize the single take-home message of the year for me is simplicity. When I simplified this past year — in whatever areas possible — invariably there were improvements.
I certainly saw it in my recipe creation and inspiration. The fewer ingredients I used, the more pure the idea and flavors, the better the resulting dish. So today, I'm heeding that lesson and offering a simple recipe for Snowman Eggnog Pancakes.
We use packaged baking mix and commercially made eggnog to make it easy, and we simply pour the pancake batter so it touches while they're on the griddle for a fanciful snowman shape. A couple of extra items for buttons and a scarf (you can buy already cooked bacon if you wish!), and you're on your way to a memorable holiday or New Year's Day breakfast.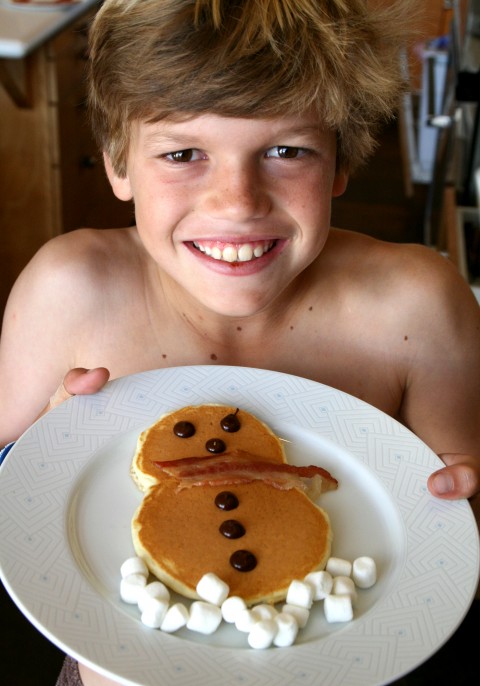 Join me…let's keep it simple in 2014.
Happy New Year everyone!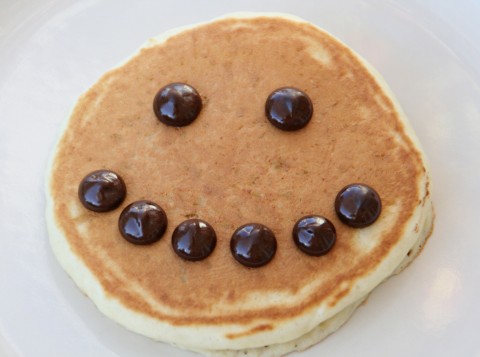 Recipe: Snowman Eggnog Pancakes
Summary: Snowman Eggnog Pancakes are charming, whimsical and perfect for wintery days or a holiday breakfast. Who can resist?
Ingredients
Baking mix (I used Bisquick Heart Smart)
Eggnog (I used a low-fat version)
Eggs
Chocolate chips
Cooked bacon strips
Mini marshmallows
Instructions
Heat stovetop griddle.
Mix the pancake batter following the package directions, using as many eggs as called for in the amount you are making, and substituting eggnog for the milk called for in the recipe.
Pour pancake batter onto the hot griddle in 2 circles that touch (one will be the body, one will be the head, so make the head slightly smaller if you wish).
Cook as usual for pancakes, flipping over when bubbles appear. Feel free to use 2 spatulas to take care that the head and body don't separate.
Place on plate, position a bacon strip as the scarf, chocolate chips as the eyes, nose and buttons, and mini marshmallows as the snow upon which he stands.
Eat with gusto!
Source
Dorothy Reinhold | Shockingly Delicious
Sunday Supper
See this page for all the wonderful #SundaySupper dishes I have made since I joined this group, and links to all the other delicious dishes made by my fellow cooks.
Preparation time: 5 minutes
Cooking time: 3 minutes
Number of servings (yield): varies
Culinary tradition: USA (General)
My rating 5 stars:  ★★★★★

Our New Year's reflections and resolutions recipes
This week our #SundaySupper blogger crew is all about reflections and resolutions,  hosted by Connie of Foodie Army Wife. Check out the variety of things we have cooked up for you! Try these Snowman Eggnog Pancakes or find something else from the menu below that rings your chimes:
Breakfast
Appetizers & Snacks
Main Dishes & Sides
Desserts & Drinks
Join us around the family table for #SundaySupper