Print This Post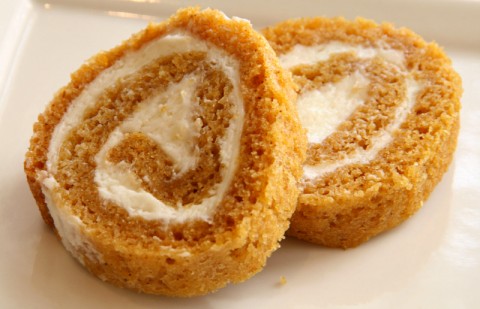 A spiral slice of Pumpkin Cake Roll with vanilla-scented sweet cream cheese makes this an elegant and fun Thanksgiving or Christmas dessert!
Last year I received the most wonderful surprise holiday gift ever!
My friend Brooke sent home a Pumpkin Cake Roll with my son in his backpack, from school. She had made four of them, kept one for their dessert that night, froze two of them for future gift-giving, and wrapped one up for me.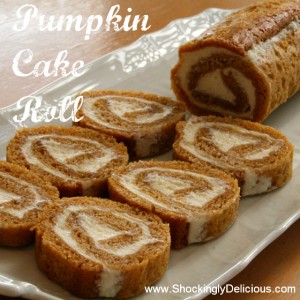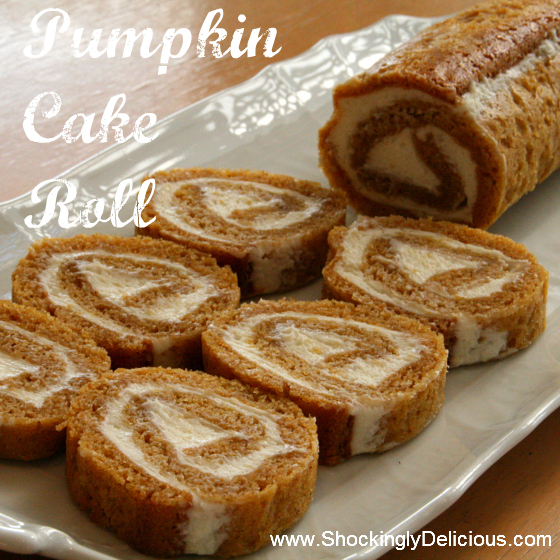 She wrapped it in Saran, then put it in a zipper-top plastic bag, and then put that bag in a paper bag. Still, she wasn't sure it would make it all the way home intact (read: without being eaten by a hungry 4th grader!).
What a treat it was to find that while I was spelunking in the backpack! It was so incredibly pretty, and delicious. We ate some for dessert, and I carefully nursed the remaining piece for several days. I practically put a lockbox on it in my refrigerator so it wouldn't get scarfed up immediately.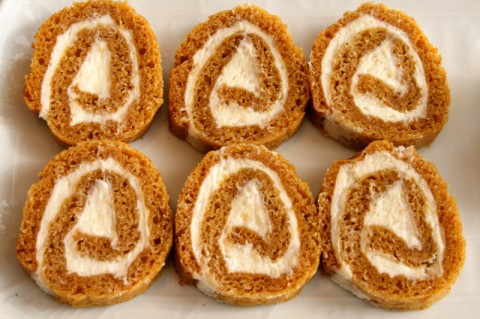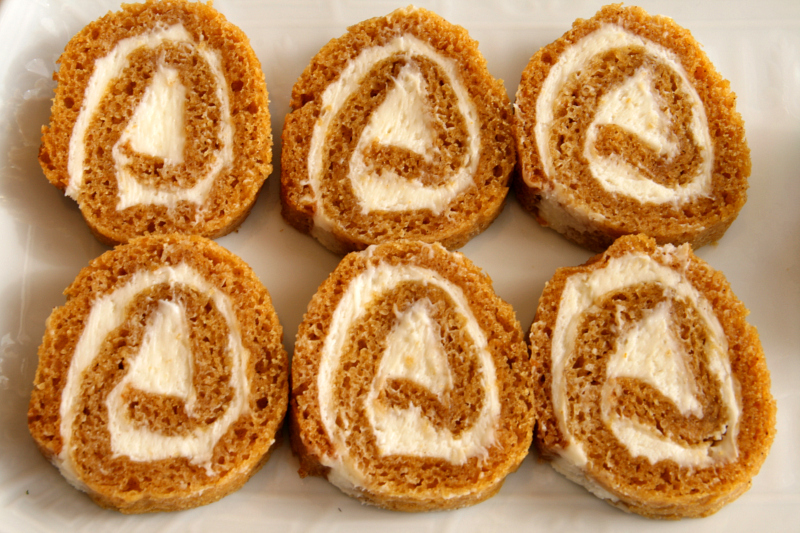 I'm here to tell you, for a big wowser of a gift, may I suggest you make someone a Pumpkin Cake Roll? They won't ever forget it…or you!
A spiral slice of pumpkin cake with vanilla-scented sweet cream cheese makes this Pumpkin Cake Roll an elegant and fun Thanksgiving or Christmas dessert!
Ingredients
Pumpkin Cake

3 eggs
1 cup sugar
2/3 cup pumpkin puree
1 teaspoon baking soda
3/4 cup flour
1/2 teaspoon salt
1/2 teaspoon cinnamon
.

Pumpkin Filling

8 ounces cream cheese
2 tablespoons margarine
1 teaspoon vanilla extract
1/2-1 cup powdered sugar (Brooke uses a bit more than 1/2 cup; sweeten to your taste!)
.

For Assembly

Margarine for greasing
Waxed paper
2 clean, dry tea towels
Cookie sheet
Directions
Heat oven to 375F degrees.
Beat eggs, sugar and pumpkin for 5 minutes. Add soda, flour, salt and cinnamon and beat to combine.
Cover cookie sheet with waxed paper and spread a bit of margarine on the waxed paper. Pour pumpkin mixture onto the waxed paper and spread it out evenly into a rectangle the size of your cookie sheet. Don't make it too thick or it will be difficult to roll. Bake for 15-18 minutes.
While cake is baking, combine cream cheese, margarine, vanilla and powdered sugar and beat
until well mixed. Set aside.
When cake is done, take it out of the oven and cut it in half, horizontally. While still hot, with the paper side down, lay each half on separate tea towels. Roll each half with the towel (cake and towel roll together), starting with the longer sides (so it makes the roll long). The tea towel will absorb moisture as the cake cools, preventing it from getting soggy, and helping it keep a rolled shape.
When cake is cooled, gently unroll and peel waxed paper off. Spread filling over cake and re-roll. Cover cake with towel and refrigerate.
Slice into thin spirals to serve.
Can freeze (wrap well).
Serves 16 or maybe even more (depends on appetites).
Notes
Recipe source: Jane Kobayashi, via Brooke Bohm.
Size note: Brook says she quadruples the recipe when she gets ready to make these, figuring that if she is going to do the work of one recipe, she might as well make a production line and make a whole lot of them! If you can make one batch, you can make four batches and your work is done.
https://www.shockinglydelicious.com/pumpkin-cake-rolls-for-sundaysupper/
Copyright Dorothy Reinhold | ShockinglyDelicious.com. All rights reserved.