Print This Post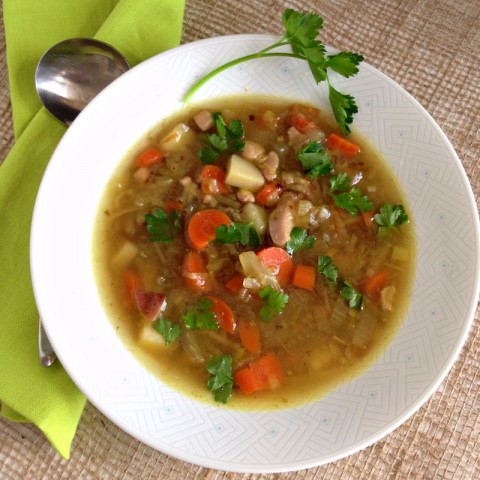 The best soups result from the serendipity of scanning the kitchen and seeing what needs to be used up, right?
I was going to make a simple chicken leek soup, but a fennel bulb impulsively bought at the farmer's market and a sprouting red onion whispered my name from the veggie drawer, and the frugal cook in me knew that my leek soup was going to have to include them.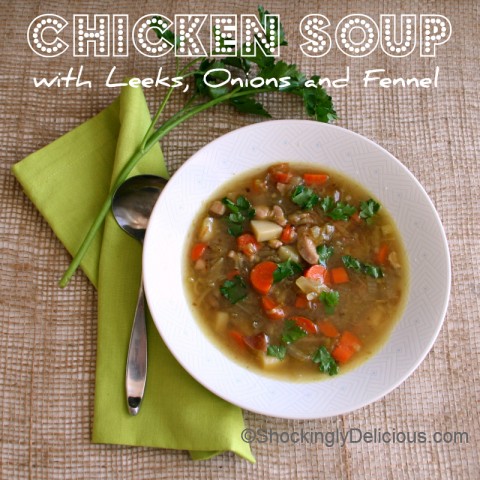 It's smart to listen to your inner frugal cook. She will guide you well. This soup was so, so, SO, SO good!
Recipe: Chicken Soup with Leeks, Onions and Fennel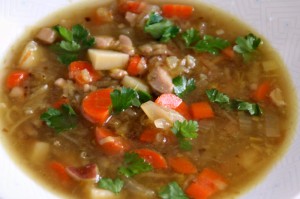 Summary: A simple, classic chicken soup enhanced with caramelized, elegant leeks and fennel hits the spot for lunch or dinner.
Ingredients
1 tablespoon olive oil
1 (6-ounce) package Melissa's Cleaned and Sliced Leeks
1 fennel bulb, feathery leaves and root removed and bulb sliced thinly
1 red onion, sliced thinly
4 celery ribs, sliced
4 carrots, sliced
4 red potatoes, skin left on, diced
2 bay leaves
2 quarts water
3 tablespoons Organic Better Than Bouillon Chicken Base
1 pound boneless, skinless chicken thighs, diced
½-1 cup fresh chopped parsley
Freshly ground pepper
Instructions
Heat olive oil in a large soup pot. Add leeks, fennel and onion and saute for 10-12 or so minutes, until vegetables begin to brown and caramelize.
Add celery, carrots, potatoes, bay leaves, water and chicken base, and bring to a boil. Turn heat down to low, cover the pot and simmer for 15 minutes. Add chicken, stir, cover pot and simmer for another 20 minutes.
Stir in parsley and a few grinds of pepper, and serve, along with hot sauce for those who like to zip things up.
Serves 6.
Source
Inspired by my friend Lindsay Albert, whose Chicken, Leek and Potato Soup was beloved when she made big pots of it for our elementary school.
Leeks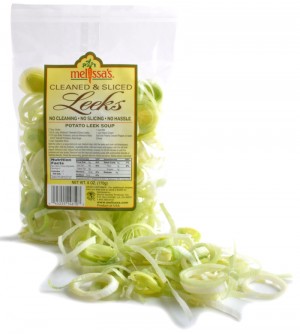 Melissa's Cleaned and Sliced Leeks, available in a 6-ounce package, are the best thing since sliced bread! Whole leeks are a chore to clean, dry and chop, since they are often sandy between all those layers of leek. With this package, which contains the equivalent of about 2 leeks, all the hard work has been done, and you simply open and toss them in the pot. They're new in Southern California as of last month, and can be found here at Vons, Bristol Farms, Jon's Markets, Mother's Market, Gelson's, etc. Melissa's Leeks will be distributed nationally in the coming months. Suggested retail is $3.49-$3.99.
Better Than Bouillon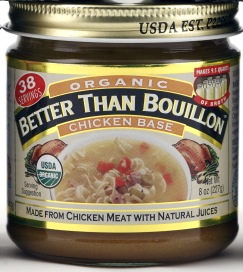 Better Than Bouillon is my new not-so-secret ingredient for soups. When I want to get the soup in the pot quickly, I use the organic line of Better Than Bouillon — concentrated stock made with real vegetables and natural ingredients. They're USDA certified organic, and have 95% certified organic ingredients by Quality Assurance International, are fat free, and non-irradiated. Organic Better Than Bouillon comes in beef, chicken, mushroom, turkey and vegetable flavors, and at a price of about $7.95 per jar, it's a good value since each jar makes about 9 ½ quarts (84 cents a quart, a price I can't match with any stock in a can or carton). To me, the flavors are clean and pure. I recommend it! Get your soup on!
Preparation time: 10 minutes
Cooking time: 55-60 minutes total
Number of servings (yield): 4-5
Culinary tradition: USA (General)
My rating 5 stars: ★★★★★
Thanks for visiting…are you hungry for more? Follow Shockingly Delicious on…
FACEBOOK | PINTEREST | INSTAGRAM | TWITTER
…for all the latest recipes, ideas and updates!
This post may contain affiliate/referral links. It is a way for this site to earn advertising fees (at no cost to you) by advertising or linking to certain products and/or services that I approve and prefer. Thank you for using my affiliate link to shop, so I can continue to bring you shockingly delicious recipes!