Print This Post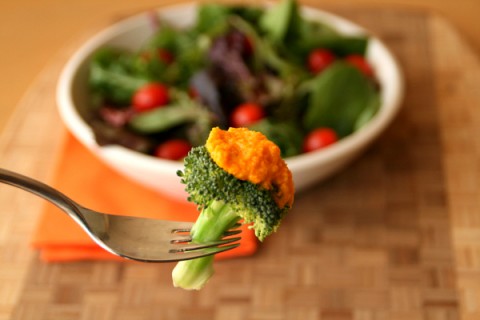 We're big salad eaters for dinner, so I'm always on the lookout for a new stand-out dressing that will kick my bowl o' greens up a notch.
I found it in this Carrot-Ginger Dressing, the kind served on salads in Japanese restaurants. It has the most vivid neon orange color, with the brightest ginger flavor; it's irresistible! Dressing a bowl of verdant mixed greens with this creates simple beauty at the table. It's not hard to eat your rainbow when one of the rainbow colors is the dressing.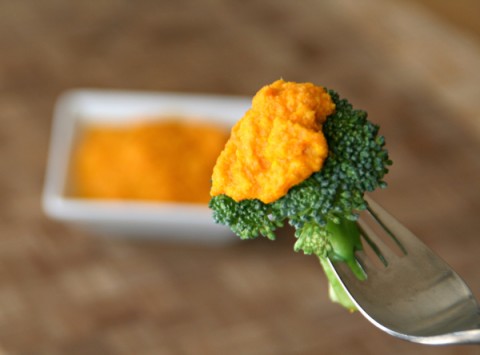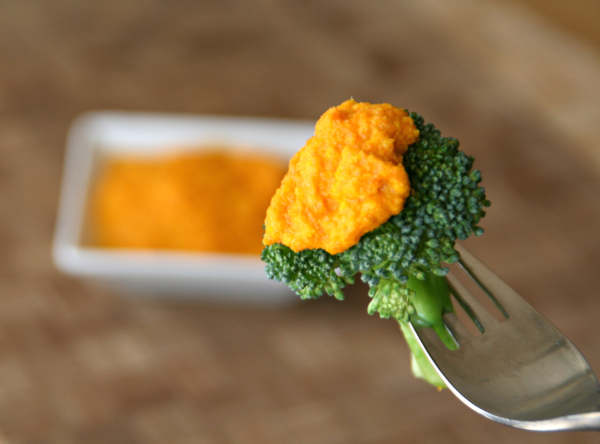 I found the dressing in a new cookbook, "The Mom 100: 100 Recipes Every Mom Needs in Her Back Pocket," by Katie Workman. The author notes that the dressing is thick, and also makes a great topping for steamed or roasted veggies like broccoli, asparagus, sugar snap peas, green beans, or cauliflower, as well as being a nice dunk for raw veggies, too. She also suggests sautéing some tofu or chicken, mounding it on hot rice, and spooning the dressing on top.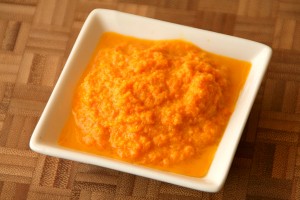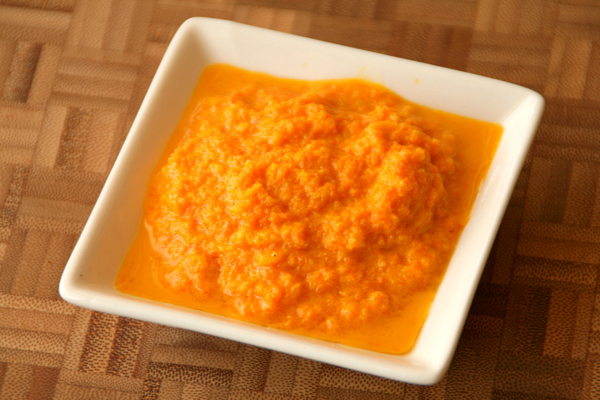 Summary: A neon orange gingery delight, this Carrot-Ginger Dressing enlivens a salad or steamed vegetables, or stands in as a dip for raw vegetables!
Ingredients
For the Japanese Carrot-Ginger Dressing

:
3 medium-size carrots, peeled and cut into about 1-inch chunks
1 piece (2-inches) fresh ginger, peeled and cut into disks
1 shallot, minced, or ¼ cup minced onion
3 tablespoons unseasoned rice vinegar, or 1½ tablespoons white wine vinegar
¼ cup canola, peanut, or vegetable oil
1 tablespoon Asian (dark) sesame oil (see Notes)
1 teaspoon granulated sugar
4 teaspoons miso paste (optional, but recommended)
2 teaspoons mirin (optional; see Notes)
For the Salad

:
6 to 7 cups thinly sliced romaine lettuce (about 1½ heads lettuce or 2 hearts of romaine)

I added 2 big leaves of kale, ribs removed and sliced in a chiffonade

½ cup shredded peeled carrots
½ cucumber (preferably seedless or English), peeled, cut in half lengthwise, and thinly sliced crosswise
Handful of cherry or grape tomatoes
1 cup steamed tiny broccoli florets (optional)
Instructions
Make the Japanese Carrot-Ginger dressing: Place the carrot chunks, ginger, shallot or onion, rice vinegar, canola oil, sesame oil, and sugar in a food processor fitted with the metal blade. Pulse until well combined. Add the miso and mirin, if using, and ¼ cup of water and puree until nicely blended and fairly smooth. If you want your dressing a little thinner, you can add another tablespoon or two of water and puree again.
Make the salad: Place the lettuce, shredded carrots, cucumber, tomatoes, and broccoli, if using, in a large serving bowl and drizzle about 1⁄2 cup of the dressing on top, or more if desired. Toss the salad and serve.
Yield: Serves 4-6; with about 2 cups of dressing, there's enough for a few more salads
Quick notes
Mirin: A rice wine used in Japanese cooking, mirin is a bit like sake, but sweeter and with less alcohol. In fact, one kind—shin mirin—has only a trace amount of alcohol; so if you're buying a fresh bottle for family cooking, that's the one to choose. You can also leave it out completely, and no one will miss it. Asian (or dark or roasted) sesame oil is made from toasted sesame seeds and has a deep, nutty, very appealing flavor.
Make Ahead: The Japanese carrot-ginger dressing lasts in the fridge for at least a week, so that's why this is a recipe for a big batch, more than double what you would use for a salad for a family of four or so. Might as well make it worthwhile to rev up the food processor, right? The salad part is just a suggestion—use whatever lettuce and veggies your family is into.
What the Kids Can Do: Did you know you can peel ginger with a teaspoon? It's true—the skin is very thin, and if you take a teaspoon and turn the bowl part in toward the ginger and scrape away with the edge of the spoon, it will take the skin right off quickly. A spoon can get into those creases and crevices of the ginger better than a regular vegetable peeler. This task can safely keep a young sous chef busy for a while. Kids can also measure and dump things for the dressing into the food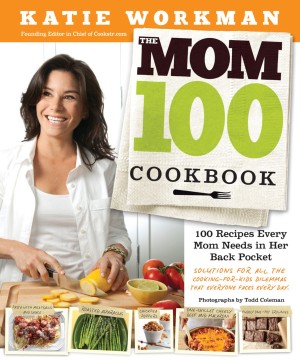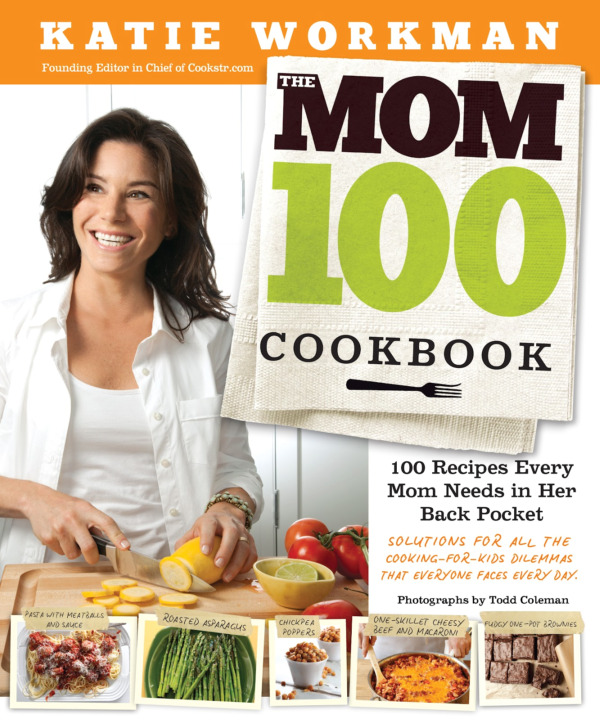 processor. And they can assemble the salad.
Source
"The Mom 100 Cookbook," by Katie Workman (Workman Publishing; 2012)
Preparation time: 20 minute(s)
Number of servings (yield): 4-6