Print This Post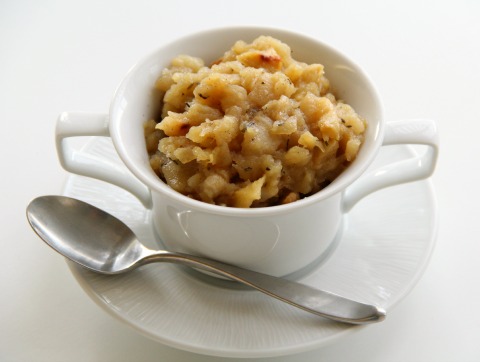 Today our Sunday Supper cooks are sharing recipes inspired by holiday music, movies and TV shows.
I was going to give you something lighthearted, inspired by the movie "Elf," which I love, but I am in a more contemplative mood. Instead, this song, based on a true story from WWI, is so much more meaningful, especially today when we have troops abroad. It is one of my favorite non-traditional Christmas songs.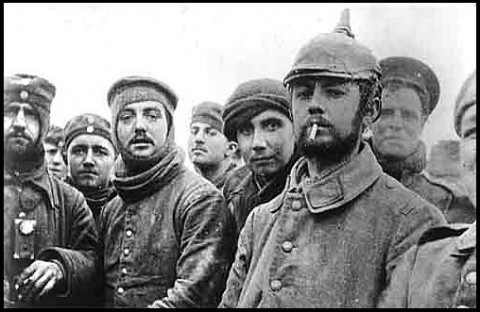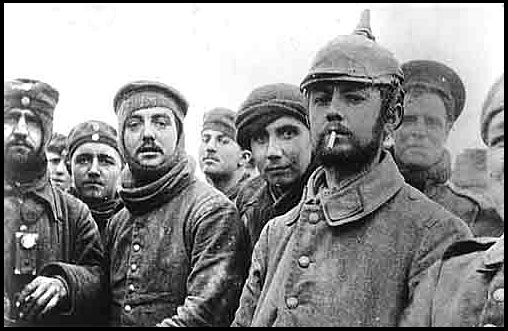 Ninety-nine years ago, soldiers on both sides of the battlefield put down their arms and celebrated Christmas with each other. It came to be known as "The Christmas Truce of 1914," and if you have never heard this song – "Christmas in the Trenches" — I recommend you listen to it now. Singer/songwriter John McCutcheon introduces it, including the story of how a small group of veterans from that truce attended his concert. He sings it here.
The song it is a tribute to our troops and truly captures the spirit of Christmas. It reminds us that miracles can happen even in the midst of a terrible conflict, between soldiers fighting on opposite sides, whose governments have decided they are enemies, when men who had been at the bloody work of war paused to play. Listen to it as you read the lyrics below.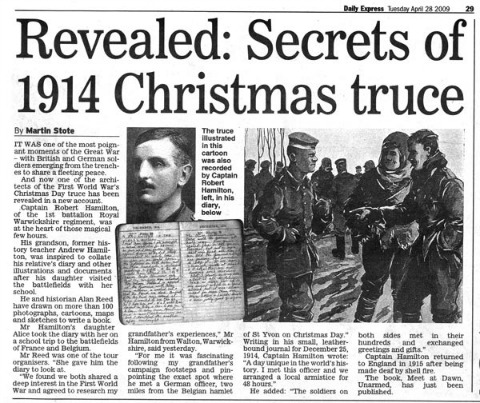 Christmas in the Trenches
My name is Francis Tolliver, I come from Liverpool,
Two years ago the war was waiting for me after school.
To Belgium and to Flanders to Germany to here
I fought for King and country I love dear.
'Twas Christmas in the trenches where the frost so bitter hung,
The frozen fields of France were still, no Christmas song was sung,
Our families back in England were toasting us that day,
Their brave and glorious lads so far away.
I was lying with my messmate on the cold and rocky ground
When across the lines of battle came a most peculiar sound
Says I, "Now listen up, me boys!" each soldier strained to hear
As one young German voice sang out so clear.
"He's singing bloody well, you know!" my partner says to me
Soon one by one each German voice joined in in harmony
The cannons rested silent, the gas clouds rolled no more
As Christmas brought us respite from the war.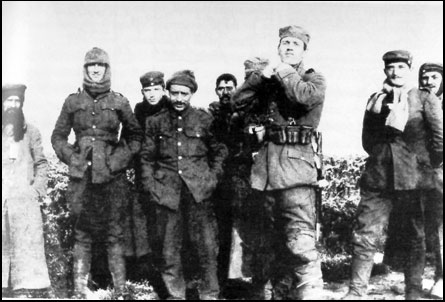 As soon as they were finished and a reverent pause was spent
"God Rest Ye Merry Gentlemen" struck up some lads from Kent
The next they sang was "Stille Nacht," "Tis 'Silent Night'," says I
And in two tongues one song filled up that sky.
"There's someone coming towards us!" the front line sentry cried
All sights were fixed on one lone figure coming from their side
His truce flag, like a Christmas star, shone on that plain so bright
As he bravely strode unarmed into the night.
Soon one by one on either side walked into No Man's land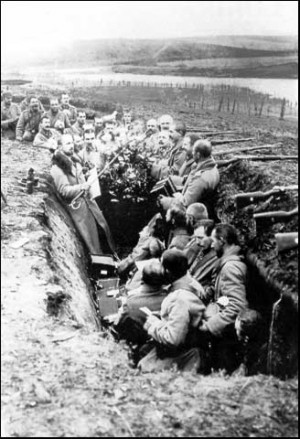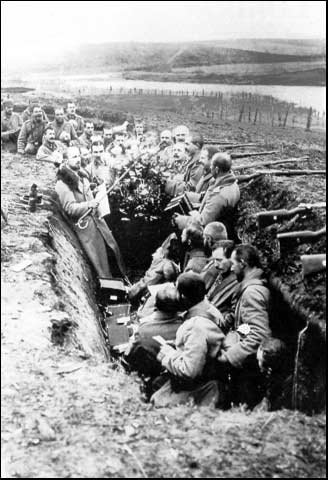 With neither gun nor bayonet we met there hand to hand
We shared some secret brandy and we wished each other well
And in a flare-lit soccer game we gave 'em hell.
We traded chocolates, cigarettes, and photographs from home
These sons and fathers far away from families of their own
Young Sanders played his squeeze box and they had a violin
This curious and unlikely band of men.
Soon daylight stole upon us and France was France once more
With sad farewells we each began to settle back to war
But the question haunted every heart that lived that wondrous night
"Whose family have I fixed within my sights?"
'Twas Christmas in the trenches, where the frost so bitter hung
The frozen fields of France were warmed as songs of peace were sung
For the walls they'd kept between us to exact the work of war
Had been crumbled and were gone for evermore.
My name is Francis Tolliver, in Liverpool I dwell
Each Christmas come since World War I I've learned its lessons well
That the ones who call the shots won't be among the dead and lame
And on each end of the rifle we're the same.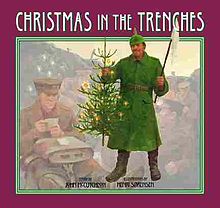 ©1984 John McCutcheon/Appalsongs (ASCAP)
Album: Winter Solstice; original release date 1985
Today, as Christmas approaches, I offer comfort and care in a simple dish of Oven-Roasted Applesauce Scented with Rosemary and Vanilla. It will go with all of your holiday meals, from breakfast to dinner, and we've even eaten it for dessert.
Close your eyes as you are eating it, and wish for peace.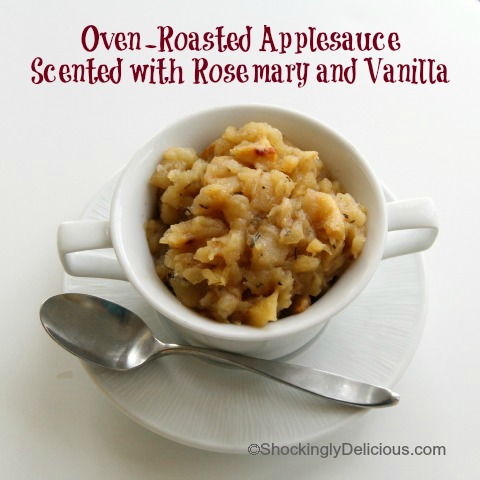 Recipe: Oven-Roasted Applesauce Scented with Rosemary and Vanilla
Summary: The clean, pure flavor of apples caramelized in the oven shines through, with notes of rosemary and fragrant vanilla, in this rustic oven-baked applesauce.
Ingredients
Olive oil
2 ½-3 pound apples, peeled, cored and cut into chunks (I used a mix of Fuji, Honeycrisp and Green Dragon; use what you like)
1 teaspoon minced fresh rosemary
1 tablespoon unsalted butter
Pinch kosher salt
½ teaspoon Heilala vanilla paste
1 teaspoon boiled apple cider
Instructions
Lightly brush some olive oil in a 9- by 13-inch baking dish. Turn oven on to 375 degrees.
Add apples to baking dish, sprinkle with rosemary and bake, uncovered, for about 35 minutes. Test apples with a knife to make sure they are soft.
If done, remove dish from oven, add butter, salt, vanilla paste and boiled cider. Mash with a potato masher, right in the dish, until apples are chunky and everything is mixed well. (Butter will melt into the hot apples.)
Scrape into a serving bowl and either serve warm, or serve at room temperature.
Serves 4-6.
Sunday Supper
See this page for all the wonderful #SundaySupper dishes I have made since I joined this group, and links to all the other delicious dishes made by my fellow cooks.
Preparation time: 15 minutes
Cooking time: 35 minutes
Diet type: Vegetarian, vegan
Number of servings (yield): 4-6
Culinary tradition: USA (Nouveau)
My rating 5 stars:  ★★★★★ 

Our Holiday Music/Movie/TV-Inspired Recipes
This week our #SundaySupper blogger crew is all about holiday inspirations, hosted by Tammi of Momma's Meals. Check out the variety of things we have cooked up for you! Try this Oven-Roasted Applesauce Scented with Rosemary and Vanilla or find something else from the menu below that floats your boat:
Party Appetizers & Snacks:
Festive Main Dishes
Sweet Holiday Treats:
Cozy Drinks: