Print This Post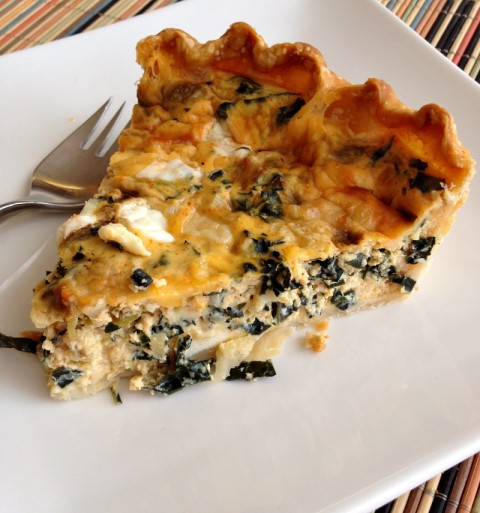 This is the season for showers – babies, brides and more!
Since everyone's going to bring cute appetizers and sweet treats for dessert (c'mon, you know you are), it falls to me to bring something substantial. We can't live on chips, dip and cake pops alone, can we?
Let's kale it up, while we're at it, with a flavorful, cheesy chile tart that is at home for brunch, lunch or on any buffet table.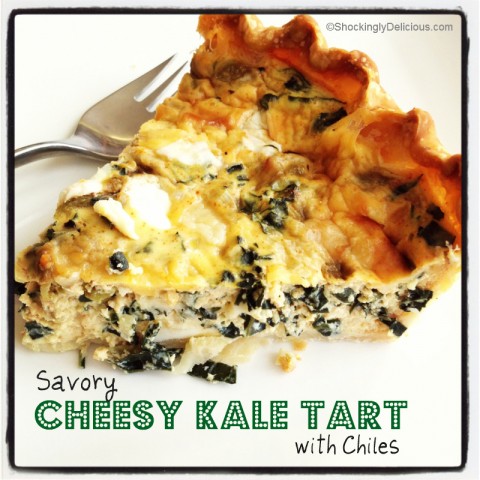 Bring on the silly games and heartfelt toasts.
Recipe: Savory Cheesy Kale Tart with Chiles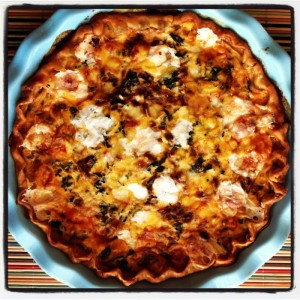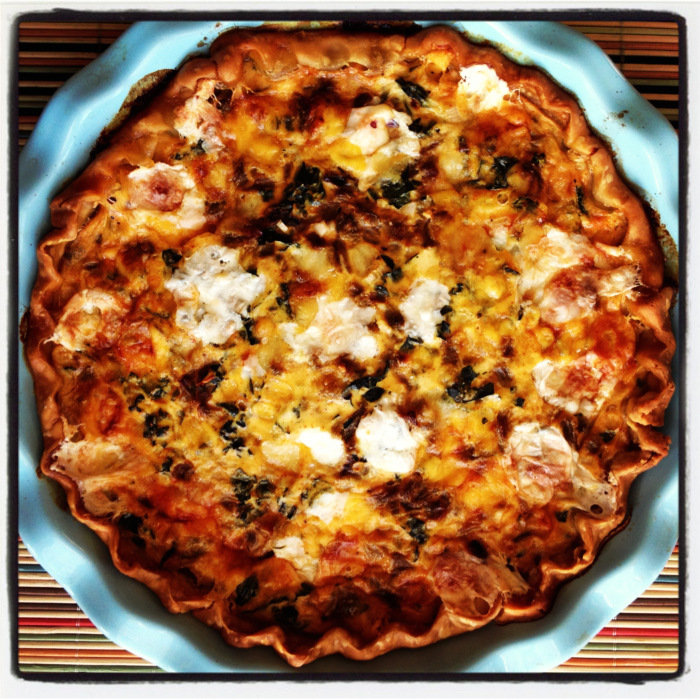 Summary: Rich with cheese, verdant with kale and spiced ever so lightly with Hatch chiles and chili powder, this savory tart makes a great brunch, lunch or light dinner.
Ingredients
1 refrigerated ready-to-bake pie crust (Pillsbury brand preferred)
6 Lacinato kale leaves, washed, rib removed and sliced into ribbons (chiffonade cut)
¼ cup half and half
¼ cup milk
4 eggs
½ cup light sour cream (Daisy brand preferred)
2 garlic cloves, pressed
¼ teaspoon kosher salt
¾ teaspoon Don Enrique Mild Hatch Chili Powder
6-7 ounces cheese, finely diced (I used leftover fresh mozzarella, cheddar and an unmarked something or other from the cheese drawer)
1 shallot, finely minced
3 ounces roasted Hatch chiles, chopped
Instructions
Heat oven to 375F degrees. Unroll pie crust and place in a 10-inch pie plate; crimp edge and place in refrigerator.
Microwave kale for 2 minutes. Drain and set aside.
In a 2-cup measuring cup, pour half and half and milk. Add eggs, sour cream, garlic, salt and chili powder. Whisk well to combine.
Remove pie shell from refrigerator and layer cheese, shallot, kale and chiles, ending with a layer of cheese. Pour egg-milk mixture over tart and bake for 45 minutes.
Remove and cool for 20-45 minutes before serving. Tart is good slightly warm or at room temperature, so don't think you have to serve it steaming hot.
Cut into 6-10 pieces, depending on appetites and what else is on the menu.
Hatch Chili Powder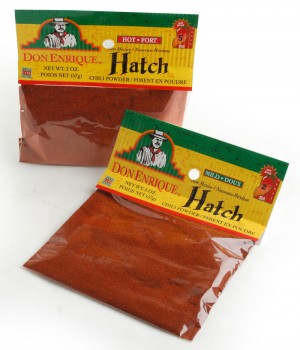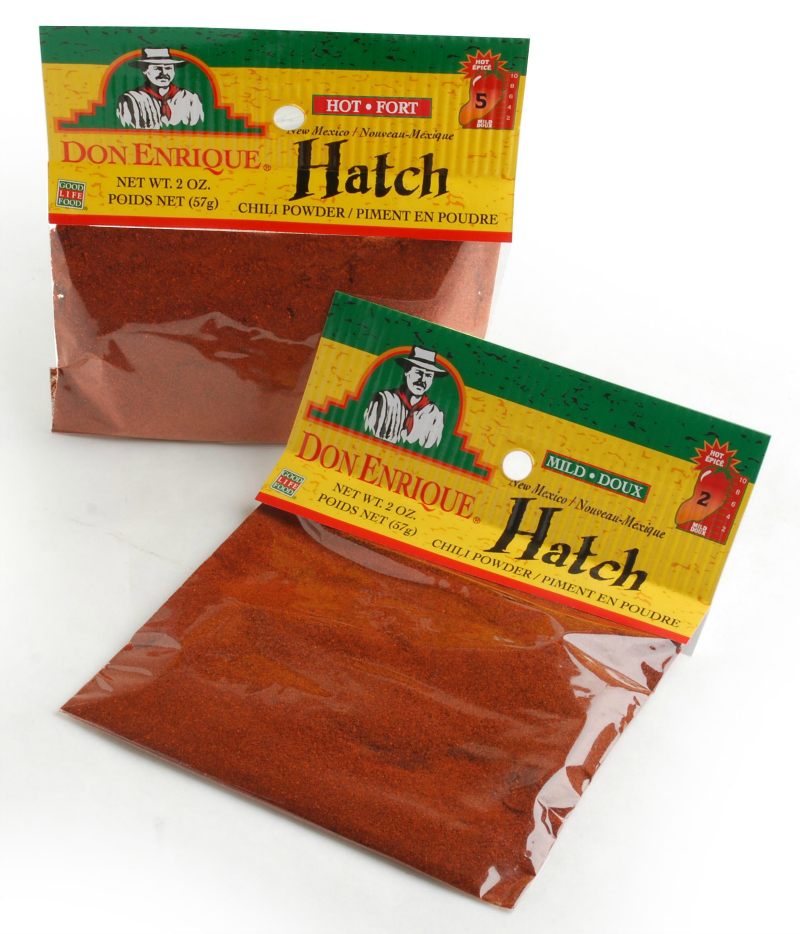 Don Enrique Mild Hatch Chili Powder is made from fresh New Mexican Hatch chiles that are dried and powdered. Although Hatch are green when fresh (available for a short time each year from August-September), they turn red when dried. If you can't find the Hatch powder at your grocery store, you can order it right from the source.  Or sub your favorite chili powder.
Hatch Chiles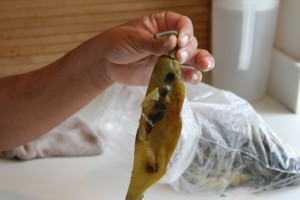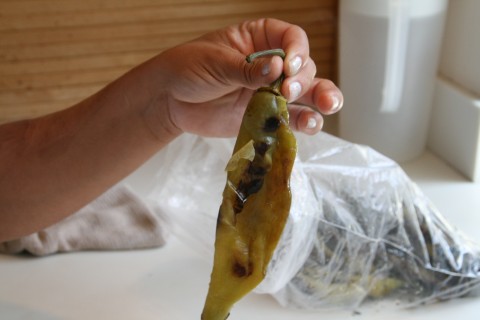 When Hatch chiles are in season, I recommend you buy a case and roast them. Use some immediately, and then chop and freeze the rest in 3- to 4-ounce containers for use in the future. For this tart, I defrosted Hatch chiles I had roasted, chopped and frozen in September. Or sub canned roasted, chopped mild green chiles.
Source
Created by Dorothy Reinhold / Shockingly Delicious.
SundaySupper
See this page for all the wonderful #SundaySupper dishes I have made since I joined this group, and links to all the other delicious dishes made by my fellow cooks.
Preparation time: 20 minutes
Cooking time: 45 minutes
Diet type: Vegetarian
Number of servings (yield): 6-10
Culinary tradition: USA (Nouveau)
My rating 5 stars:  ★★★★★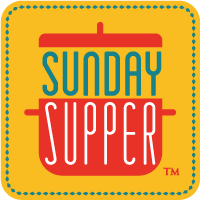 I'm bringing this Savory Cheesy Kale Tart with Chiles to our #SundaySupper potluck this week, celebrating April Showers — babies, brides, and any other events that need celebrating! Take a look at what the rest of the talented #SundaySupper cooks are bringing:
Starters, Appetizers & Snacks
Soups, Salads & Sandwiches
Main Dishes
Cakes
Cookies, Brownies & Dessert Bars
Sweet Treats
Drink Recipes
Join our #SundaySupper Chat!
One of the best parts of #SundaySupper is our weekly Twitter chat. If you love food, you'll want to join us! Just follow the hashtag #SundaySupper on Twitter today, April 21 at 4 p.m. Pacific Time, and we'll be chatting about food and fun for baby showers, bridal showers, and parties.
Want even more #SundaySupper? Follow our #SundaySupper Pinterest board for recipes that are sure to impress!