Print This Post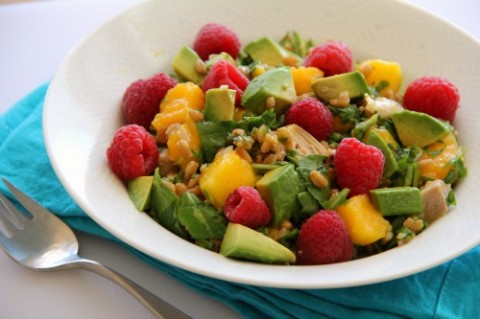 Cilantro Turkey Salad with Farro and Mango is a wonderful way to repurpose leftover turkey. The fruity salad is greened up with arugula and cilantro, and hot sauce gives it a slow burn.
Have I convinced you yet to revel in farro, or at least to try it once?
This salad might convince you. It's pretty, and pretty spectacular tasting, too. The fact that it uses up some of that turkey you have in the refrigerator, well, that's just a huge bonus, isn't it?
It's also a very "California" salad, with avocado, mango and raspberries, fresh leafy arugula and cilantro, in a simple vinaigrette. Beachy casual grain bowl, right here.
What is farro?
Farro is said to be "the mother of all wheat" — the Italian whole grain that, when cooked, gives you something nutty tasting to chew on. That makes it perfect in a main-dish salad, when you want a substantial ingredient to fill it out healthfully. In general, whole grains take longer to digest, so they keep you feeling full longer and provide sustained energy.
I think I need some sustained energy to finish picking the turkey off the carcass, and then using the bones to make turkey stock. 😎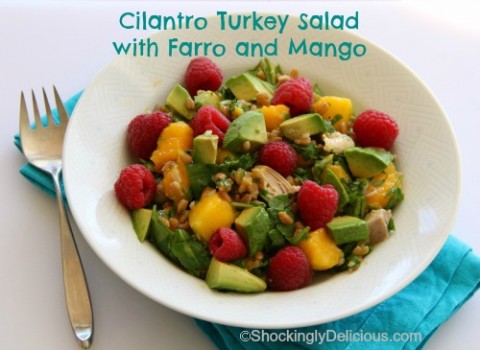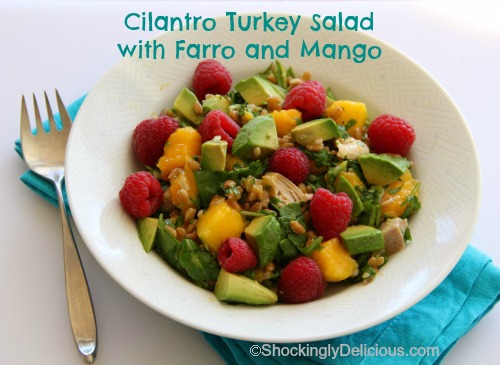 Turkey leftovers, day 3. Done, done and done.
Cilantro Turkey Salad with Farro and Mango (Leftover Turkey)
Cilantro Turkey Salad with Farro and Mango is a wonderful way to repurpose leftover turkey. The fruity salad is greened up with arugula and cilantro, and hot sauce gives it a slow burn.
Ingredients
1 cup diced cooked turkey (see note below about chicken)
1 cup cooked farro (I used farro from Bob's Red Mill)
1 ripe mango, skinned, seeded and diced (I like the Keitt variety if you can find it)
1 shallot, finely minced
1 cup packed baby arugula, chopped
1/3-1/2 cup chopped fresh cilantro
Garnish: 1 (6-ounce) box fresh raspberries
1 avocado, diced
.

Salad Dressing

2 tablespoons extra-virgin olive oil
Squeeze of lemon juice
1/4 teaspoon Tabasco sauce
Directions
Add turkey, farro, mango, shallot, arugula and cilantro to a large salad bowl. Toss gently to combine and mix.

Make dressing:

In a small jar, add olive oil, lemon juice and Tabasco, and shake vigorously. Pour dressing over salad mixture in the bowl. Toss gently to coat all ingredients.
Portion salad into wide, flat bowls, or plates. Dress each salad with raspberries and avocado chunks (if you mix them in with the rest of the ingredients while you are tossing the salad, they will get crushed), and serve.
Serves 3.

Want to use chicken thighs instead?

This is a great salad to use with poached chicken thighs, as well. Put 2 boneless, skinless chicken thighs in a small saucepan, cover with water to exceed by an inch, put the lid on and bring to a boil. When vigorously boiling, turn heat off, leave lid on and allow thighs to steep, undisturbed, for 20 minutes. When time is up, check for doneness by cutting a thigh in half, and if done, drain water (reserve to make chicken soup!), allow chicken to cool enough to handle, and then proceed with recipe.
Notes
Recipe source: Original recipe by Dorothy Reinhold | Shockingly Delicious.
https://www.shockinglydelicious.com/cilantro-turkey-salad-with-farro-and-mango-leftover-turkey-for-sundaysupper/
Copyright Dorothy Reinhold | ShockinglyDelicious.com. All rights reserved.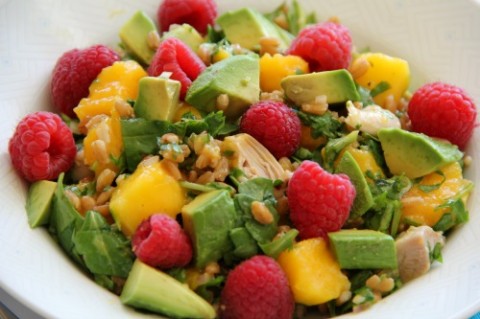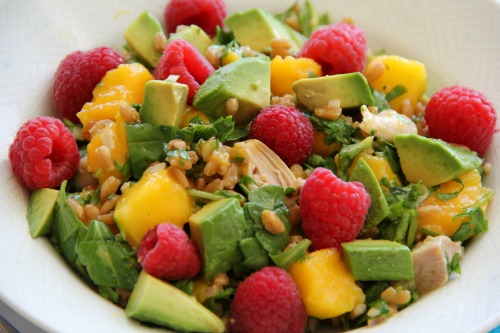 Other Shockingly Delicious recipes with farro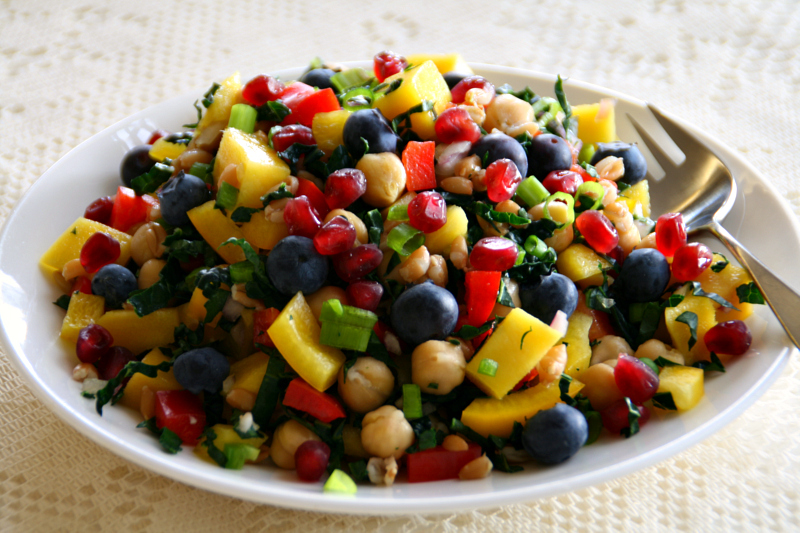 Mango Chickpea Kale Farro Salad (vegan)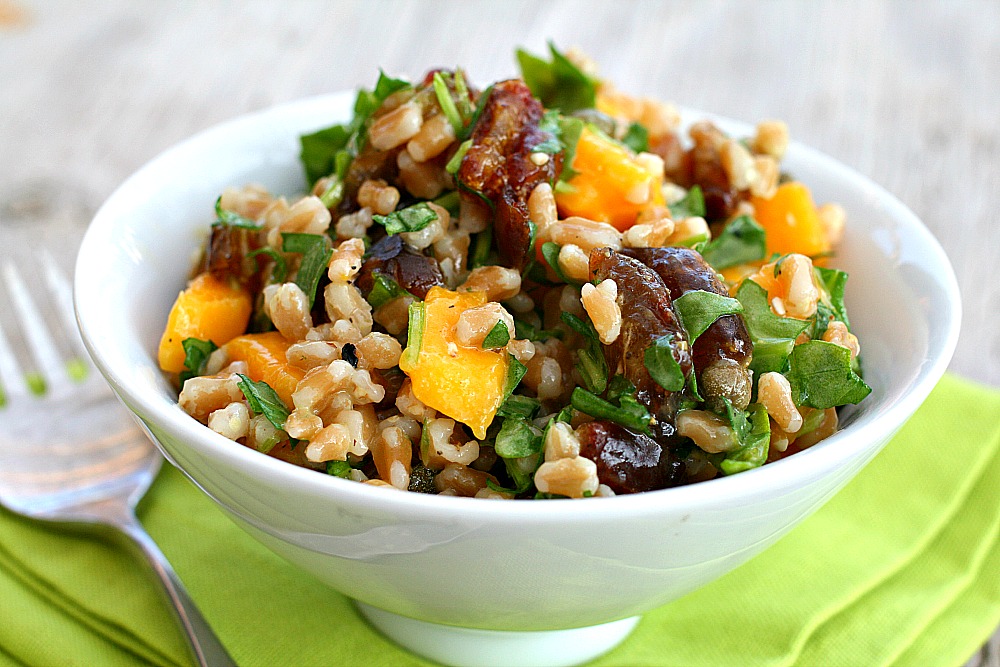 Farro Date Salad with Mango and Arugula (vegetarian)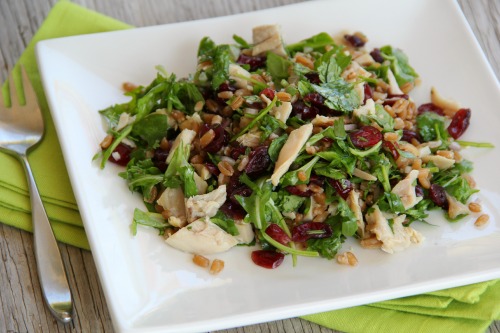 Farro Chicken Cranberry Arugula Grain Salad
Thanks for visiting…are you hungry for more? Follow Shockingly Delicious on…
FACEBOOK | PINTEREST | INSTAGRAM | TWITTER
…for all the latest recipes, ideas and updates!
This post may contain affiliate/referral links. It is a way for this site to earn advertising fees (at no cost to you) by advertising or linking to certain products and/or services that I approve and prefer. Thank you for using my affiliate link to shop, so I can continue to bring you shockingly delicious recipes!