Print This Post
This is a $10-per-plate restaurant dessert if ever I saw one!
This gritty, flat cornmeal cake is fabulous – a bit dense, and chewy from polenta, fragrant with almonds and barely sweet. It's rustic yet can be elegant, if you can imagine that. Rustically elegant?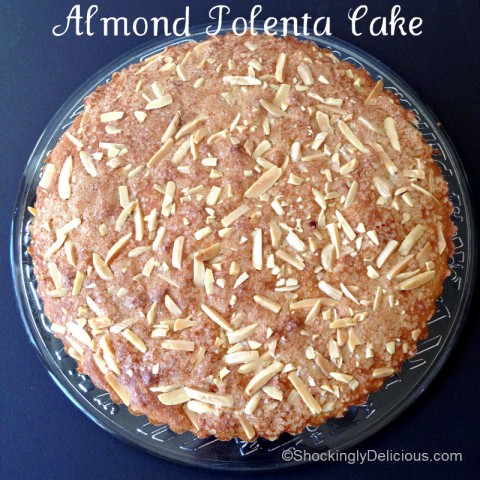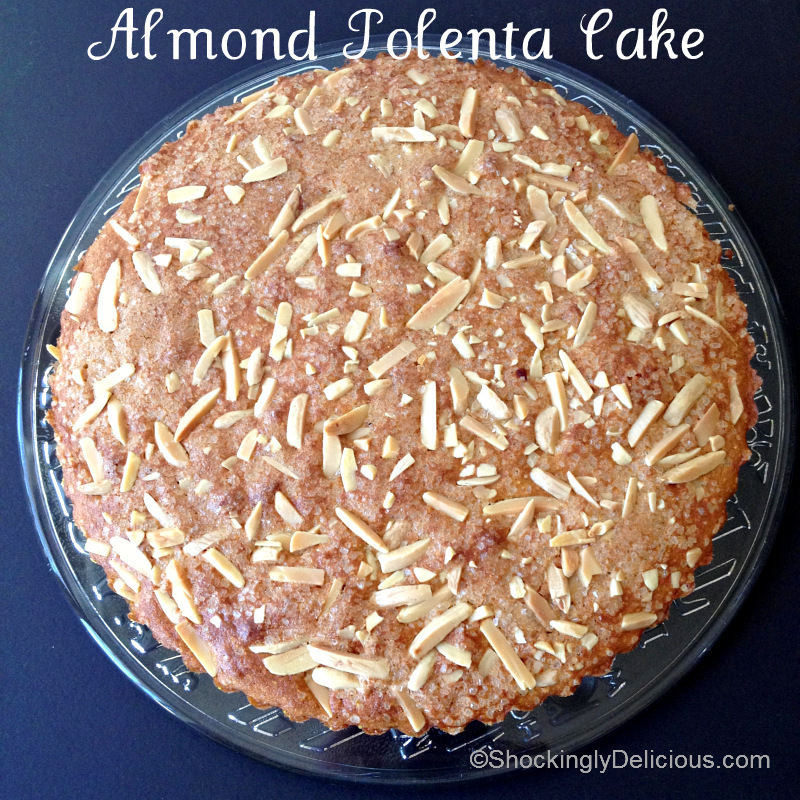 Eat it with lightly sweetened whipped cream and fresh berries or fruit (Ojai Pixie tangerines, anyone?), or by itself with a cup of tea. Heck, I would eat it for breakfast with lemon curd or lemon marmalade.
The sugar and almonds on top give it a light, sweet crust.
Can you tell I love it? It is a bit gritty from the cornmeal, but if you like cornbread, you will likely enjoy it. If you don't like the gritty chew in cornbread, this one isn't for you. Just being honest.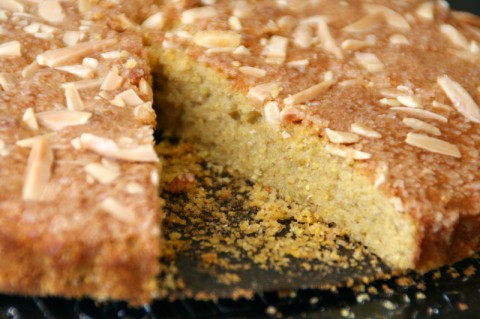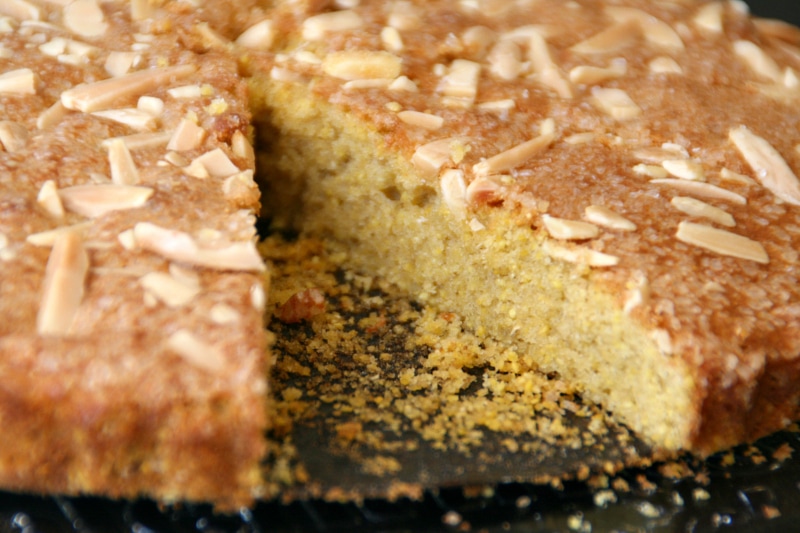 Recipe: Almond Polenta Cake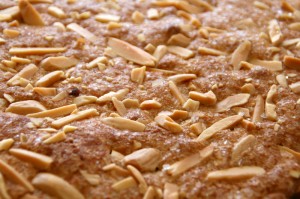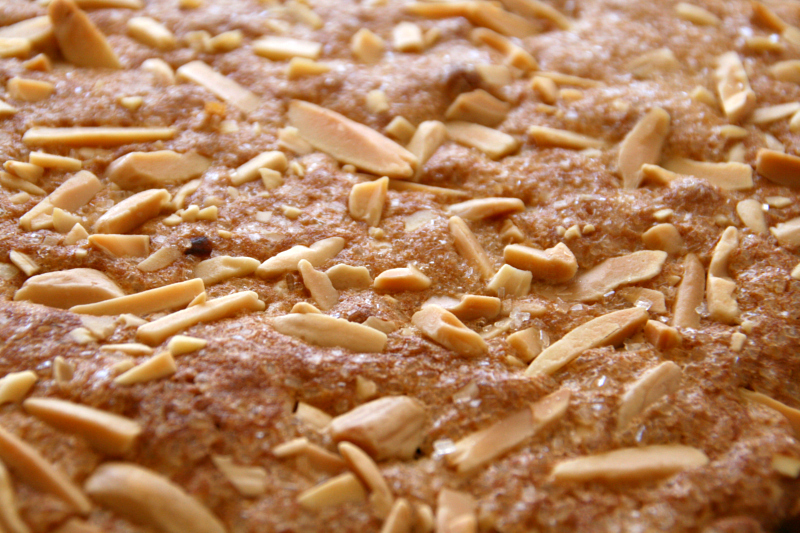 Summary: Gritty, chewy, rustic yet elegant cake has a light, sweet, nutty top crust. It's lovely as dessert with whipped cream and berries, or for breakfast with lemon curd.
Ingredients
½ cup (1 stick) butter, room temperature, + 1 tablespoon for greasing the pan (I used Kerrygold unsalted butter)
1/4 cup plus 2 tablespoons polenta, fine to medium grind (or cornmeal) + 2 teaspoons for dusting pan
1/2 cup brown sugar, not packed
2 eggs, at room temperature
3 egg yolks, at room temperature
3/4 teaspoon almond extract
½ teaspoon vanilla extract
1 1/4 teaspoons baking powder
1/4 teaspoon salt
1/2 cup + 2 tablespoons flour
Topping: 1 heaping tablespoon coarse sugar crystals
Topping: ¼ cup slivered, dry toasted almonds
Instructions
Heat the oven to 375F degrees. Use 1 tablespoon butter to grease a 9-inch removable-bottom tart pan; dust with 2 teaspoons cornmeal.
Using an electric mixer, cream the butter and brown sugar until light in color and fluffy, 1 ½-2 minutes. Scrape the bowl and add the eggs and egg yolks, one at a time, beating thoroughly after each addition. Mix in almond extract, vanilla, baking powder and salt.
Mix in flour and remaining corn meal until combined.
Using an offset spatula, spread the batter evenly into the prepared pan. Sprinkle the coarse sugar and slivered almonds evenly on top.
Bake for 20-24 minutes. Remove from the oven and set on a rack to cool. When cool, remove outer ring and place cake on a serving plate.
Serves 12.
Source
Adapted from a recipe by pastry chef Kimberly Sklar of Literati II, a Los Angeles restaurant, and printed in the Los Angeles Times.  At the restaurant, Sklar served her cake with almond and cherry swirl ice cream.
Variations
Add some grated orange zest or tangerine zest to the cake for a deepened flavor component.
SundaySupper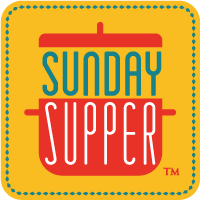 Here's a list of all the recipes I have brought to our #SundaySupper virtual meals so far. Browse through them…lots of good ideas in here!
Preparation time: 15 minutes
Cooking time: 20 minutes
Diet type: Vegetarian
Number of servings (yield): 12
Culinary tradition: Italian
My rating 5 stars:  ★★★★★ 
Today our #SundaySupper cooks are making Cheese, Cakes and Cheesecakes, with some fantastic recipes you'll want to try. Browse below to see what you might put on your menu this week.
Cheese –
Cakes –
& Cheesecakes
Join the #SundaySupper conversation on Twitter each Sunday. 
We tweet throughout the day and share recipes from all over the world. This week we will be sharing our love of Cheese, Cakes AND Cheesecakes!  Our weekly chat starts at 7 p.m. EST!
Follow the #SundaySupper hash tag and remember to include it in your tweets to join in the chat.
Check out our #SundaySupper Pinterest board for more fabulous recipes and food photos. Join us around the family table this Sunday at 7 p.m. Eastern Time and share your favorite Cheese, Cake and Cheesecake Recipes with us!