Print This Post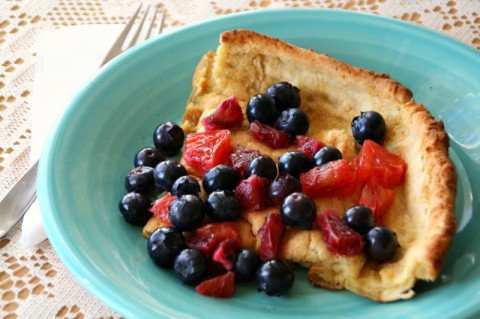 I don't really need an excuse to make pancakes. All it takes is a weekend, some hungry kids, and some fresh fruit for inspiration.
So National Blueberry Pancake Day, which dawns tomorrow (Mon., Jan. 28), seems like as good a reason as any to whip out my favorite puffy pancake and top it with my favorite berry. (With just 80 calories per cup and no fat, blueberries are definitely on my healthy eating list for 2013.)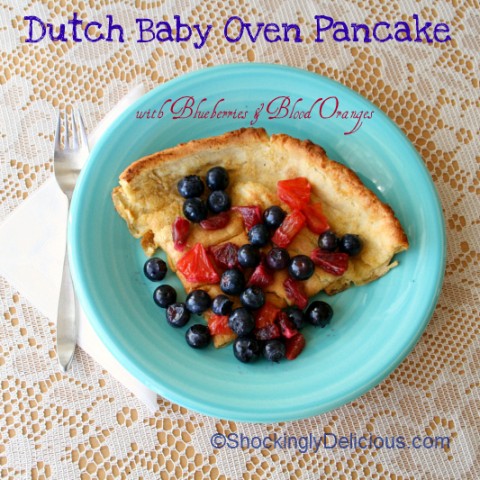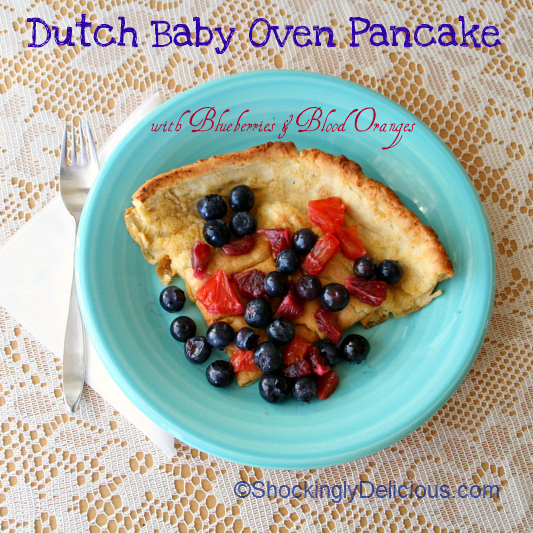 I made an oven pancake – called a Dutch Baby, or a German Pancake – which is a sweet popover type breakfast treat that puffs up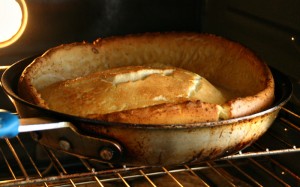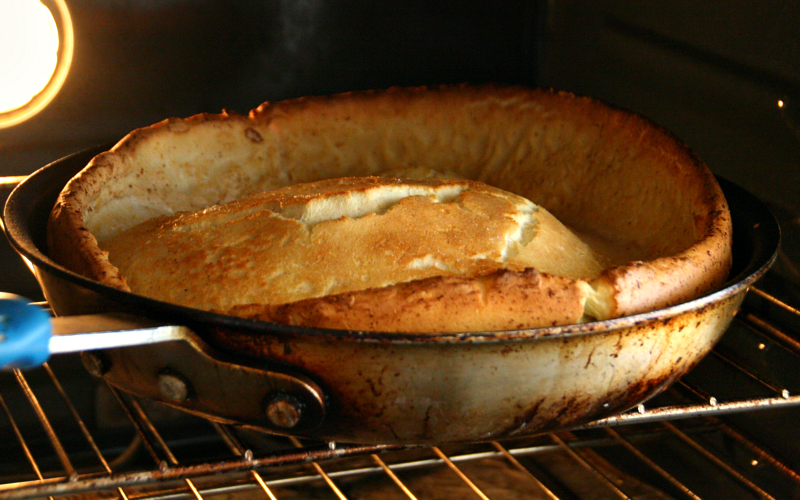 impossibly high and then falls after being removed from the oven. The "Dutch" in the name refers to the German-American immigrants known as Pennsylvania Dutch (Dutch is a corruption of the German word deutsch).
Perhaps I love these Dutch Baby Oven Pancakes so much because I am half Pennyslvania Dutch.
Or perhaps it's just because they are that good.
Recipe: Dutch Baby Oven Pancake with Blueberries and Blood Oranges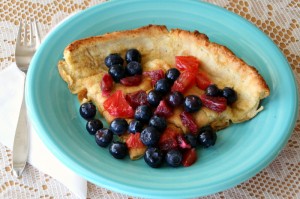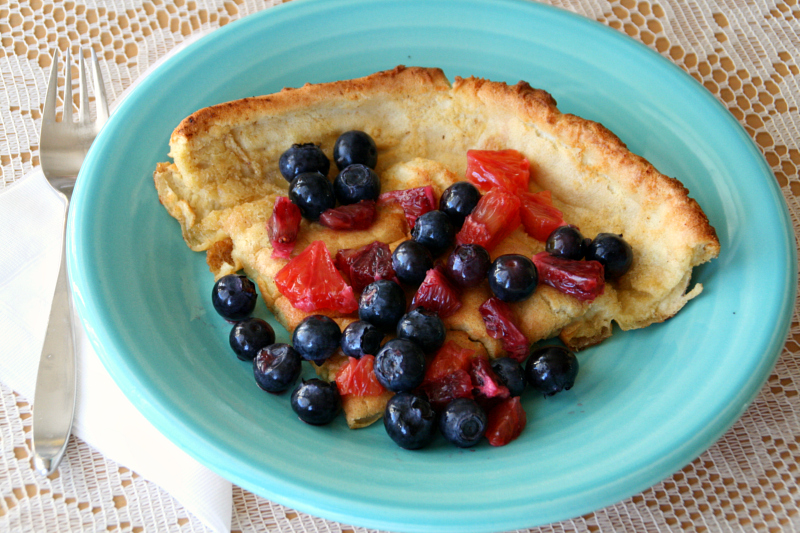 Summary: Light, popover-like pancakes that puff up high in the oven and deflate upon cutting. Top with berries and fresh fruit for a perfect breakfast.
Ingredients
Pancake
4 eggs
1 cup 1% milk
1 cup sifted white whole wheat flour
2 tablespoons confectioner's sugar
½ teaspoon vanilla extract
¼ teaspoon ground nutmeg
1/8 teasoon kosher salt
1/4 cup unsalted butter
Finishing
1 ½ cups Driscoll's Blueberries, rinsed and dried
2 blood oranges, peeled and diced
Confectioners' sugar
Maple syrup
Instructions
Heat oven to 475F (245 degrees C). Place a 12-inch ovenproof skillet (cast iron or other) in oven and allow skillet to heat for 5 minutes. Add butter to skillet and allow butter to melt in hot skillet in oven.
While butter is melting, add eggs, milk, flour, sugar, vanilla, nutmeg and salt to a blender. Whirl for 30 or so seconds until well blended. (Or you may whisk ingredients in a mixing bowl instead of the blender.)
Check on butter in skillet in oven; it should be melted and foamy. Allow butter to brown slightly if you like; otherwise, proceed.
Remove skillet from oven, swirl butter to entirely coat bottom and sides of skillet, reduce oven heat to 425F (220 degrees C). Pour batter in the skillet and return skillet to oven. Set timer for 20 minutes.
Make berry topping: While pancake is baking, add blueberries and blood oranges to a bowl and stir gently to combine. Set aside.
Bake pancake until puffed and lightly browned, about 20 minutes. Edges of pancake will rise high, followed minutes later by the center; it will be delightfully puffy! When done, remove from oven promptly and sprinkle with a bit of powdered sugar if you like.
Pancake will deflate when you cut it. Cut into 4 portions and serve, topping with blueberry-orange mixture. Pass the maple syrup and additional confectioner's sugar at the table, for those who like a sweeter breakfast. (I like the pancake as-is with fruit topping; my family prefers it sweeter.)
Serves 4.
Source
Family heritage recipe adapted by Dorothy Reinhold/ShockinglyDelicious.com
Acknowledgements
Driscoll's provided the berries, and Melissa's Produce provided the blood oranges, for recipe testing. Thanks to both for growing and distributing such high quality fresh fruit!
Preparation time: 10 minutes
Cooking time: 25 minutes
Diet type: Vegetarian
Number of servings (yield): 4
Culinary tradition: German
My rating 5 stars:  ★★★★★