Print This Post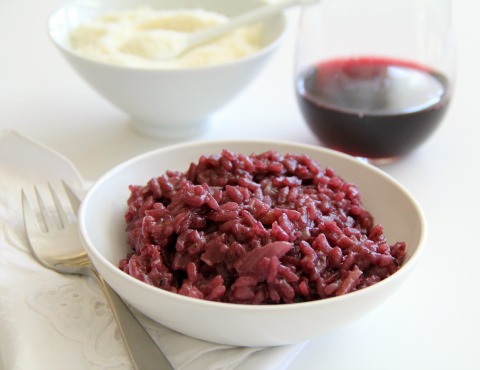 Red Wine Risotto: Jewel-red, deeply flavored and perfect with beef or roasted meats, Red Wine Risotto makes an elegant Christmas dinner. Or serve it along with some green vegetables for a vegetarian dinner.
I'm having roast beef for Christmas dinner, and I found my perfect special side dish to go with it.
Red Wine Risotto — jewel-like in color, rich in flavor and perfectly elegant as it should be for a special dinner — will marry quite nicely with a nice slice of rare beef. The only other thing I need on the holiday plate is my beloved wilted greens. (But even without the beef, you could make a nice vegetarian dinner out of the risotto and greens!)
For the fail-safe recipe, I turned to author Anne Willan, whose new memoir, "One Souffle at a Time: A Memoir of Food and France," has been on my nightstand. There on page 220, was my Christmas lightbulb find: her tale of stirring up a big pot of red wine risotto for friends who had dropped by with a crate of wine. (I want those kinds of friends!)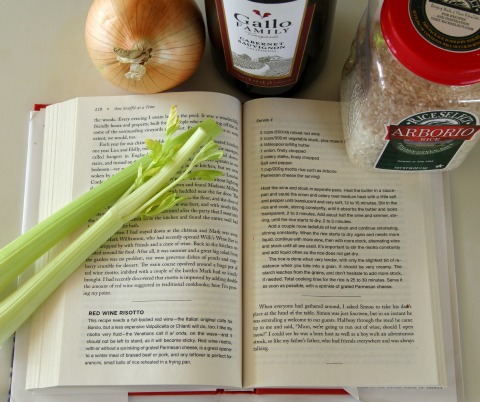 "I had recently discovered that risotto is improved by adding double the amount of red wine suggested in traditional cookbooks; here I'm proving my point," she writes.
Indeed she has! She suggests a full-bodied red wine for the recipe, and tells us "the Italian original calls for Barolo, but a less expensive Valpolicella would do too." I veered just a tad from her advice, and chose instead a more local wine, since I live in California. Italian wine? Heresy here when we have God's wine country at our doorstep!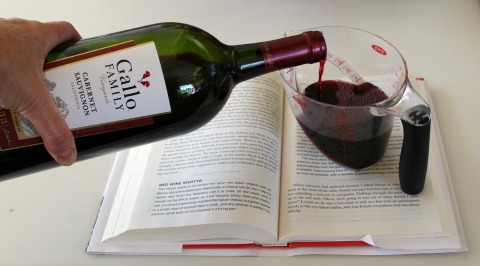 Gallo Family Vineyards has a wonderful Cabernet Sauvignon among their 16 different wines,  and I found it fit the bill perfectly. Deeply red, full-bodied, dry with hints of blackberry and black currant balanced and smoothed by oak, this is a wine I invited into my risotto pot and my glass! You know…a bit for the pot, a sip for the cook.
Gallo Family Vineyards, much like our Sunday Supper group, emphasizes the importance and deep meaning of family. Started by Ernest & Julio Gallo with $5,000 borrowed from a mother-in-law and a wine-maker's education gleaned from the Modesto, Calif. public library, Gallo Family Vineyards is still family-owned 80 years later.
As the Gallo brothers say, they're proud of their tradition of making great wine, but most of all, they're honored to be invited to wherever your family gets together.
They're welcome around my family table anytime.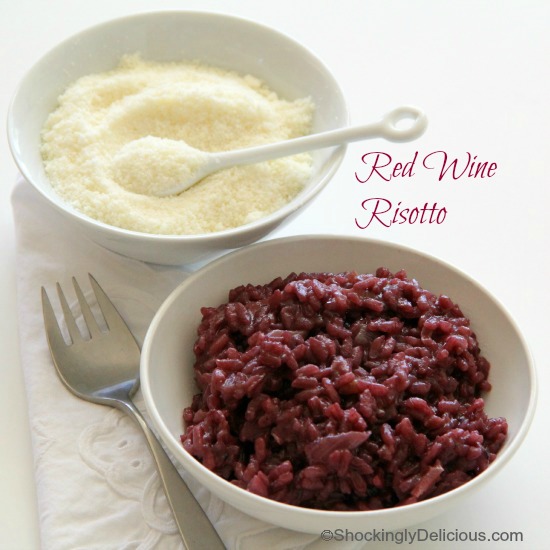 Recipe: Red Wine Risotto
Summary: Jewel-red, deeply flavored and perfect with beef or roasted meats, Red Wine Risotto makes an elegant Christmas dinner.
Ingredients
2 cups (500 ml) robust red wine (I used Gallo Family Vineyards Cabernet Sauvignon)
2 cups/500 ml vegetable stock, more if needed
4 tablespoons/60 g butter
1 medium onion, finely chopped
2 celery stalks, finely chopped
1 cup/200 g risotto rice such as arborio
Salt and pepper
Grated parmesan cheese (for serving)
Instructions
Heat the wine and stock in separate pans (I heated them both in separate large measuring cups in the microwave, reheating as necessary during the process). Heat the butter in a large saucepan and sauté the onion and celery over medium heat with a little salt and pepper until translucent and very soft, 12-15 minutes. (I didn't add salt because my stock was salted.) Stir in the rice and cook, stirring constantly, until it absorbs the butter and looks transparent, 2-3 minutes.
Add about half the wine and simmer, stirring, until the rice starts to dry, 2-3 minutes.
Add a couple more ladlefuls of hot stock and continue simmering, stirring constantly. When the rice starts to dry again and needs more liquid, continue with more wine, then with more stock, alternating wine and stock until all are used. It's important to stir the risotto constantly and add liquid often so the rice does not get dry.
The rice is done when very tender with only the slightest bit of resistance when you bite into a grain. It should be very creamy from the starch that leaches from the grains and don't hesitate to add more stock if needed. Total cooking time for the rice is 25-30 minutes. Serve it as soon as possible.
Serves 4-5.
Source
"One Souffle at a Time: A Memoir of Food and France," by Anne Willan (2013; St. Martin's Press)
Anne Willan's note: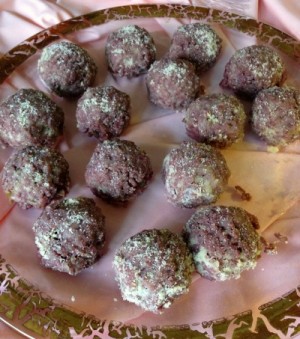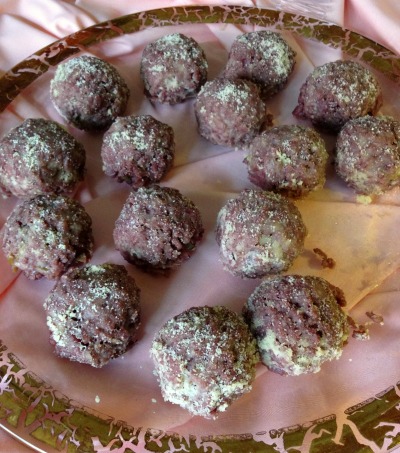 "I like my risotto very fluid, the Venetians call it al onda, on the wave, and it should not be left to stand as it will become sticky. Red wine risotto, with or without a sprinkling of grated Parmesan cheese, is a great opener to a winter meal of braised beef or pork, and any leftover is perfect for arancini, small balls of rice reheated in a frying pan." If you'd like to make this recipe into risotto balls, they might look like these, created by chef Denise Vivaldo for Willan's recent book signing party I attended in Los Angeles:
Preparation time: 10 minute(s)
Cooking time: 40 minute(s)
Diet type: Vegetarian
Diet tags: Gluten free
Number of servings (yield): 4
Culinary tradition: Italian
My rating 5 stars:  ★★★★★ 
If you like this recipe and want to save it, pin the image below to your Pinterest board

Thanks for visiting…are you hungry for more? Follow Shockingly Delicious on…
FACEBOOK | PINTEREST | INSTAGRAM | TWITTER
…for all the latest recipes, ideas and updates!
Disclosure: Compensation for this post was provided by Gallo Family Vineyards via Sunday Supper, LLC. The opinions expressed here are those of the author, and are not indicative of the opinions or positions of Gallo Family Vineyards.


This post may contain affiliate/referral links. It is a way for this site to earn advertising fees (at no cost to you) by advertising or linking to certain products and/or services that I approve and prefer.
This post was originally published Dec. 15, 2013 on Shockingly Delicious and has been refreshed and republished Dec. 5, 2018.