Weekday Supper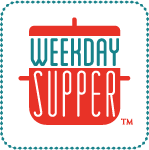 Many of us in Sunday Supper also contribute Weekday Supper recipes. These are meant to be able to be prepared relatively quickly with pantry staples and things you probably already have on hand. You know, when you get home from work and everyone is starving and you NEED DINNER NOW!
Here's what I've made so far for Weekday Supper
Casserole Type Dishes
Simple Cheesy Chicken Tortilla Casserole
Mac 'n' Cheese Impossible Pie
Impossible Quesadilla Pie
Healthier Santa Fe Frito Pie
Jalapeno Tuna Macaroni and Cheese
Sun-Dried Tuna Italian Rice Bowl
Cheese
Baked Goat Feta with Olive Oil and Herbs
Meat and Chicken
3-Ingredient Chicken Cacciatore in the Slow Cooker
Lamb Patties with Onions, Peppers, Rosemary and Raisins
Very Sloppy Joels
Mexican 
Black-Eyed Pea Quesadillas
Pasta
Shortcut Lentil Pasta Sauce
Pasta with Black Olive and Sun-Dried Tomato Tapenade
Tuna Tomato Pasta Dinner for Two
Pizza
Pesto Caprese French Bread Pizza
French Bread Hawaiian Pizza
Salads
Wedge Salad
Caprese Grain Salad Bowl
Tuna, Tomato, Cucumber Salad
Skillet
Lamb Skillet with Spelt, Spinach, Rosemary and Raisins
Tuscan Baked Eggs on Lentils
Soup
Sweet Tomato, Chickpea and Rosemary Soup
Pinterest: Follow our Weekday Supper Board on Pinterest!