Print This Post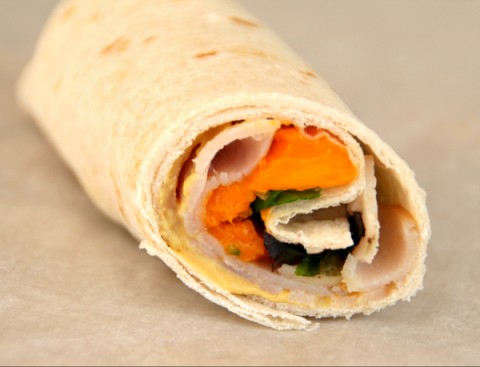 My husband's favorite sandwich is a mesquite turkey with pepper jack cheese, with a smear of mustard and exactly 4 drops of Tabasco Habanero sauce, strategically placed so there is a drop for every other bite.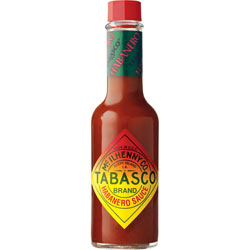 My son, watching him intently every morning as he fixes this sandwich, has now taken to asking for the same thing, only without the habanero.
Every single weekday!
No matter how many times I offer some variety on this ritual – Would you like roast beef today? How about a ham sandwich? What about chicken salad, or tuna? – the answer is always "I'll have the usual."
It's killin' me not to tweak, so today I am busting out of that jail, thanks to Katie Workman and her new "The Mom 100 Cookbook: 100 Recipes Every Mom Needs in Her Back Pocket" (Workman Publishing; 2012).
She has a section of the book devoted to wraps, and when I saw it, the neurons started firing. What if I gave them pretty much what they wanted, but I put it in a wrap? Yes, a wrap…that's going to be the gateway drug to a whole world of different lunches!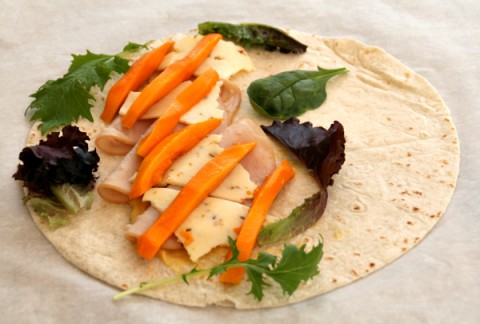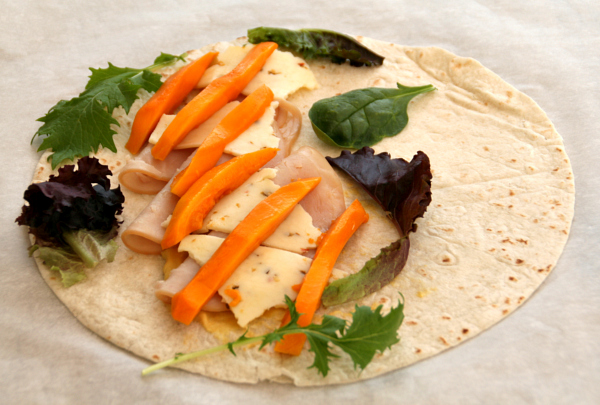 But we're taking baby steps here, so I'm keeping the mainstays of the filling the same – mesquite turkey and pepper jack cheese – while adding a sweet slice of ripe mango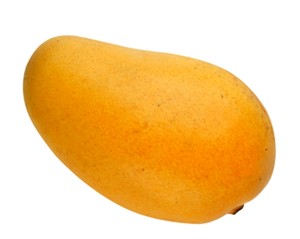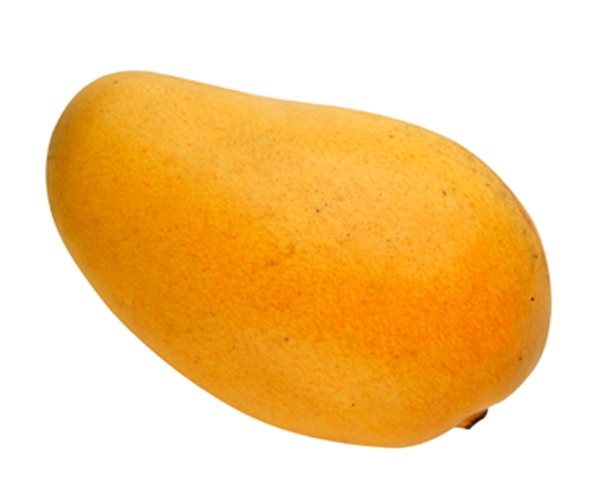 for interest and appeal. Mango is the perfect fruit for a wrap because it is sweet, which offers a counterpoint to the salty meat, but not so juicy it wrecks the wrap. It also won't turn brown when exposed to the air.
This time I'll keep it rolled up like a burrito. Next time I might slice it horizontally into pinwheels. Who knows where this craziness will lead. (I might just serve this for a patio dinner tonight!)
One small step for mom, one giant leap for the Professor and the man-cub!
Recipe: Mesquite Turkey, Mango and Pepper Jack Cheese Wrap
Summary: A classic turkey and pepper jack cheese sandwich sweetened with fresh mango and brought up to date in a wrap, for back to school!
Ingredients
1 flour tortilla (burrito-size works best)
Dijon mustard
3 slices of mesquite turkey lunch meat
1-2 slices pepper jack cheese
Several slices fresh ripe mango
Optional: shredded lettuce, spinach or arugula
Instructions
Lay tortilla flat on work surface, and spread with a smear of mustard. Layer meat, cheese and mango. Top with shredded lettuce or spinach if you can get away with it!
Makes 1. Multiply ingredients by as many as you wish to make!
Wrap advice from Katie Workman
Don't overfill the wrap. Workman advises, "Layer ingredients on about 3/4 of the wrap, leaving a little space around the edge for things to squish outward when you roll it up. And then on the edge of the one quarter that has no filling, put a smear of the condiment of your choice, like mustard or mayo. As you roll up the wrap, starting with the filled side closest to you and rolling toward the barer edge, the filling will slide into bare space a bit, ideally leaving you with enough room so that the condiment at the edge will help seal up the wrap as you finish rolling." Right? It sounds complicated when you write it all out; in fact, you'll see how easy it is, and once you make your first or second wrap, the rolling will be second nature.
Variations
 The Professor likes to occasionally put this sandwich on cinnamon raisin bread (yes, don't make fun of it until you have tried it!), and stick it in the panini machine to melt the cheese. Sure, it isn't still hot when he eats it for lunch, but it makes for a different sandwich experience.
Mangos
You may use any type of fresh ripe mango available to you. Here is a mango variety and availability chart so you can see what is in season when you get ready to make these. These mangos were sent to me by the National Mango Board, for testing and recipe development.
Preparation time: 5 minutes
Number of servings (yield): 1
Culinary tradition: USA (General)
The #SundaySupper Group, whose mission is to bring Sunday supper back to the family table in every home, has enjoyed creating Katie's recipes and her inspiration for back to school.
Please enjoy our Back to School menu from "Mom 100," and cook something from here yourself. Have a shockingly delicious week!
Easy Breakfast ideas:
Lunchbox Wraps:
Easy Weekday Suppers:
After School Snacks:
Come join us live on Twitter today at 4 p.m. PST where we will chat about back to school culinary challenges (using hashtag #SundaySupper). Also check out our #SundaySupper Pinterest board for more recipes.