Print This Post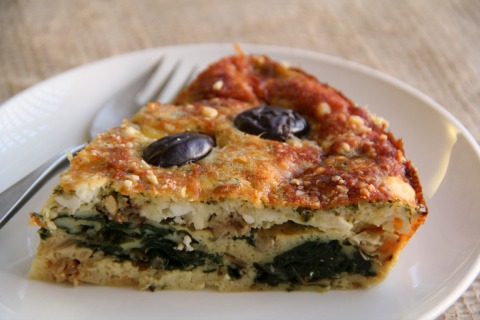 "Cheese, please," is what we say at our house, and so any recipe that showcases our beloved curds is bound to be a crowd-pleaser at the table, for breakfast, lunch or dinner.
I've been on a nostalgia jag lately, making cheesy recipes I remember from my youth. One of them, a Quesadilla Impossible Pie, got me in the mood for more variations on Impossible Pies.
Thus was born this Greek version, chock full of spinach and yes, two kinds of cheese – feta and Parmesan. The feta adds a bit of salty brine, which means you don't have to add any additional salt in making the recipe, and the Parmesan on top bakes into a nice toasty crust. These are two of the best characteristics of baking with cheese – the salty addition and the toasty exterior.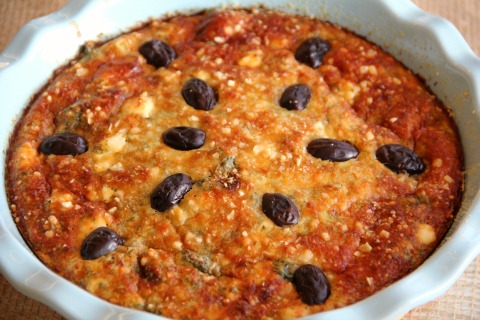 Because let's face it — every meal is better with cheese!
Recipe: Spinach Feta Greek Impossible Pie
Summary: Squeaky from the spinach and rich with two kinds of cheese, this easy savory, crustless vegetarian pie can be a brunch, lunch or dinner entrée.
Ingredients
1 tablespoon extra-virgin olive oil
1 onion, finely chopped
3 garlic cloves, finely minced
1 package (9-10 ounces) fresh spinach
Heaping ½ cup crumbled feta (I used about 3 ounces goat feta)
1 cup milk (I used 1% milk)
3 eggs
1 lemon (need 1 tablespoon lemon juice + zest from lemon)
1 teaspoon dried oregano
1 teaspoon dried dill
¼ teaspoon freshly ground nutmeg
10 grinds black pepper
½ cup Heart Smart Bisquick® mix
3 tablespoons grated Parmesan cheese
6 pitted Kalamata olives, halved
Instructions
Heat oven to 350ºF. Mist a 9-inch deep pie dish with nonstick spray and set aside.
Heat oil in a 10-inch skillet over medium heat. Cook onions for about 7-8 minutes, until they begin to brown. Add garlic and spinach, and cook, stirring frequently, just until spinach is beginning to wilt. This will only take a minute or so.
Remove from heat and scrape mixture into pie dish, spreading evenly on bottom.
Sprinkle feta on top of spinach.
Measure milk into a 4-cup measuring cup, add eggs, lemon juice and zest, oregano, dill, nutmeg and pepper and whisk to combine well. Stir in Bisquick just until blended. Pour evenly into pie plate.
Sprinkle with Parmesan cheese and arrange olives on top in a decorative pattern. I like to put them in a spoke pattern to define where the pieces should be cut.
Bake for 35 minutes or until knife inserted in center comes out clean, center is set and top is browned. Remove from oven and cool 5-10 minutes before cutting. (This is also good at room temperature.)
Serves 6.
Source
Recipe by Dorothy Reinhold | Shockingly Delicious
American Family Insurance
Located in cheese-tastic Wisconsin, AFI encourages families to eat together. You can find family-friendly recipes on their Back to the Family Dinner Table Pinterest board, or follow them on their other sites: Website | Linkedin | Youtube | Google+ | Twitter | Facebook.
Preparation time: 25 minutes
Cooking time: 35 minutes
Diet type: Vegetarian
Number of servings (yield): 6
Culinary tradition: Greek
My rating 5 stars:  ★★★★★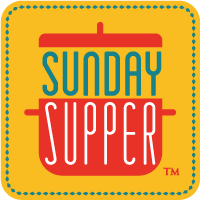 This week our #SundaySupper blogger crew is all about cheese. Check out the variety of things we have cooked up for you! Try my easy Spinach Feta Greek Impossible Pie or find something else from the menu below that floats your boat:
Cheesy Recipes Perfect for Sunday Supper:
Join us today for #SundaySupper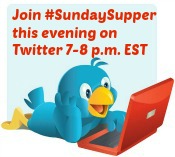 Twitter how-to

: Follow the #SundaySupper hashtag throughout the day to see our recipes. To join the conversation anytime, simply use the #SundaySupper hashtag to share your favorite tips and recipes.
Pinterest: Check out our #SundaySupper Pinterest board for more recipes and photos.

Join

: To join the Sunday Supper Movement, sign up by clicking here → Sunday Supper Movement.
Disclosure: This post is sponsored by American Family Insurance. All opinions are my own, and the recipe and photos are Shockingly Delicious originals.