Print This Post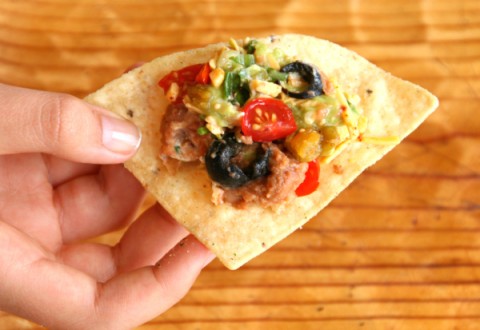 The name of this recipe – Walking Tostada – should be reason enough to make it! What the heck is that, a walking tostada? And what evil genius came up with that name for what is essentially a crazy multilayered bean dip?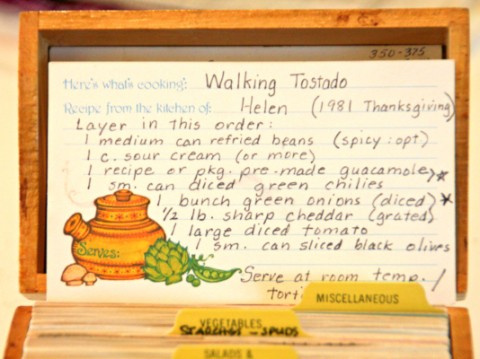 As you can see from the 1980s recipe card penned by my mother, we had this for Thanksgiving 1981. I'm sure it was an appetizer, which would have disappeared quickly into the four gaping maws of me and my brothers, all in our 20s at that time.
These days, my family enjoys this AS dinner, not as an appie BEFORE dinner. We'll have a salad or some other veggie alongside, and we all use tortilla chips to dip out our dinner.
It's fun and delicious. Isn't that what a family dinner should be?
Recipe: Walking Tostada
Summary: Call this a 9-layer bean dip, or a Walking Tostada — either way it makes a substantial party appetizer or a delicious family dinner. We had it for July 4th with red, white and blue tortilla chips!
Ingredients
1 (16-ounce) can refried beans

(my latest favorite is Rosarita No Fat Green Chile & Lime flavor)

1 cup sour cream

(I like Daisy brand low-fat, and I stir in a shake of ground cumin)

Guacamole

(made from 2 ripe avocados, lime juice, crushed garlic clove and a squirt of green taco sauce)

1 (3.5-ounce) can diced green chiles
2 scallions, chopped
2 large tomatoes, seeded and chopped
1 cup (4 ounces) or more grated sharp cheddar cheese
Chopped or sliced black olives

(sometimes I use green olives)

Chopped fresh cilantro
Scoopers: Tortilla chips
Instructions
In a 12- by 8- or 13- by 9-inch dish, layer refried beans (heated if you like), using an offset spatula to make it easy. Layer the sour cream, then the guacamole, then green chiles, scallions, tomatoes, cheese, olive and finally the chopped cilantro.
Serve at room temperature with tortilla chips as dippers.
Serves 4-6.
Preparation time: 20 minutes
Diet type: Vegetarian
Number of servings (yield): 4-6
Culinary tradition: Mexican (ish)