Print This Post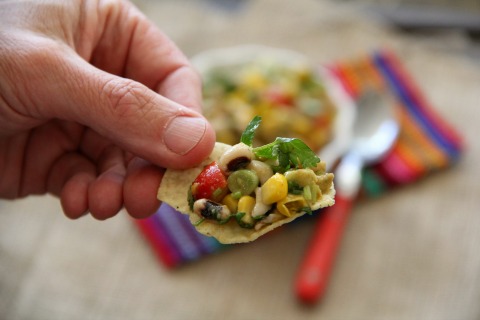 Tapas are snacks, appetizers or small-bite finger food from Spain. They're utterly delicious, and so varied that they differ from town to town and can be almost anything you dream up. Each bar and café has its own ever-changing versions.
Today our Sunday Supper group is celebrating with tapas, but, like the rugged individualist I am, I'm veering off 6,000 miles from Spain.
Instead, I'm hewing to my location – the West! – with this recipe for a chunky, beany dip that is as comfortable playing an appetizer as it is standing up for lunch or dinner. Make a meal out of it if you like, with fresh fruit and a beer or glass of wine alongside.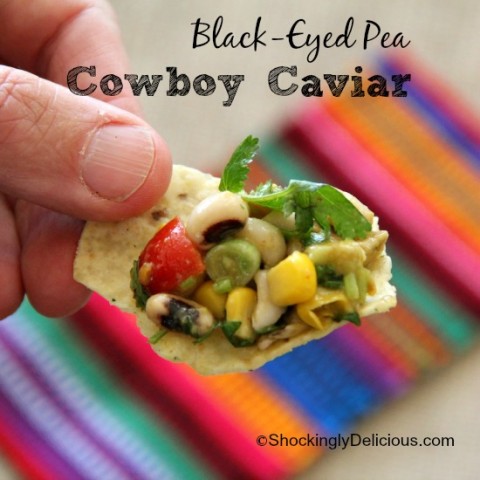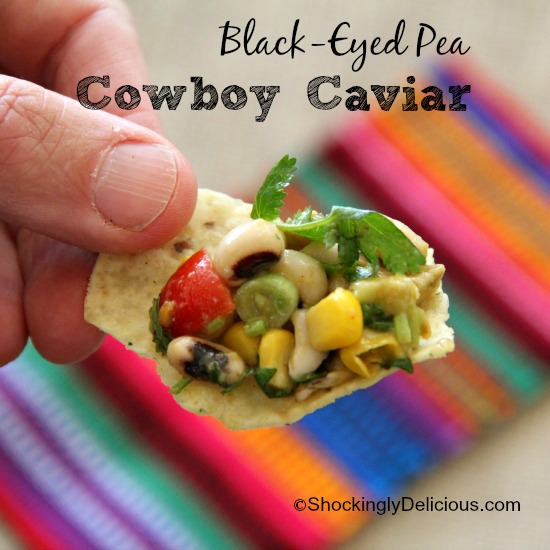 Black-eyed peas are traditionally eaten on New Year's Day for good luck, but I'm hoping to extend the lucky streak as long as possible into 2104, eh?
Recipe: Black-Eyed Pea Cowboy Caviar
Summary: A rustic, chunky, Western-style bean and vegetable dip that takes full advantage of the hearty flavor of black-eyed peas.
Ingredients
1 (11-ounce) container Frieda's Blackeyed Peas
1 (15-ounce) can whole kernel sweet corn (no salt added version preferred), rinsed and drained
1/2 bunch cilantro, minced
3 green onions (scallions), minced, using both white and green parts
2 ripe avocados, peeled and cut into small dice
6 ounces cherry tomatoes, cut into quarters
Dressing:
1/4 cup red wine vinegar or lime juice
1/4 cup olive oil
Pinch salt
1 teaspoon ground cumin
½ teaspoon mild Hatch chile powder
A few grinds of black pepper
1 bag tortilla chips (lime flavor preferred!)
Instructions
In a small pot, add peas and cover with water by 1 inch. Bring to a simmer and cook for 10-15 minutes, until tender (taste one to determine). Drain and cool.
Make salad: In a large bowl, add cooled peas, corn, cilantro, green onions, avocado and tomatoes. Stir gently to combine.
Make dressing: Mix ingredients in small jar and shake well to combine. Pour over salad and stir gently to coat ingredients. Do not mash or overstir or you will break up the avocados and peas.
Serve with tortilla chips as dippers.
Serve alongside a jar of Tabasco, Sriracha or another hot sauce, so those who like things hotsy totsy can spice up their own!
Serves 8.
Source
Like many good recipes, this one was handed over the virtual back fence. I adapted it from a recipe sent to me by my friend Karen Farrer, who saw me making black-eyed pea quesadillas on Facebook for New Year's. She quickly recommended and then sent over this recipe, which she said she got from "amazing cook Colleen O'Beirne Brydon," who happens to be my actual neighbor! It's a small world, and with good cooks like these in it, getting smaller and more delicious every day.
Sunday Supper
See this page for all the wonderful #SundaySupper dishes I have made since I joined this group, and links to all the other delicious dishes made by my fellow cooks.
Preparation time: 15 minutes
Cooking time: 15 minutes
Diet type: Vegetarian, vegan
Number of servings (yield): 8
Culinary tradition: USA (Southwestern)
My rating 5 stars: ★★★★★
Disclosure: Frieda's Specialty Produce sent the black-eyed peas.