Print This Post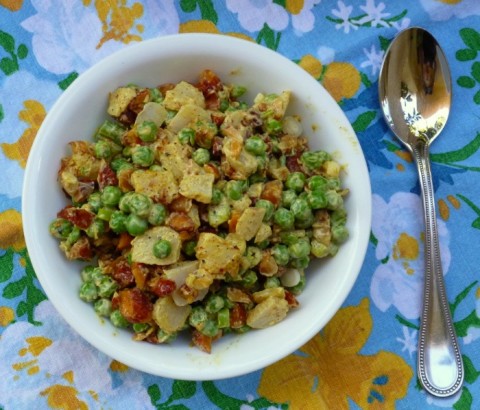 The hit of a recent Food Bloggers Los Angeles potluck meeting, at which the theme was salads, was a simple cold pea salad.
And it wasn't just cold, it was made with frozen peas. Still frozen. I'll wait while you absorb that.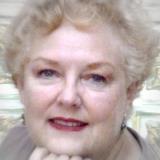 It was brought by my 35+ year friend Jeannette Hartman, who isn't a food blogger but is really a pet blogger at Fido Confidential. She and I used to be reporters together at my first newspaper job, and we became friends and co-conspirators when it came to outsmarting our long-suffering city editor.
Why did we let a pet blogger into our midst? Well, she likes hanging with food bloggers because we're nicer and more fun than the pet bloggers (!), and she's a great cook, so things all fall into place, don't they? (She also earned her way in with three recipes for Homemade Dog Biscuits over on her blog, so check them out if you have a pooch.)
She got the Cold Pea Salad recipe from Simply Recipes, but has made some changes after she tasted it. All the variations are hers.
This would make a great picnic salad. Mix it up before you go, and tote it in a zipper-top plastic bag embedded in a bowl of ice. Those peas stayed semi-frozen for a remarkably long time at our luncheon!
Recipe: Cold Pea Salad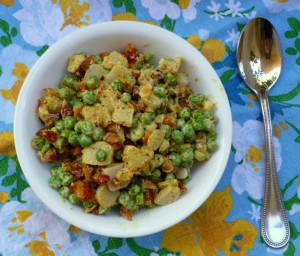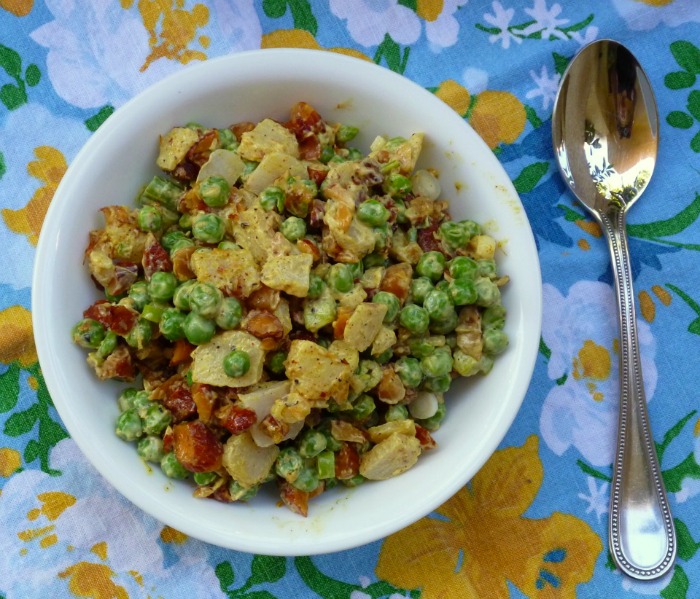 Summary: Sweet from the peas, smoky from the almonds, aromatic from the curry and crunchy from the water chestnuts, this cold salad hits all the right notes.
Ingredients
1 (16-ounce) package frozen petite peas, unthawed (yes, keep them frozen)
1 (6-ounce) can smokehouse almonds, chopped
1/2 cup chopped green onions
1 (8-ounce) can water chestnuts, rinsed and sliced or chopped
1/2 cup mayonnaise
2 teaspoons yellow curry powder
Salt and pepper to taste
Instructions
Combine the peas, green onions almonds and water chestnuts. Mix the mayo and curry powder in a separate bowl.
Gently fold the mayonnaise mixture into the peas. Add the salt and freshly ground pepper to taste.
Serves 6
Jeannette's notes
"The curry powder is probably the most important ingredient in this recipe. Curry powders vary tremendously, as do tastes. Martha Stewart has a pretty good curry recipe that I'm going to be playing with in the future."
Jeannette's variations
Substitute wasabi almonds for smokehouse almonds
Substitute horseradish for the curry powder
Substitute crispy, crumbled, well-drained bacon for the nuts and Dijon mustard for the curry powder
Add diced leftover chicken to make this an entree salad
Perhaps substitute Chobani yogurt for the mayo?
Perhaps use some yogurt, honey and mint?
Perhaps make it Vietnamese style with finely sliced basil, mint, cilantro and cayenne mixed into either the yogurt or mayo?
#SundaySupper
See this page for all the wonderful #SundaySupper dishes I have made since I joined this group, and links to all the other delicious dishes made by my fellow cooks.
Preparation time: 5 minutes
Diet type: Vegetarian
Number of servings (yield): 6
Culinary tradition: USA (General)