Print This Post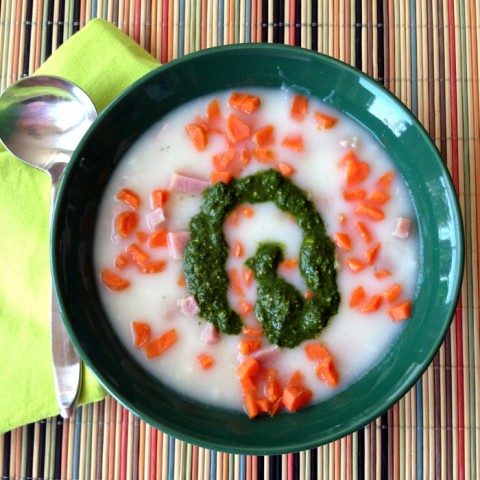 Although we truly love my version of Julia Child's simple potato onion soup, and could eat it every other day, sometimes we want potato soup on the fly, without an hour-long simmer and any forethought.
In that case, I rely on my favorite pouch of dehydrated potatoes for this easy version, which I whipped up after a vacation when there was no food in the house. I got the idea to simply double the water for the mashed potatoes, which made a perfectly thick soup. By the time the water was boiling, I had retrieved some ham out of the freezer and defrosted it, and rustled up some pesto from the back of the fridge and a coupla carrots from the nether regions of the veggie drawer.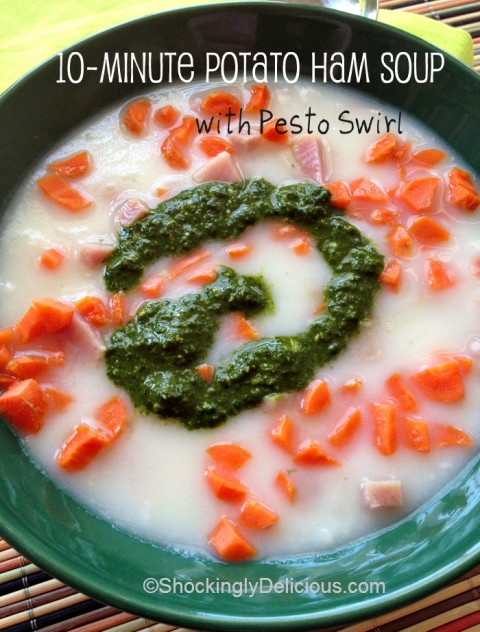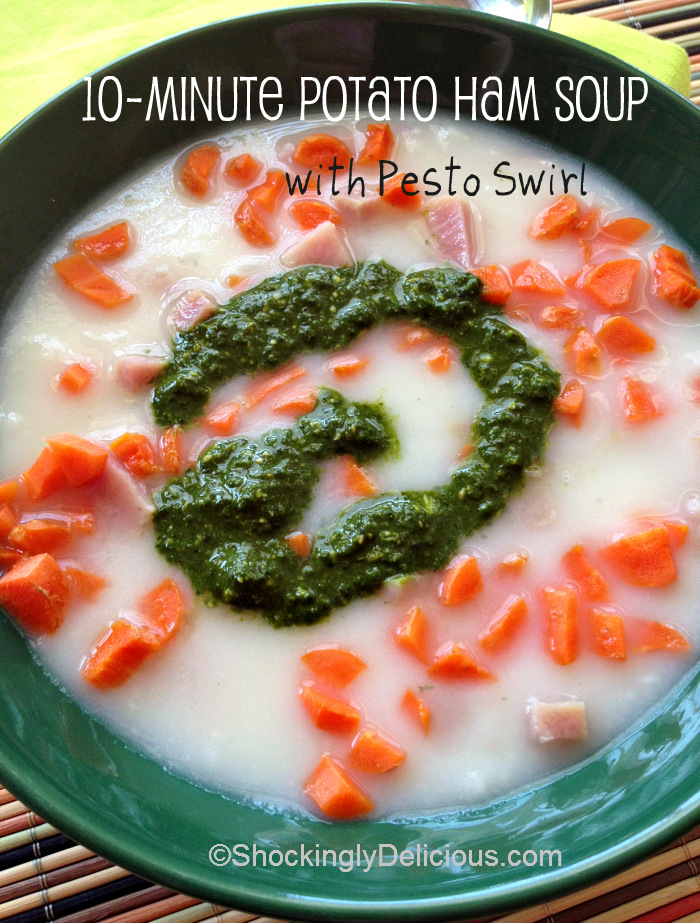 It made a delightful quick lunch, and I bookmarked it in my brain for a no-fuss dinner sometime. Seriously, stove to table in under 15 minutes.
Recipe: 10-Minute Potato Ham Soup with Pesto Swirl
Summary: With seasoned, dehydrated potatoes, a quick potato soup is a mere 10 minutes away, embellished with some ham, veggies and a pesto swirl.
Ingredients
4 cups water
1 (4.1-ounce) pouch Idahoan Roasted Garlic and Parmesan Baby Reds flavored mashed potatoes (dehydrated)
2 tablespoons Kale Pesto
2 carrots, cut into small dice
6-7 ounces cooked ham, diced
Instructions
Bring water to a boil in a medium pot. Once boiling, turn off heat, pour dehydrated potatoes in, put lid on pot and set aside for 5 minutes.
Meanwhile, put Kale Pesto in a small cup, add 2-3 teaspoons of water and stir to loosen. Set aside.
Put diced carrots in a small bowl and microwave on high for 2 minutes. Remove and set aside.
When time is up, remove lid from pot and stir in ham. Ladle into bowls, sprinkle top with carrots and spoon on a swirl of pesto.
Serves 3 (large bowls) or 4 (medium bowls).
Pesto
You may use any pesto you like. I used Kale Pesto because I had it leftover in the refrigerator (it keeps for weeks), but certainly traditional basil pesto would be wonderful, as would cilantro pesto or arugula or parsley – use what you have!
Variations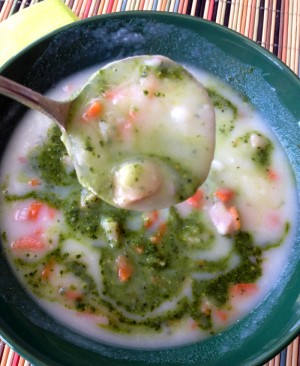 If you don't have carrots, you could use some tiny broccoli florets, or any other veggie of your choice. I added the carrots for color and interest, so feel free to sub anything you like.
Source
Created by Dorothy Reinhold / Shockingly Delicious.
#SundaySupper
See this page for all the wonderful #SundaySupper dishes I have made since I joined this group.
Preparation time: 5 minutes
Cooking time: 5 minutes
Number of servings (yield): 3-4
Culinary tradition: USA (General)
This week our #SundaySupper cooks are channeling our favorite movie-inspired recipes. I love the movie "Julie & Julia," and so my thoughts went to my favorite Julia Child recipe for potato soup, and then, of course, I needed to make it fast and furious for this busy time of year, so this version was born. Check out all the other fun recipes spun off our creative cinematic minds:

Toast (bready things)
No Reservations (soups and salads)
Today's Special (fish, chicken, beef, and pork)
Forks Over Knives (veggie-heavy dishes and sides)
Udon (pasta and noodles)
Just Desserts (sweet treats)
Bottle Shock (beverages)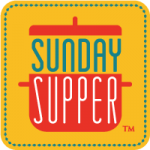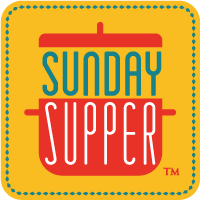 Join the #SundaySupper conversation on Twitter on Sunday, April 14 to talk all about movies that have inspired us to head into the kitchen, and the food that comes from that inspiration (4 p.m. EST)!  We'll tweet throughout the day and share recipes from all over the world. Follow the #SundaySupper hashtag, and include it in your tweets to join in the chat. Check out our #SundaySupper Pinterest board for more delicious recipes and food photos.