Print This Post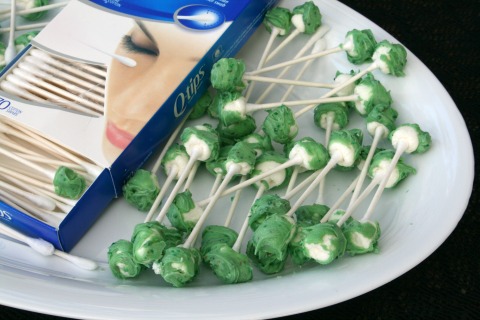 Eeeeuuuwww!
Ear exudate? Cartoon cerumen? (Cerumen is Latin for ear wax, doncha know.)
Do I need to say any more?
How about if I assure you that these were the hit of the 5th grade Halloween party, and that more than one kid narrowed his eyes and gave me a slightly sickened sidelong glance. That's when I knew I had scored with these Dirty Q-Tips.
Here's an image below to pin on your Pinterest board, because you ARE going to want to make these.
Whose mother was so creepy to have brought Shrek's ear wax to eat?
That would be me.
What's inside Shrek's ears? Disgusting troll ear wax that will delight and gross out Halloween party guests! Shrek's Dirty Q-Tips make delicious snacks!
Ingredients
1 box original Q-Tips
1 bag mini marshmallows
1 bag white chocolate chips
Green food coloring (I used the dry kind)
Directions
Line a baking sheet or plate with waxed paper. Set aside.
Insert a mini marshmallow onto each end of a Q-Tip. Push them on enough so they adhere, but not so much they start to resemble barbells. (You know what I mean?)
Melt some chocolate chips in a little bowl in the microwave, and stir in a drop or pinch of food coloring. Make the color suit your idea of what Shrek's ear exudate might look like.
Swirl each marshmallow end into the green chocolate and coat the marshmallow thickly.
Place each gory green Q-Tip on the waxed paper and allow to dry and harden. When hard, move to a serving platter.
Put the rest of the box of Q-Tips on the platter, to give people the idea of what you're doing here.
Be sure to affix a creepy sign so they know how clever you are.
Enjoy your new reputation as the sickest mom out there!
Notes
Recipe source: Dorothy Reinhold | Shockingly Delicious
https://www.shockinglydelicious.com/shreks-dirty-q-tips-for-a-halloween-party-sundaysupper/
Copyright Dorothy Reinhold | ShockinglyDelicious.com. All rights reserved.
(Seriously, make sure you put a sign on the plate, which increases the coolness factor.)
I also made these for our Sunday Supper Halloween Party. Check out the variety of creepy crawly things we have cooked up for you! Try my cruddy ear wax treats or find something else from the menu below that floats your boat:
COCKTAILS
SWEETS AND DESSERTS
CUPCAKES, COOKIES AND MORE
APPETIZER, MAIN MEALS