Print This Post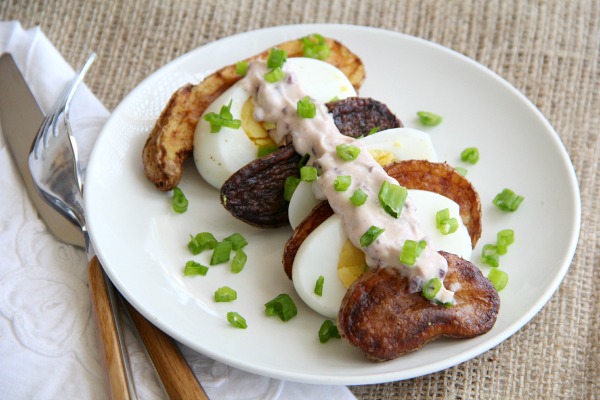 Do you ever take something apart and eat the pieces individually? We do that with Oreos, of course, but it's fun sometimes to eat the pieces and parts of something rather than the whole.
So when the Idaho Potato Commission asked the Sunday Supper group to come up with Potato Salad Possibilities today, I thought it would be fun to deconstruct a traditional potato salad, and serve it in a disheveled state.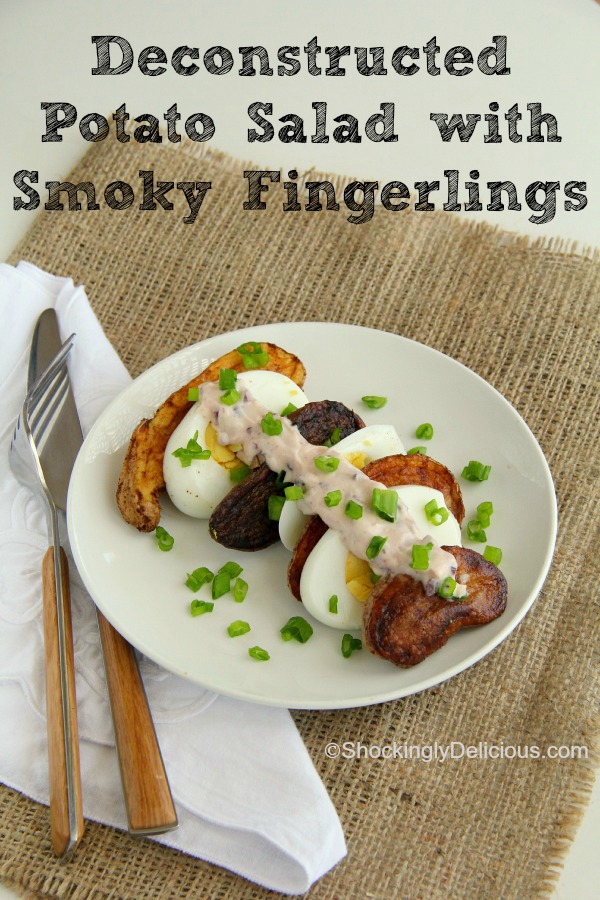 I used some of the traditional things that go into potato salad, but treated them in a new way. The potatoes became fingerlings fried first in a skillet and finished in the oven, smoked just slightly by fancy paprika. The eggs got sliced, and the mayo dressing got tarted up with lemon juice, garlic and tangy olives.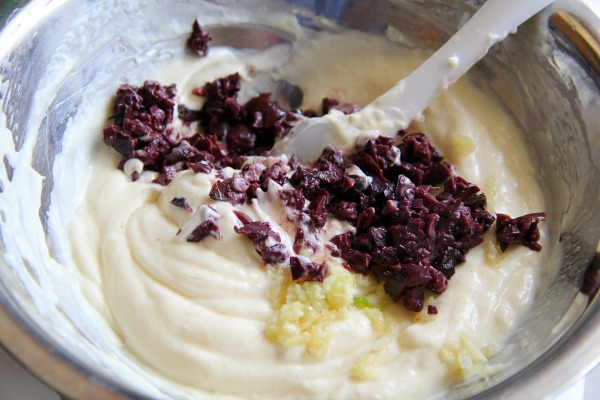 It worked! You have to try this spud salad. It is soooo good! 
Recipe: Deconstructed Potato Salad with Smoky Fingerlings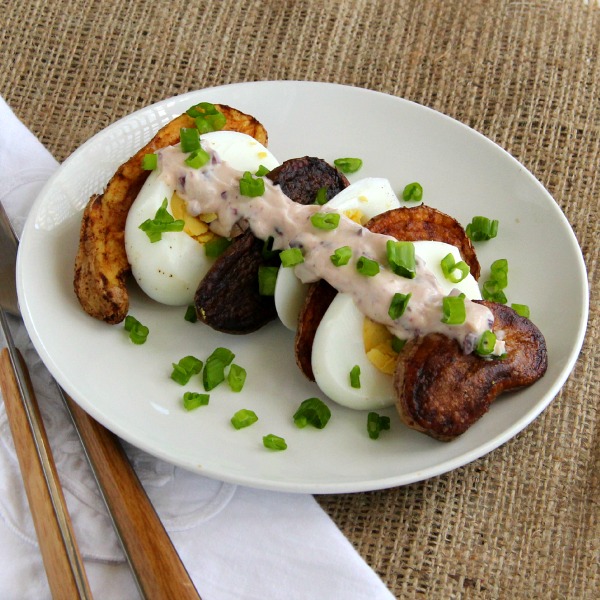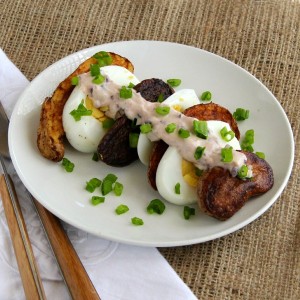 Summary: Tender Idaho® fingerling potatoes are nestled with hard-cooked eggs and dressed in a lemony, olive-studded mayo for a deconstructed potato salad.
Ingredients
Salad
16 Idaho® fingerling potatoes
scant 1/2 teaspoon sea salt (or kosher salt)
1/2 teaspoon smoked paprika (you could use 75%/25% regular paprika and ground cayenne pepper)
6 tablespoons olive oil
4 hard-cooked eggs
1 scallion, chopped (or use chopped chives)
Dressing
3/4 cup light mayonnaise
2 teaspoons Dijon mustard
1 tablespoon Meyer lemon juice
2 cloves garlic, smashed or finely minced
10 pitted Kalamata olives, finely minced
Instructions
Heat oven to 400F degrees.
Wash potatoes, dry and slice in half, vertically. Add them to a large bowl, along with the salt and paprika, and stir to coat all potatoes well and distribute the spice.
Heat a 12-inch skillet (that can later go in the oven) for about 5 minutes, then add oil, swirl to coat the bottom of the pan, and one by one, add potato halves, cut side down, arranging so all fit in the pan. Adjust heat to medium and cook without touching them for 5 minutes. (Do not be tempted to cook them longer.)
Turn burner off, and using a tongs, carefully turn each potato half so the cut side is up. Slide pan into the oven and roast for 10 minutes. (Do not be tempted to cook them longer. They will be done. Poke one with a cake tester to prove it to yourself.)
Meanwhile, make the sauce: In a bowl, stir together the mayonnaise, mustard, lemon juice, garlic and olives, until well combined. Set aside until you are ready to assemble the salad.
When potatoes are done, remove from oven, and using the tongs, place each potato half on a plate covered with a paper towel, so they will drain.
To assemble the salads: Peel and slice the hard-cooked eggs. To plate the salads, alternate a slice of potato and a slice of egg, repeating, until you have as much as you want on each plate. Spoon on a little bit of the mayo dressing, and sprinkle with green onions or chives to decorate.
Serves 4-6, depending on appetites and what else is on the menu!
Recipe source
Dorothy Reinhold | Shockingly Delicious
Connect with Idaho® potatoes
Follow the Idaho Potato Commission on the website, Twitter, Facebook, Pinterest, and Instagram
Preparation time: 15 minutes
Cooking time: 20 minutes
Diet type: Vegetarian
Diet tags: Gluten free
Number of servings (yield): 4-6
Culinary tradition: USA (Nouveau)
My rating 5 stars:  ★★★★★ 
Do you have a rockin' great potato recipe?
The Idaho® Potato Recipe Contest is seeking your original recipe re-inventing breakfast potatoes. The prize? A ticket to the Food and Wine Conference in Florida this July, a $500 gift card, and your dish featured at the conference! (If you win, you'll see me there. That should be reason enough for you to enter. 😉 )
Today's Sunday Supper recipes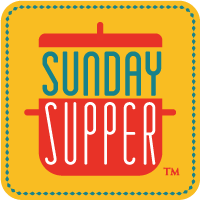 This week our #SundaySupper blogger crew is celebrating Potato Salad Possiblities, hosted by Isabel of Family Foodie. Take a look at our 20 easy, tempting recipes that will take you all the way through a delicious summer!
Join us around the family table for #SundaySupper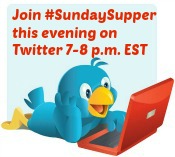 Twitter how-to

: Follow the #SundaySupper hashtag throughout the day on Twitter to see our recipes. To join the conversation anytime, simply use the #SundaySupper hashtag to share your favorite tips and recipes.
Pinterest: Check out our #SundaySupper Pinterest board for more recipes and photos.

Join

: To join the Sunday Supper Movement, sign up by clicking here → Sunday Supper Movement.
Disclosure: This post is sponsored by the Idaho Potato Commission. All writing, photography and opinions are my own.