Print This Post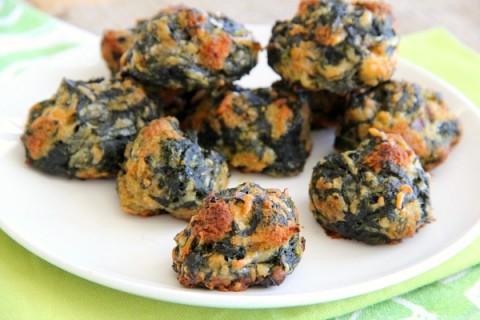 If you think beer and pigs in a blanket are the only decent football food, you have another think coming!
As foodies, we have our gourmet Game Day requirements for good grub, and that means we're stepping away from the keg and the chili bowl, and towards some more interesting finger food and, dare we say it, some wine!
I'm making Spinach Balls, which have been on the Thanksgiving menu at my friend Teri Carcano's house ever since she got the recipe from a holiday guest decades ago. Isn't that the way good recipes stay alive, passed from sticky hand to sticky hand, and these days from email to Facebook to text to Google+ to Pinterest and Instagram?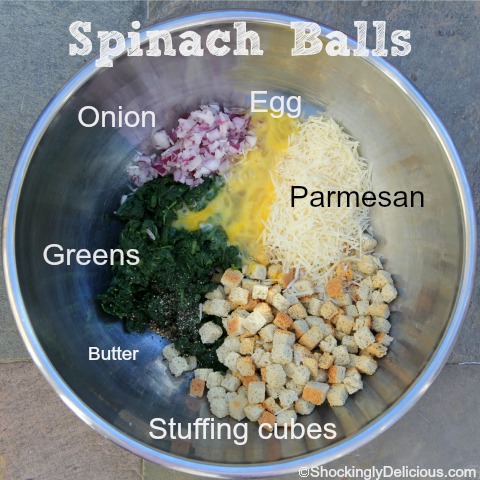 This recipe deserves to escape the confines of Thanksgiving, and have a long and happy life at other celebrations, because it is utterly delicious and addictive. I could make a meal out of these, and hey, they are chock full of greens, so maybe I should!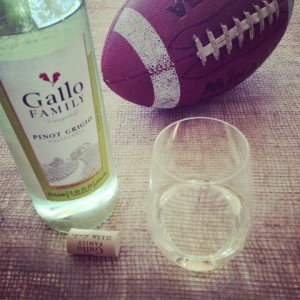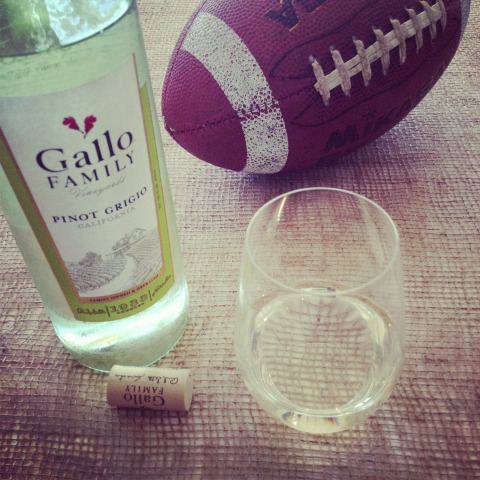 They pair well with a crisp, dry white wine, such as a Pinot Grigio or Sauvignon Blanc.
I've taken a few liberties with the recipe, but I'll show you both versions so you can tweak it for yourself.
Let's fire up the oven and get these in there. It's nearly game time!

Recipe: Spinach Balls
Summary: Nutty Parmesan plays nicely with herby stuffing and slightly bitter greens for perfect appetizer Spinach Balls.
Ingredients
2 (10-ounce) packages frozen, chopped spinach, thawed, drained and squeezed of excess water (*see my variation with fresh greens, below)
2 cups herb-seasoned stuffing (Teri likes small pieces from Pepperidge Farm; I used Mrs. Cubbison's Herb Seasoned Cube Stuffing)
1 cup grated Parmesan cheese (I used 2/3 cup shredded Parmesan)
1-2 eggs, slightly beaten (I used 2 eggs)
3/4 stick butter, melted (I used 4 tablespoons unsalted butter + ¼ cup water)
Pepper to taste (I used 8-10 turns of the pepper mill)
1/4 cup finely minced onion (I used 1/2 cup)
Tabasco – a couple of squirts (this is my addition; omit if you don't like it)
Dip: Dijon mustard, honey, a little lemon juice and mayonnaise to thicken
Instructions
Heat oven to 350 degrees. Lightly mist a baking sheet with nonstick spray and set aside.
In a bowl, combine all ingredients and mix well; allow to set for 30 minutes so bread moistens.
Using your hands, shape into 25-28 small balls. Place on prepared baking sheet and bake at 350 degrees for 15-20 minutes (mine took 25 minutes), until slightly golden brown.
Remove from oven and place on a plate. Offer them with Honey Mustard Dip and enjoy! They are good warm from the oven or at room temperature.
Makes 25-28 balls.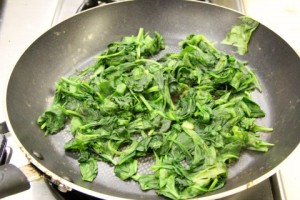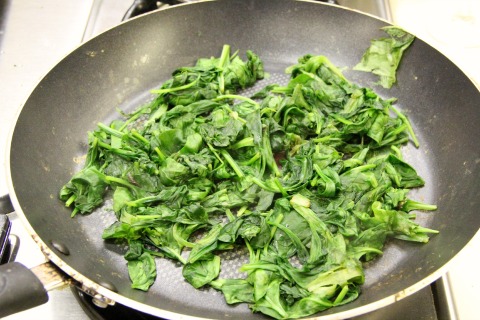 *To use fresh greens instead of frozen greens
Instead of frozen spinach, I used 10 ounces of fresh baby spinach and 10 ounces of mixed baby greens (kale, spinach, chard, etc.). Wilt the greens in a hot dry skillet, in two batches (due to volume). When wilted, remove to a bowl and cool to room temperature. When cool, squeeze the liquid out, mass the greens on a cutting board and chop finely. Use as you would thawed frozen spinach.
Source
Heritage recipe from Teri Carcano of Malibu, Calif.
Other Shockingly Delicious Gourmet Game Day Grub to go with Wine
Preparation time: 45 minutes
Cooking time: 25 minutes
Diet type: Vegetarian
Number of servings (yield): 12
Culinary tradition: USA (General)
My rating 5 stars: ★★★★★

Disclosure: Compensation was provided by Gallo Family Vineyards via Sunday Supper, LLC. The opinions expressed here are those of the author, and are not indicative of the opinions or positions of Gallo Family Vineyards.