Print This Post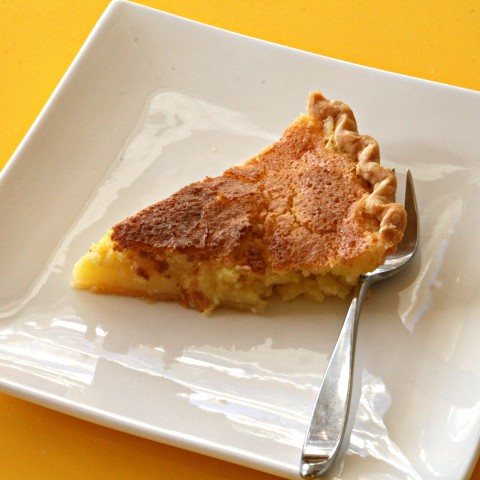 My love affair with Meyer lemons continues! This merits an exclamation point because we lemon lovers wait impatiently for the Meyer lemon crop, and when it arrives (in winter in Southern California), we rejoice.
Last year, tired of cadging Meyers from my neighbors, I planted a dwarf tree in a whiskey barrel.
Look at my first crop! (Again with the exclamation point, which you will understand if you are lucky enough to have a fruit tree in your yard.)
I vote for Meyer lemon season to be a bona fide holiday.
I've shared the Best Homemade Lemonade, a unique Basil Margarita, easy Lemon Curd, Agua Fresca Watermelon Lemonade, Strawberry Basil Lemonade, and a refreshing Lemony White Bean, Tuna and Celery Salad, all sporting Meyers.
This time my affection is expressed by a wonderful Meyer Lemon Chess Pie, fragrant with the heady Meyer perfume — an intoxicating mix of lemon, mandarin and lime — sweet and tangy, creamy and comforting.
Close your eyes when you eat this one.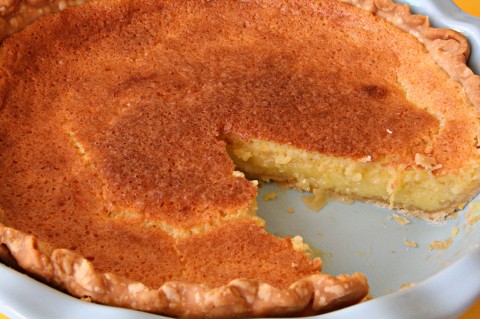 Recipe: Meyer Lemon Chess Pie
Summary: Fragrant with the heady aroma of Meyer lemons, this sweet and tangy comforting pie is a lemon-lover's delight! Lemon Chess Pie is an American classic, and this is an outstanding version. 
Ingredients
Instructions
Heat oven to 350 degrees.
In a bowl, mix cornmeal, flour, salt, sugar and grated zest. Add eggs, one at a time, beating after each egg.
Add half and half, butter and lemon juice and stir well. Mixture will appear to thicken slightly.
Pour into prepared pie shell. Bake on bottom shelf of oven (so it is closer to the heating element) for 35-40 minutes. Center will be slightly jiggly when it is done.
Remove from oven and cool on a rack.
Serves 8.
Quick notes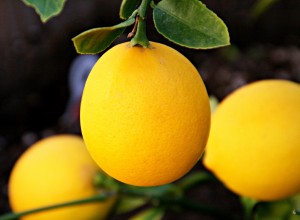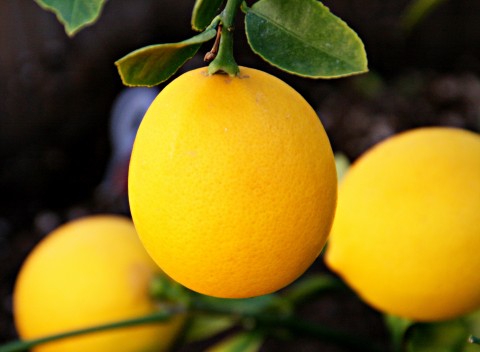 You may substitute regular lemons instead of Meyer lemons. You may have to increase the sugar a bit.
Variations
Serve piled high with fresh raspberries or fresh blueberries in season.
Source
This recipe is a mashup of about 6 or 7 recipes I consulted on the Internet, in cookbooks, etc.
Preparation time: 8 minute(s)
Cooking time: 45 minute(s)
Diet type: Vegetarian
Number of servings (yield): 8
Culinary tradition: USA (Traditional)
My rating 5 stars:  ★★★★★ 1 review(s)