Print This Post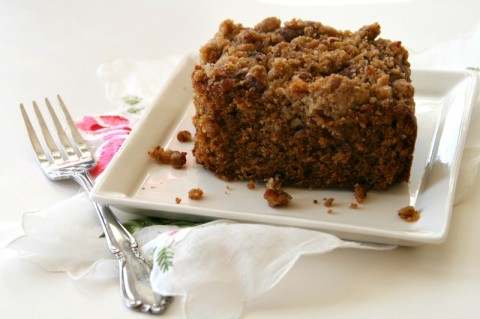 After a big food holiday like Thanksgiving, I often have leftover basics, like baked sweet potatoes. Perhaps I made too many, misjudged appetites, or just simply wanted to make sure I had enough food on hand.
I made this wonderful Sweet Potato Spice Cake to use up a glut of baked sweet potatoes I had mashed, and man oh man am I glad I did. The warm spices combine with the earthy sweetness of brown sugar and molasses to create a masterpiece!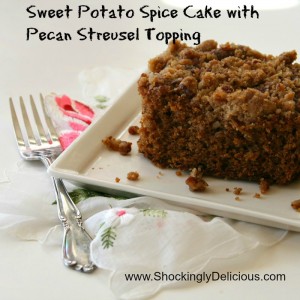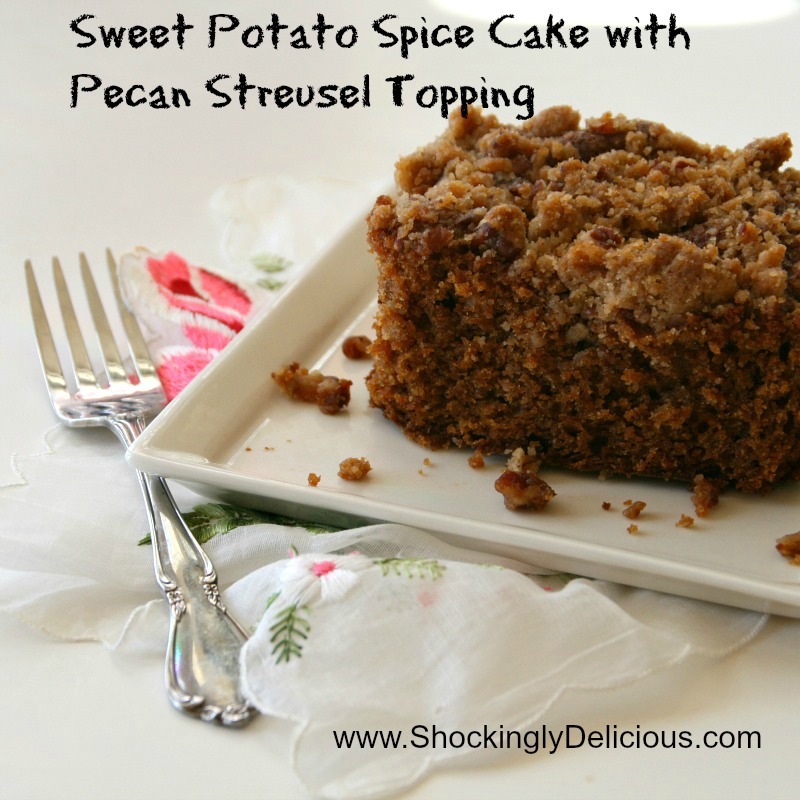 It is all the things a snack cake ought to be – just sweet enough without being cloying, moist, with punchy flavors, and easy to cut. Bonus points for streusel, which is God's gift to all of us. Streusel makes everything better.
We ate it for dessert one night, and most of us had another piece for breakfast the next day. It's a perfect breakfast cake, because it looks comfortable sitting next to a little over-easy egg and a strip of bacon.
I'll be baking extra sweet potatoes on purpose, just for this.
Today our #SundaySupper group is sharing ideas for using up Thanksgiving leftovers (in advance of the big day Thursday). Check all of those ideas out below the sweet potato cake recipe.
Recipe: Sweet Potato Spice Cake with Pecan Streusel Topping
Summary: Moist, sweet (but not too sweet), well spiced and easy to cut, this Sweet Potato Spice Cake uses up leftover sweet potatoes and makes a wonderful dessert or coffee cake.
Ingredients
For the pecan streusel topping:
3 ounces (2/3 cup) unbleached all-purpose flour
1/2 cup very firmly packed light brown sugar
1/2 cup chopped toasted pecans
1/16 teaspoon table salt
2 ounces (4 tablespoons or 1/4 cup) unsalted butter, melted
For the cake:
3/4 cup light flavored olive oil (or use vegetable oil), plus more for greasing pan
1 1/2 cups very firmly packed light brown sugar
3 large eggs, at room temperature
1 cup baked, mashed sweet potato, at room temperature or slightly warmer (from about one 15-ounce sweet potato) (see instructions below)
1 tablespoon molasses
1 tablespoon finely grated fresh ginger
1/2 teaspoon table salt
1/4 teaspoons ground cinnamon
1/8 teaspoons ground cardamom
1/4 teaspoon freshly grated or ground nutmeg
7 1/2 ounces (1 2/3 cups) unbleached all-purpose flour; more for the pan
1 1/2 teaspoons baking soda
Instructions
Make the pecan streusel topping: In a small bowl, stir the flour, brown sugar, pecans, and salt. Drizzle the melted butter over the dry ingredients and stir until well combined. The streusel should feel clumpy, not sandy, when gently squeezed between your finger- tips. If the streusel seems dry, add more melted butter.
Make the cake: Position a rack in the center of the oven and heat the oven to 350°F. Lightly oil and flour a 9-inch-square baking pan; tap out excess flour.
In a medium bowl, combine the oil, brown sugar, and eggs and, using a whisk, stir until the mixture is smooth and the sugar begins to dissolve, 30-60 seconds. If the sugar forms lumps, break them up with your fingers; a few tiny lumps are fine. Whisk in the sweet potato, molasses, grated ginger, salt, cinnamon, cardamom, and nutmeg. Sift the flour and baking soda directly onto the batter. Using a whisk or rubber spatula, combine the ingredients until well blended and almost smooth.
Pour the batter into the prepared pan, spreading it evenly with the spatula. Sprinkle the streusel evenly over the batter, creating small clumps as you go by squeezing the streusel between your fingers. Bake until a skewer inserted in the center comes out with only moist crumbs clinging to it, about 45 minutes. Set the pan on a rack to cool for 15 minutes. Run a knife around the edge of the pan. Let cool until just warm and then cut into squares and serve from the pan, or wrap well in plastic. Store at room temperature for up to a week.
Makes a 9-inch cake – 16 pieces.
How to cook a sweet potato
I used Baby Garnet Yams sent to me by Melissa's Produce. I peeled them, roughly chopped them and microwave cooked them, lid on, on HIGH for about 5-6 minutes. Poke potatoes with a fork to make sure they are soft. If not, add another 30-60 seconds of cooking time. Remove from oven and mash with a potato masher. Cool and measure for this cake.
To bake potatoes with the skin on, wash potatoes. Heat the oven to 350F degrees. Prick the skin of the sweet potato several times with a fork, set the potato directly on the oven rack, and bake until very tender, about 45 minutes-1 hour. When the potato is cool enough to handle, peel off the skin and smash the flesh in a bowl with a masher or fork.
#SundaySupper
Here's a list of all the #SundaySupper contributions I have made so far. Lots of good recipes in here!
Preparation time: 15 minutes
Cooking time: 45 minutes
Diet type: Vegetarian
Number of servings (yield): 16
Culinary tradition: USA (General)
My rating 5 stars:  ★★★★★

Don't stop there – go check out the rest of the #SundaySupper crew and their delicious Thanksgiving leftovers recipes, below! I can't believe the variety in this  amazing lineup.
Breakfast & Brunch
Main Course
Soups, Salads, Sides & Starters
Sweets & Desserts
Wine Pairings for the Recipes Featured
Please join on us on Twitter throughout the day during #SundaySupper today (Nov. 18).  We'll cyber-meet at 4 p.m. PST for our weekly #SundaySupper live chat. Join in the fun! All you have to do is follow the #SundaySupper hashtag or you can follow us through TweetChat.