Print This Post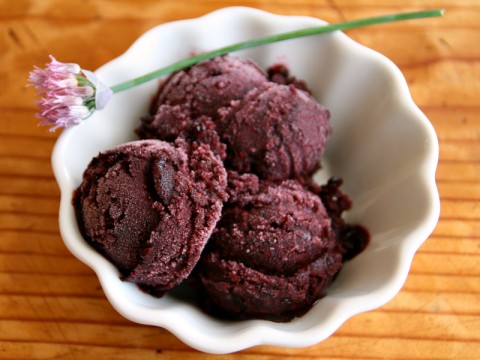 The less said about some things, the better. Let the quality speak for itself.
Suffice it to say, then, that this is simply one of the best Blackberry Sorbets ever. EVER! On scale of 1-5, I give it 10 stars!
That alone qualifies it as the perfect Mother's Day dessert. That it is light and fruity tasting is icing on the cake.
It's so good my daughter asked for me to "always have this in the freezer. Always." My husband rolled his eyes back in his head while spooning it out of the container, with a grunt. That qualifies as always for him.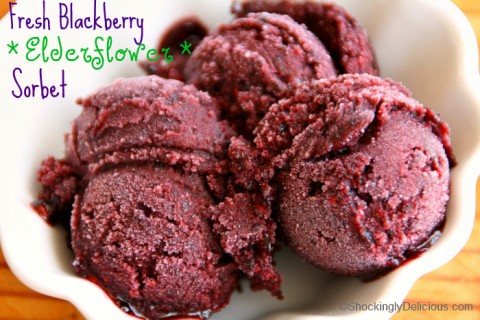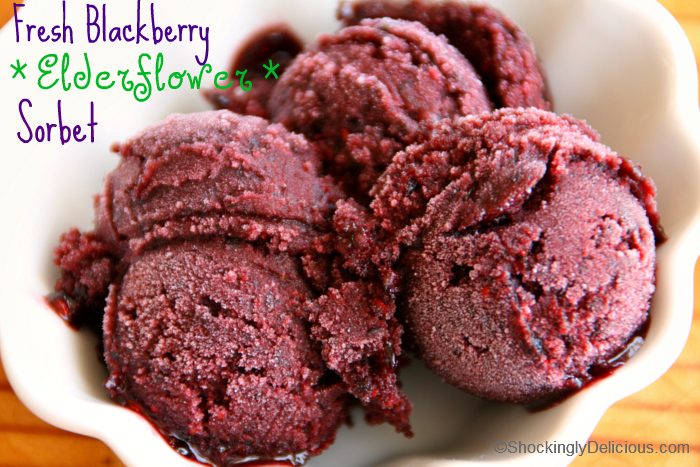 It's so good it's worth buying fresh blackberries and a bottle of St. Germain, a liqueur you probably never heard of, but definitely need to know about.
Make it, for your mom, for your family, for yourself.
Recipe: Fresh Blackberry Elderflower Sorbet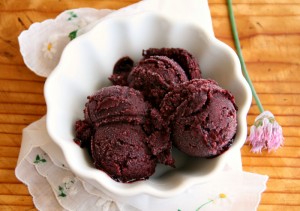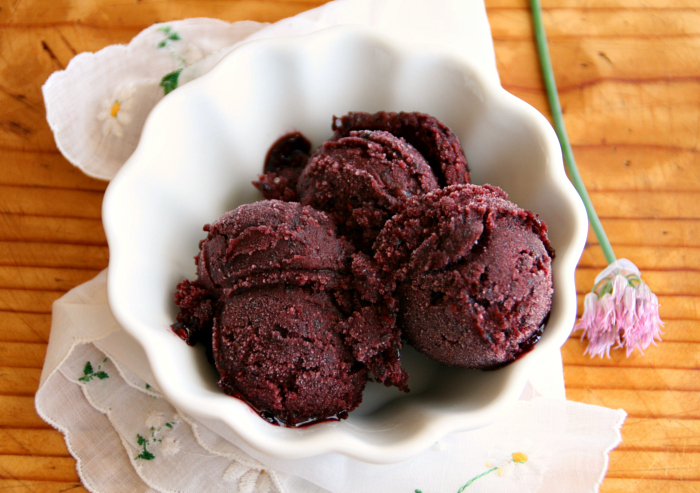 Summary: Crazy deep purple in color, delightfully berrylicious in flavor with a light hint of an indescribable floral background, this is the best Blackberry Sorbet ever!
Ingredients
12 ounces fresh blackberries (I used Driscoll's blackberries)
3/4 cup sugar (I used Vanilla Sugar)
3/4 cup water
1 teaspoon lemon juice (I used Meyer lemon juice, but use what you have)
1 1/2 tablespoons St. Germain Liqueur (Elderflower liqueur)
A few grains of kosher salt
Instructions
Wash and dry berries, and whirl them in the food processor until pureed, about 15-30 seconds. Put puree into a 4-cup measuring cup. It will make about 1 1/3  to  1 1/2 cups puree.
In another measuring cup, add sugar and water and stir to dissolve. (No need to heat it; the sugar will dissolve.) Stir in lemon juice, St. Germain and salt. Pour sugar mixture into berry mixture, stir to combine, and refrigerate 30-60 minutes, until chilled.
Pour chilled mixture into ice cream freezer and freeze, following manufacturer's instructions. Mine took about 25-30 minutes to freeze properly.
When done, serve sorbet and eat immediately, or scoop it into a container with a tight lid and freeze for longer storage.
Serves 6-8. Small portions are perfect.
Quick notes
This sorbet has seeds in it. If you cannot tolerate seeds, strain the puree through a fine sieve after you whirl it.
I found my small food processor perfect for this job. I pureed the berries in two batches.
My usual high score of 5 stars didn't suffice, so I declare this a 10-star dessert!
Variations
If you don't have or can't find St. Germain Liqueur, feel free to substitute a blackberry liqueur, Cassis or Chambord. The alcohol helps the mixture from freezing rock hard and helps to prevent ice crystals. St. Germain makes a delightful cocktail, as well, so you won't have trouble using the rest of it. Or send it to me.  😈
Source
Recipe by Dorothy Reinhold / Shockingly Delicious.
Driscoll's sent the berries for recipe development. 
SundaySupper
See this page for all the wonderful #SundaySupper dishes I have made since I joined this group, and links to all the other delicious dishes made by my fellow cooks.
Preparation time: 10 minutes
Cooling time: 30-60 minutes + 30 minutes churning time
Diet type: Vegetarian, Vegan
Diet tags: Reduced fat
Number of servings (yield): 6-8
Culinary tradition: USA (Nouveau)
My rating 10 stars:  ★★★★★★★★★★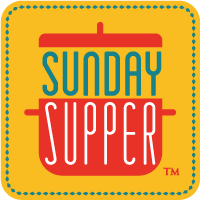 This week our #SundaySupper crew is celebrating Mother's Day. Look what deliciousness we have cooked up for you! Try my sorbet, or find something else from the menu below that floats your boat:
Mother's Day Brunch:
Mother's Day Entrees:
Mother's Day Sides:
Mother's Day Desserts and Drinks:
Don't forget to join the #SundaySupper chat on Twitter today (Sun., May 12, 2013) to celebrate Mother's Day! We'll tweet throughout the day and share our delicious recipes. Our weekly chat starts at 7 p.m. EST. Follow the #SundaySupper hashtag, and remember to include it in your tweets to join in the chat. Check out our #SundaySupper Pinterest board for more delicious recipes and food photos.