Print This Post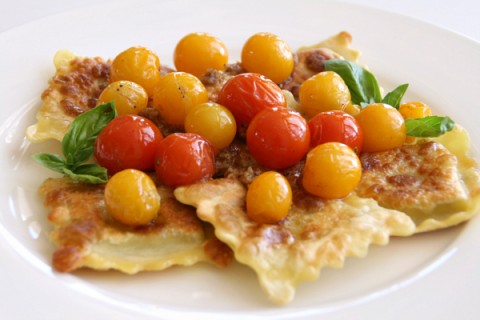 Our beloved summer is over, school began again on Wednesday, and thus the annual re-tooling of the schedule begins.
Soccer practice, trumpet practice, play rehearsals, homework — always homework! — must be wedged in, but still, dinner-hour looms. No matter what else is going on, we want a nice dinner.  We eat together every night; it's a constant.
When the meal comes together quickly, without too much fanfare, prep or cleanup, it's a blessing, especially on busy school nights.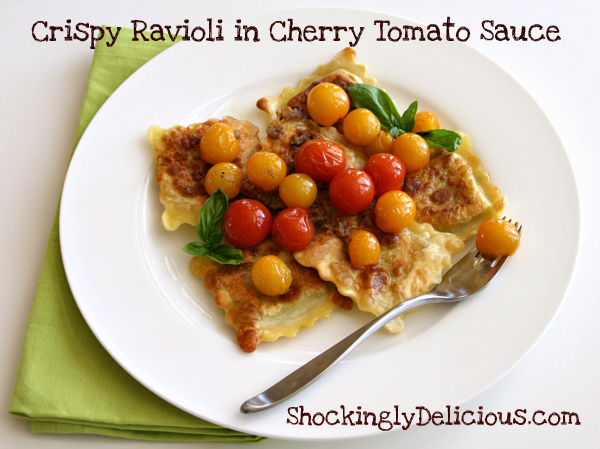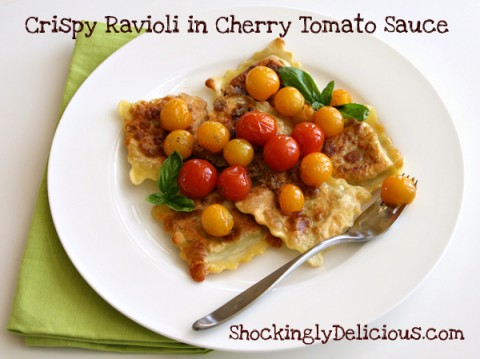 This new recipe spins a favorite – ravioli – in a new direction, with a quick pan-fry instead of boiling. Maybe I'm just cranky, but ravioli always bursts open for me when I boil it, no matter how gently, so this cooking method solves that problem, too.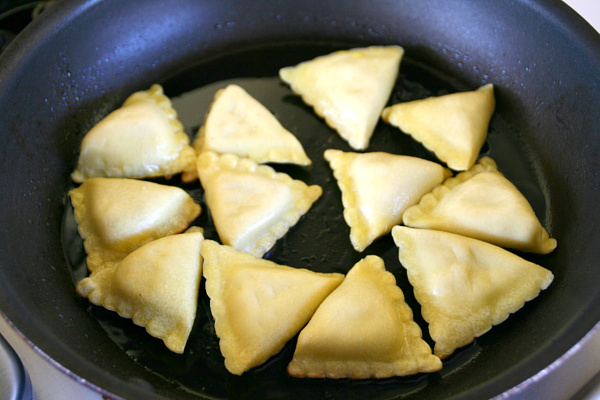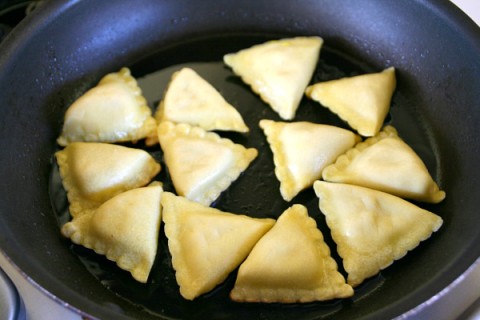 And have you ever made a sauce out of cherry tomatoes quickly sautéed in a skillet? Me either, but try it. In less than 5 minutes, you'll have a delicious topping for your now-crisp ravioli, and voila, dinner is served!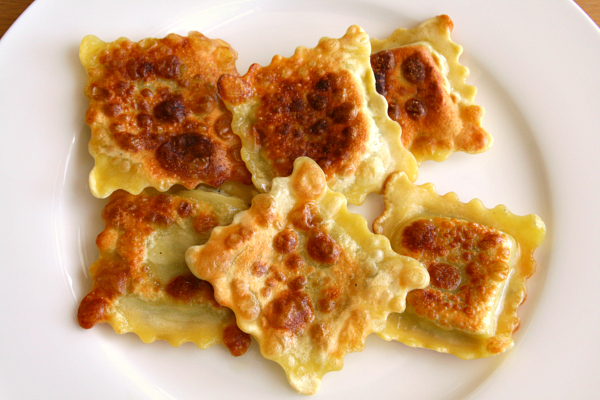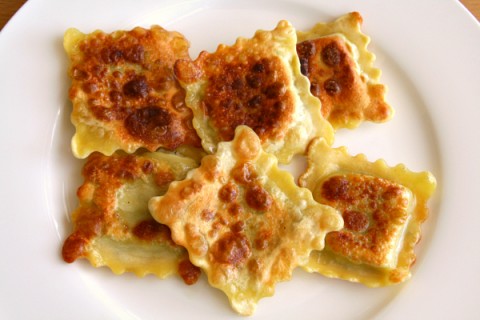 Recipe: Crispy Ravioli in Cherry Tomato Sauce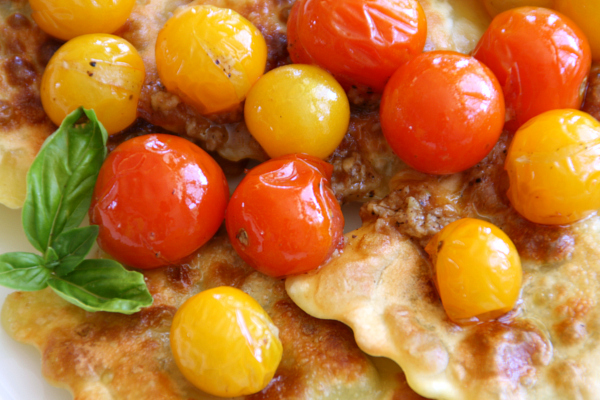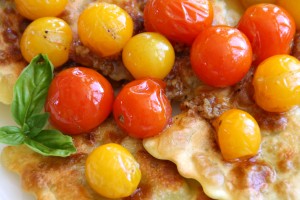 Summary: Fresh ravioli get a turn in the skillet instead of being boiled, and a topping of quickly sautéed cherry tomatoes, for a dinner that goes from skillet to table in 15 minutes.
Ingredients
2 tablespoons extra-virgin olive oil
2 (9-ounce) packages fresh ravioli (not frozen) [often I will get 2 different flavors for added interest]
2 pints cherry tomatoes or grape tomatoes (20-24 ounces total)
Pinch kosher or sea salt
Freshly ground black pepper
3 cloves garlic, crushed
4 tablespoons fresh grated Parmesan or Romano cheese (see note below)
Garnish: Fresh basil leaves
Instructions
Heat 1 tablespoon olive oil in a large skillet. When shimmering, add one package ravioli, spreading out into a single layer. Fry for about 3-4 minutes, turning each ravioli at the halfway point, so both sides brown. Remove ravioli to 4 dinner plates and repeat with the remaining oil and other package of ravioli. When done, remove from pan to the same plates; all plates should have equal portions of ravioli on them.
There will probably be oil left in the pan. If not, add a splash of olive oil, heat to shimmering, and add all cherry tomatoes. Sauté for a minute or two, add a pinch of salt, a few grinds of pepper, and continue sautéing another minute. Add garlic and sauté one more minute, until cherry tomatoes split and soften slightly. Most of them will still hold their shape. Spoon them out of the pan onto the ravioli.
Sprinkle each serving with a tablespoon of cheese (see note below), garnish with basil leaves, and voila, dinner is served!
Serves 4.
Quick notes
Some brands of prepared ravioli have a little grated cheese and herb packet with them. If they do, you may use that instead of the Parmesan called for in the recipe.
Variations
On occasion, I have wilted spinach first (do that in the skillet before you do the ravioli) and put the ravioli on a bed of wilted spinach, making a complete meal out of it.
Source
Inspiration for this recipe came from "Cooking Light: The Complete Quick Cook," by Bruce Weinstein and Mark Scarbrough; Time Home Entertainment, 2011.  I then found the recipe for Quick Crisp Ravioli with Roasted Tomato Sauce online on their website. I have adapted it by eliminating several ingredients, an entire breading-and-frying cooking step, and altering the amounts of several other ingredients to suit our tastes.
Cooking time: 10 minutes
Diet type: Vegetarian
Number of servings (yield): 4
Culinary tradition: Italian
My rating 5 stars:  ★★★★★ 
At this busy time of year as we send our children back to school, our #SundaySupper team of food writers is sharing  quick and easy back to school recipes to make supper time at your house a little easier.
Take a look at our awesome line-up of recipes today. Using this list, you have two months' worth of dinners at your fingertips!
Can you believe that line up of recipes? What a fabulous list of meals we have and like I said, I can meal plan for weeks!
Please be sure you join us on Twitter throughout the day on Sunday. We'll be meeting up at 4 p.m. PST for our weekly #SundaySupper live chat where we'll talk about Back to School Meals and ways to make meal time easier!
All you have to do is follow the #SundaySupper hashtag, or you can follow us through TweetChat! We'll be sharing great recipes all afternoon, and be talking all things Back to School during our live chat!