Print This Post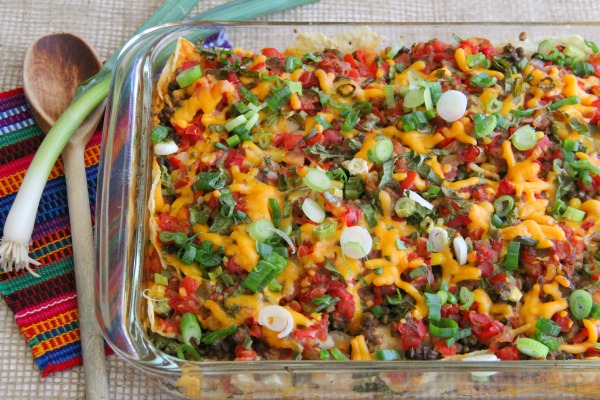 Father's Day demands brunch, but we perhaps don't bring quite the same expectation of fuss and finesse to the table as we do for Mother's Day. Am I right?
But still, even though we might not be going all-out with table decorations, we still want extra-delicious food for dad.
For a Father's Day Sunday, my husband would adore a Mexican-type breakfast, so I am making this easy chilaquiles in casserole form. He and I used to eat chilaquiles long before the kids came along, and now that our family has four gaping maws, I'd better make enough, so casserole-style comes to the rescue! 
I amped up the nutrition with some ready-to-eat steamed lentils, chocked it full of chopped cilantro (leave this out if your family hates it), and will serve it with sliced California avocados and a little glass of lightly chilled, fruity Gallo Family Vineyards Café Zinfandel. Let's relax, starting with brunch.
Salud!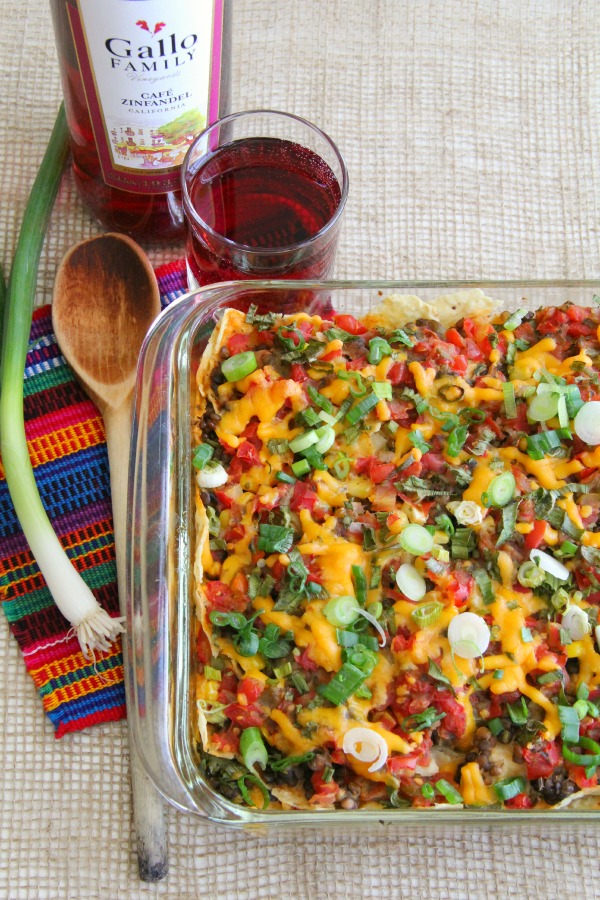 Like all of my favorite dishes, this is great for breakfast, lunch or dinner, for the ultimate in versatility and flexibility. It's so easy to put together. Take a look: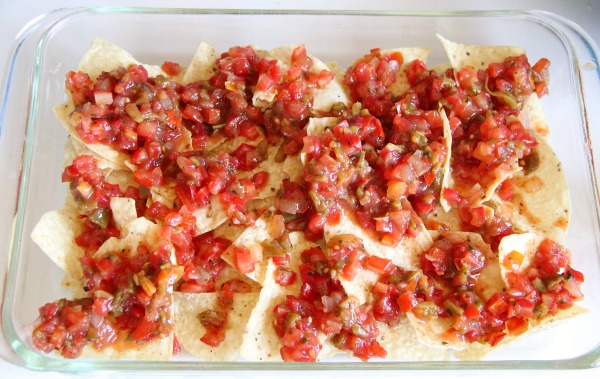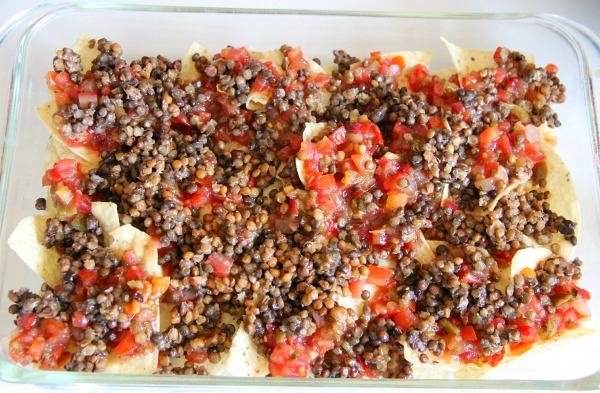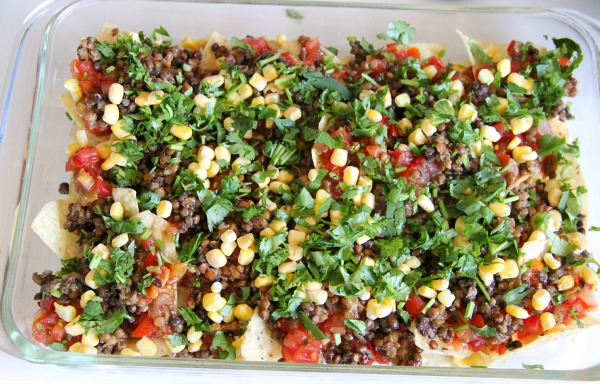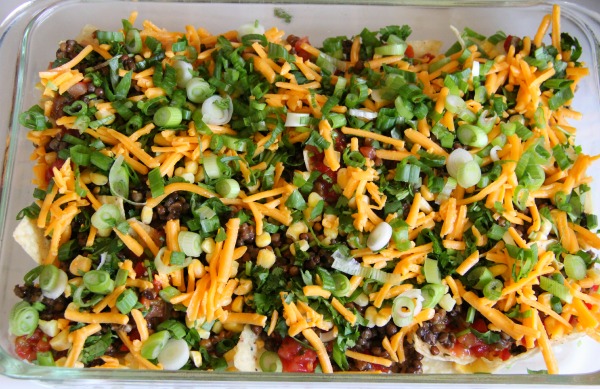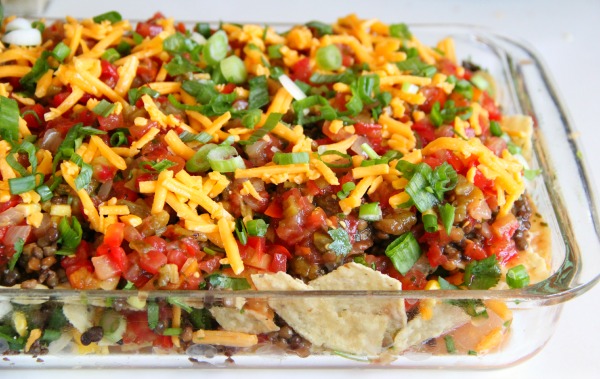 This last photo, above, shows you that you will have a very full dish once you make 2 layers of everything.
Happy Father's Day next Sunday!
Recipe: Baked Lentil Chilaquiles Casserole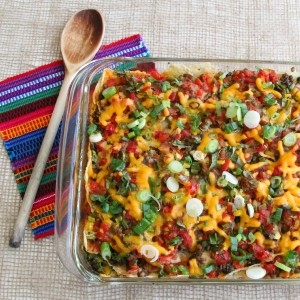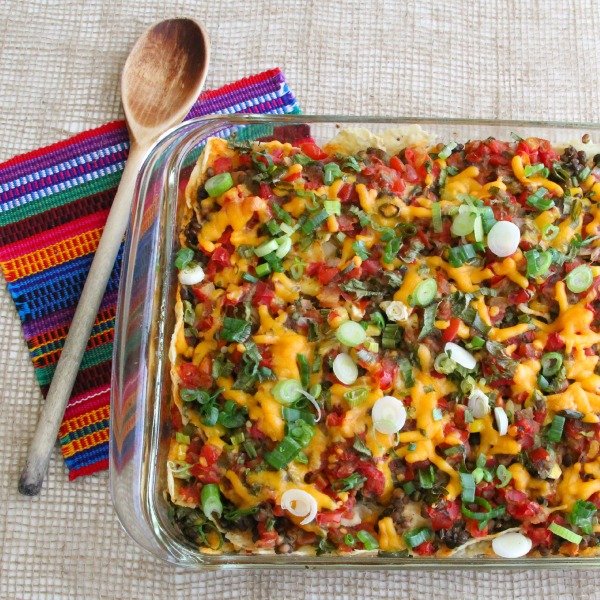 Summary: Familiar Mexican flavors combine in a versatile, easy casserole for a dish that can take you from brunch through dinner.
Ingredients
1 quart salsa fresca
1 (4-ounce) container diced Hatch chiles (use the ones you have stashed in your freezer!) or use canned diced green chiles
1 bag (10-11 ounces) restaurant-style tortilla chips
1 (17.6-ounce) pouch steamed ready-to-eat lentils
1 cup frozen corn
1/2 of a bunch of fresh cilantro, rinsed, dried and finely chopped
1 (8-ounce) bag extra sharp shredded cheddar cheese
3 scallions, thinly sliced
Garnish: sliced California avocados, sour cream or Greek yogurt, sliced black olives (all optional)
Instructions
Heat oven to 350F degrees.
Put salsa, Hatch chiles and 1/2 cup water in a bowl and stir to mix. Set aside.
Spray a 13- by 9-inch baking dish with nonstick spray. You will be making 2 layers of all the ingredients, and you can put them in any order you like, but this way works well:

First layer: half the corn chips, half the salsa, half the lentils, half the corn, half the cilantro, half the cheese and 1/3 of the green onions.
Second layer: rest of the corn chips, rest of the lentils (or nearly all of them; it is OK if you want to have some lentils left over), rest of the corn, rest of the cilantro, rest of the salsa, rest of the cheese and half of the remaining scallions.

Bake, uncovered, for 35 minutes. Remove from oven and sprinkle the remaining scallions over top, and serve immediately. Serves 12.
Recipe source
I adapted this recipe, which I tasted at the blogging conference Big Traveling Potluck 2, created by Pam Anderson. I altered the method a tad, subbed lentils, added cilantro and a couple of other tweaks to suit myself and what I had on hand. Yum!
Sunday Supper
See this page for all the wonderful #SundaySupper dishes I have made since I joined this group, and links to all the other delicious dishes made by my fellow cooks.
Preparation time: 15 minutes
Cooking time: 35 minutes
Diet type: Vegetarian
Diet tags: Gluten free
Number of servings (yield): 8
Culinary tradition: Mexican
My rating 5 stars:  ★★★★★ 
Today's Sunday Supper  recipes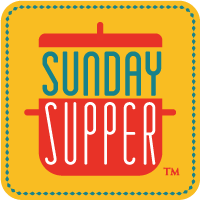 This week our #SundaySupper blogger crew is celebrating Father's Day, sponsored by Gallo Family Vineyards. They'd love it if you connected with them on Facebook | Twitter | Instagram | YouTube.
Check out the special in-advance Father's Day dishes we have lined up for you on the Sunday Supper buffet table, and our wine pairings for each of them. I recommend you try my delicious Baked Lentil Chilaquiles Casserole with some light, fruity Gallo Family Vineyards Café Zinfandel, made in a smoother, lighter style than traditional Zin, and tasting of strawberry, raspberry and watermelon. Or how about their Pinot Noir if you don't like a sweet wine (find them with their store locator here) and get a $1 off digital coupon here. If you don't want Chilaquiles today, choose something else from the menu below that rings your chimes:
Father's Day Salads and Main Dishes:
Father's Day Sweets and Treats: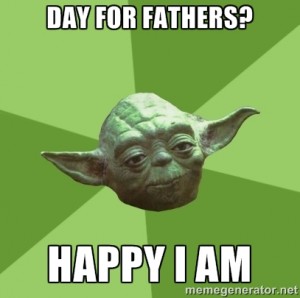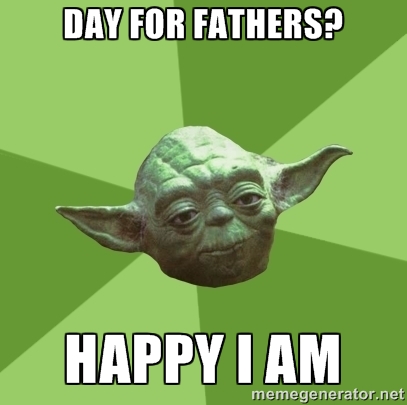 Join us around the family table for #SundaySupper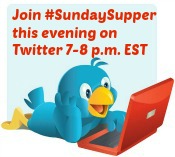 Twitter how-to

: Follow the #SundaySupper hashtag throughout the day on Twitter to see our recipes. To join the conversation anytime, simply use the #SundaySupper hashtag to share your favorite tips and recipes.
Pinterest: Check out our #SundaySupper Pinterest board for more recipes and photos.

Join

: To join the Sunday Supper Movement, sign up by clicking here → Sunday Supper Movement.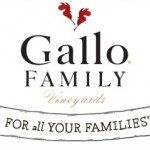 Disclosure: Compensation was provided by Gallo Family Vineyards via Sunday Supper, LLC. The opinions expressed here are those of the author, and are not indicative of the opinions or positions of Gallo Family Vineyards.