Print This Post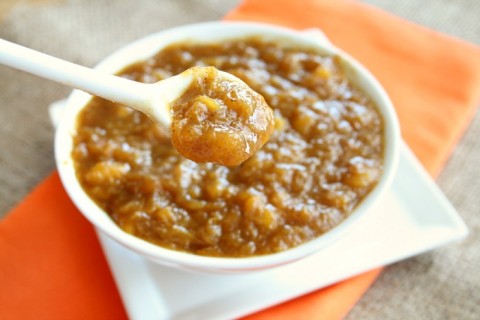 Peacharines are back, and they're better than ever!
Remember last year when I introduced you to Peacharines, the half-peach, half-nectarine that is the best of both fruits?
I suggested you eat them out of hand, or with a simple Caramel Fruit Dip if you needed to gussy them up.
This year, when Melissa's Produce sent me a Peacharine shipment of delicious, slurpy fruit from the Kingsburg Orchards, I made a Quick Peacharine Chutney and used it with my grilled chicken.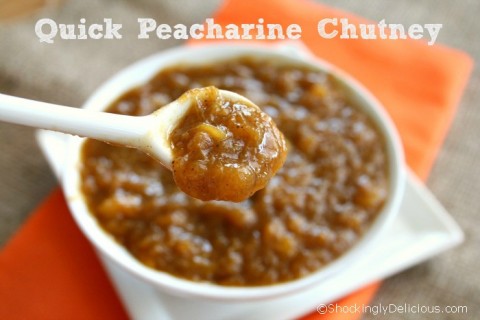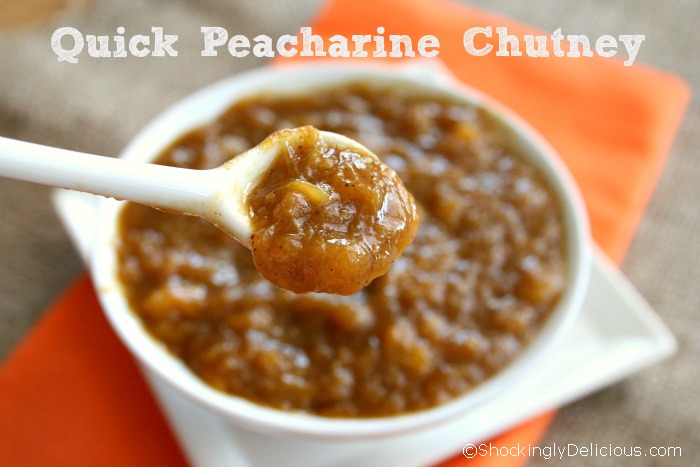 I raided the spice cabinet to make a sweet-and-savory, slightly spicy sauce that is reminiscent of chutney. It will be ready before the chicken is off the grill.
Recipe: Quick Peacharine Chutney
Summary: Savory, spicy notes in a not-too-sweet, complex peach sauce perfect to use on grilled chicken or pork.
Ingredients
6 Peacharines, peeled and sliced
2 tablespoons coconut sugar *see note below
1/8 teaspoon ground allspice
1/8 teaspoon ground cloves
1/8 teaspoon ground cinnamon
1/8 teaspoon garlic powder
1/8 teaspoon onion powder
1/8 teaspoon ground ginger
1 teaspoon cornstarch mixed in 2 teaspoons water
Instructions
Using a potato masher, mash the Peacharines. Add them to a small saucepan, along with the coconut sugar, allspice, cloves, cinnamon, garlic, onion and ginger. Bring to a boil and simmer for 2-3 minutes, stirring frequently.
Stir in the cornstarch and bring mixture to a boil, stirring constantly. Cook for another 30 seconds. It will thicken slightly.
Remove from heat, scrape into a bowl and serve with your grilled meat. It may be served warm, room temperature or cold, as you wish.
Store leftovers (if any!) in the refrigerator.
Serves 4.
Source
Dorothy Reinhold / Shockingly Delicious.
Melissa's Produce sent the fruit for recipe development.
What is coconut sugar?
Coconut sugar (also known as coco sugar, coconut palm sugar or coco sap sugar) is a sugar produced from the sap of cut flower buds of the coconut palm. Coconut sugar has been used as a traditional sweetener for thousands of years in the South and Southeast Asian regions where the coconut palm is abundant. It usually comes in crystals or granules, has a taste like brown sugar, and consists of sucrose (containing glucose and fructose). It has gained recent popularity because it is classified as a low-glycemic food, and is considered to be somewhat healthier than white sugar because of its higher mineral content. (Source: Wikipedia)
Sunday Supper
See this page for all the wonderful #SundaySupper dishes I have made since I joined this group, and links to all the other delicious dishes made by my fellow cooks.
Preparation time: 10 minutes
Cooking time: 5 minutes
Diet type: Vegetarian, Vegan
Number of servings (yield): 4
Culinary tradition: USA (Nouveau)
My rating 5 stars:  ★★★★★ 
This week our #SundaySupper crew is Preserving the Harvest. Look at the variety of things we have cooked up for you! Try my simple Peacharine Chutney, or find something else from the menu below that floats your boat:
Cool Condiments
Chow Chow Relish from Magnolia Days 
Homemade Hot Dog Relish from Juanita's Cocina

Fabulous Fruits
Apricot Ginger Jam from Happy Baking Days
Banana Jam from Killer Bunnies, Inc
Blueberry Cheesecake Ice Cream from Gotta Get Baked
Blueberry Lemon Basil Jam from Daily Dish Recipes
Candied Watermelon Rind fromWhat Smells So Good?
Fig and Strawberry Jam from Jane's Adventures in Dinner
Mixed Berry Rhubarb Jam from Hezzi-D's Books and Cooks
Mulberry Jam from Curious Cuisiniere
Quick Peacharine Chutney from Shockingly Delicious
Pineapple Upside Down Cake Freezer Jam fromCookin' Mimi
Strawberry Butter from The Urban Mrs
Other Outstanding Recipes
Fireweed Jelly fromThe Foodie Army Wife 
Flavoured Butters from Small Wallet, Big Appetite 
Gravlax fromThat Skinny Chick Can Bake
Vivacious Vegetables
Corn Cob Jelly from Blueberries and Blessings
Deep South Dilly Beans from Eat, Move, Shine 
Fermented (Sour) Pickles from Growing Up Gabel 
Fire Roasted Salsa fromPeanut Butter and Peppers 
Hot and Spicy Giardiniera from The Messy Baker 
Hot Italian Giardiniera from Healthy. Delicious.
Jalapeños en Escabeche (Pickled Jalapeños) fromLa Cocina de Leslie
Oi Kimchi (Korean Cucumber Kimchi) from kimchi MOM
Refrigerator Dill Pickles from Country Girl in the Village
Spicy Sweet Tomato Chutney fromFood Lust People Love
Traditional Escabeche (Pickle) fromBasic N Delicious