Print This Post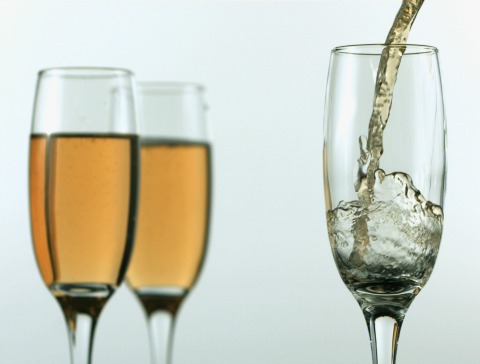 Dorothy says: Today, to get us ready for Valentine's Day, wine expert Martin D. Redmond from Enofylz Wine Blog has selected 10 sparking wines that…
pair well with food
are eminently quaffable
budget-friendly
Cheers to you and your sweetie! 
By Martin Redmond
With Valentine's Day coming up, love is in the air.  Do you know what I love (besides my wife)? Sparkling wine. With food.
Champagne and other sparkling wines – called Cava, Prosecco, Moscato d'Asti, etc. — are not just great party wines or wines for celebrating, they're also among the most versatile wines to pair with food.
What makes sparkling wines so food friendly?
They're innately high in acidity, which can heighten the perception of flavors, and can stimulate the appetite.
Most sparkling wines are multi-vintage, meaning they're blends of wines from different vintages. Most are also a blend of different grape varieties. The resulting blend (a.k.a. cuvee) creates a vinous synergy that not only enables consistency of taste, it tends to showcase minerality, a characteristic that can add depth to fruity, savory, meaty and gamey flavors.
A sparkling wine's effervescence has a palate cleansing "scrubbing bubbles" effect, which prepares the palate for your next flavorful bite.
So in the name of deliciousness, I suggest 10 white, pink and red sparkling wines paired with Shockingly Delicious Valentine's Day fare. These all beautifully showcase the versatility of sparkling wine at the table, and they're all $20 or under.  
Pair the following dishes with a Brut-style sparkler:  
1. Everyday  (under $10) – Segura Viudas Brut Reserva Cava
2. Mid ($10-$15) – Korbel Natural
3. Splurge  ($16-$20) – Schraffenberger Cellar Excellence Brut
Pair the following dishes with Prosecco, an Italian sparkling wine:
4. Everyday  (under $10) – Ca' Furlan Prosecco NV
5. Mid ($10-$15) – La Marca Prosecco
6. Splurge  ($16-$20) – Sorelle Bronca Extra-Dry Prosecco Valdobbiadene
Pair the following dishes with a Sparkling Rose:
7. Everyday (under $10)  –  Segura Viudas Brut Rosado Cava
8. Mid ($10-$15) – Korbel California Champagne Brut Rose
9. Splurge  ($16-$20) – Mumm Napa Brut Rose
#10 Bonus sparkling red wine:
Banfi Rosa Regale  ($16-$20) – is an off-dry (slightly sweet) red sparkling wine from the Brachetto D'Aqui (Piedmont) region of Italy. It appeals to the eye and the palate with its gorgeous ruby color and aromas of roses and strawberries. It has a softer effervescence than typical sparkling wine. Not only will it shine as an aperitif, it could work throughout a meal including dessert, especially if that dessert is fruit-based like a raspberry tart, or chocolate dipped strawberries.  In fact it's an amazing partner with all things chocolate (the darker the better)!
*Clink* Here's to love — and red, white and pink sparkling wines – today, and every day!

About Martin D. Redmond: Martin is a financial executive by day and a certified wine geek with latent foodie tendencies the rest of the time. In addition to the wine lifestyle and food, he enjoys family, fitness and traveling. He likes to get thoughts of wine off his mind by sharing experiences on his ENOFYLZ Wine blog, which features wine reviews, wine country travel, and wine and food pairings.
If you like this article and want to save it and the recommendations, pin the image below to your Pinterest board.

Printable list to take to the supermarket or beverage store:
Save
Save
Save
Save
Save
Save
Save