Print This Post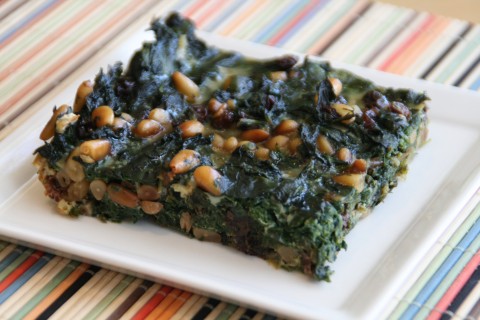 I'm a spinach girl – a greens girl, really – so when I see a new-to-me spinach recipe, I am all over it.
This combo of fresh greens sparked with garlic, the crunch of pine nuts and a hint of sweetness from currants is everything I want in a spinach dish. This one is not only a keeper, I happily ate it several days in a row without tiring of it.
While I had it for lunch, slightly re-warmed in the microwave, it would make a great brunch or dinner offering, as well. I can see it as the star of a vegetarian meal, or as an interesting veggie sidekick to a poultry or meat superhero. Suit yourself.
A quick visual tutorial
Recipe: Spinach Pie with Pine Nuts and Currants
1/2 cup currants
1 1/2 pounds Cut `n Clean Greens Spinach (triple washed, sliced and bagged) *see note below
2 tablespoons extra virgin olive oil
Scant 1 cup pine nuts
2 cloves garlic, minced
2 eggs
1/2 teaspoon sea salt
Turn oven on to 350 degrees. Spray an 11- by 7-inch Pyrex baking dish with non-stick spray and set aside. (If you would like, you could use a 9-inch pie dish instead, to underscore the pie theme.)
Boil a small cup of water, remove from heat and add currants to plump them. Set aside while you work on the rest of the recipe.
In a large skillet, wilt spinach over medium heat until tender, only 2-5 minutes. Do not overcook. It should remain bright green but simply be wilted. Remove spinach from pan and scrape onto a plate so it can cool off. Set aside.
In a small skillet, heat oil, and sauté pine nuts until light golden, adding garlic during the last minute of cooking. Remove from heat and set aside to cool slightly.
In a large mixing bowl, whisk eggs and salt. Using your hands, squeeze the moisture out of the spinach and add spinach to the bowl. Drain currants and add to bowl. Stir in pine nut mixture.
Spread spinach mixture into prepared baking dish and bake for 30 minutes.
Serves 6-8 (depending on whether you are using it as the main dish or a side dish).
*A note about the spinach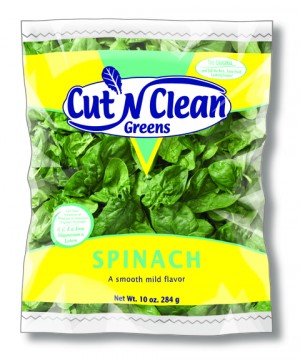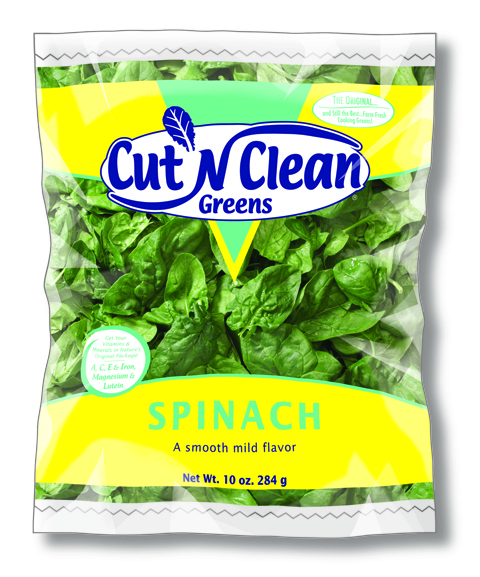 If you use triple-washed, sliced, bagged Cut `n Clean Greens Spinach, you won't have to do any prep work. If you don't, you will have to wash the spinach, and after it is cooked and cooled, you should mass it on the cutting board and give it a couple of chops with a big knife. This will make it easier to cut and serve the pie after baking.
Source: Adapted from a recipe at Elana's Pantry. Elana, a gluten-free author and blogger, calls it Spinach Cake, but I think of it more as a pie, or you could call it Spinach Bake. She adapted it from a Claudia Roden recipe for Tortino di Spinaci. One adaptation deserves another…how will you adapt this one to suit yourself?