Print This Post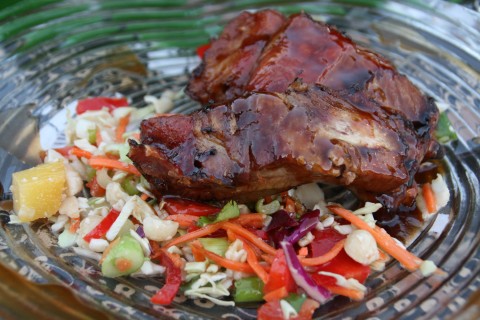 Labor Day calls for a cookout, and a cookout calls for grilling, and grilling calls for ribs.
Therefore, mathematically speaking, Labor Day = ribs.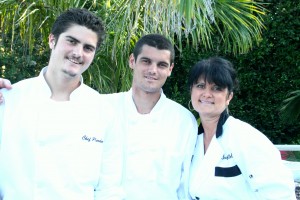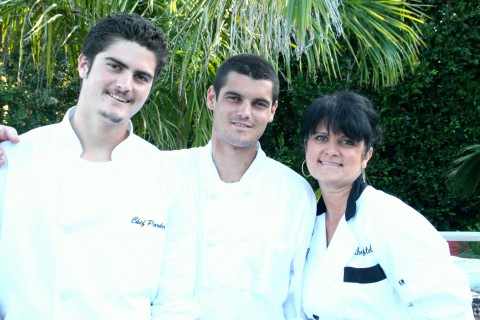 I had these wonderful ribs in July at a charity dinner for Mending Kids International. It was a lovely affair, cooked by Malibu Chef Christel Shaw and her two handsome cooking sons, Parker and Taylor. Any time you have pretty people cooking pretty food, it's pretty wonderful!
But I digress. Back to the ribs, which were succulent, sweet, spicy and just perfect!
You start these in the oven, low and slow, and finish, hot and heavy, either in the broiler or on the grill (suit yourself).
Make plenty. They'll be popular.  
Recipe: Hoisin Baby Back Ribs
Summary: Sweet, succulent and glazed with a garlic hoisin sauce, these baby back pork ribs are perfect for summer grilling.
Ingredients
1 cup hoisin sauce
1/2 cup soy sauce
1/2 cup honey
1/4 cup sesame oil
1/4 cup rice vinegar
2 tablespoons minced garlic
2 tablespoons minced ginger
1 teaspoon red pepper flakes
4 pounds pork baby back ribs
Salt and pepper
1 cup chicken broth
Instructions
Heat the oven to 275 degrees.
Combine the hoisin, soy sauce, honey, sesame oil, rice vinegar, garlic, ginger, and red pepper flakes in a medium saucepan. Bring to a boil then reduce to simmer until thickened to glaze consistency, about 3–4 minutes. Remove from heat and allow to cool.
Position a wire rack inside of a large baking dish. Season the ribs well on both sides with the salt and pepper, and place the ribs on the wire rack. Pour the chicken stock in the bottom of the baking dish. Wrap the pan tightly with aluminum foil and cook until the ribs are very tender, 1 1/2 to 2 hours.
When the ribs are tender, remove them from the oven and allow to cool for 15 minutes before proceeding. Change the oven setting to broil.
Coat the ribs with some of the hoisin glaze and broil 6 to 8 inches from heat until caramelized around the edges, 3-5 minutes. Be careful not to burn the glaze. (You may also give the ribs their final cooking on the grill if you like.)
Remove the ribs from the oven and cut the slabs into individual ribs.
Serve ribs with some of the remaining hoisin glaze.
Serves 8.
Preparation time: 7 minutes
Cooking time: 2 hours 15 minutes
Diet tags: High protein
Number of servings (yield): 8
Culinary tradition: USA (Traditional)
My rating 5 stars:  ★★★★★ 
Source: Malibu Chef Christel Shaw
See Chef Christel Shaw's recipe for Mango Salsa and delicious White Sauce for Grilled Fish (think fish tacos).