Print This Post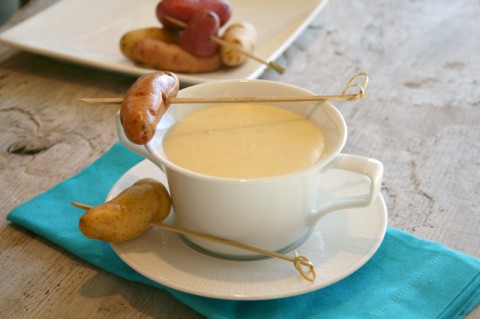 Potatoes and cheese are married, aren't they? Or are they just shacking up?
Either way, they are perfect partners. It's hard to imagine a potato dish that isn't improved by the addition of cheese.
So when the Idaho Potato Commission asked me to come up with a potato appetizer suitable for New Year's, my mind turned immediately to cheese – a cheese bath, which is what fondue is.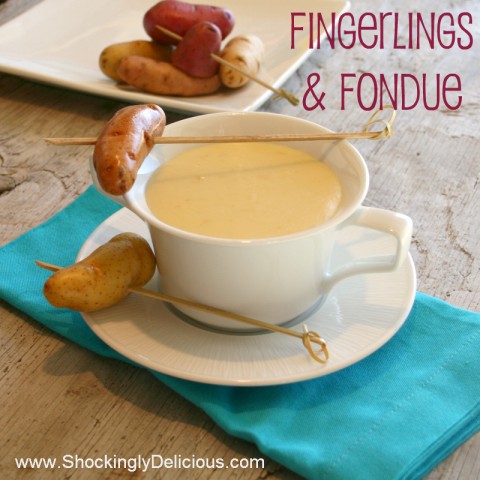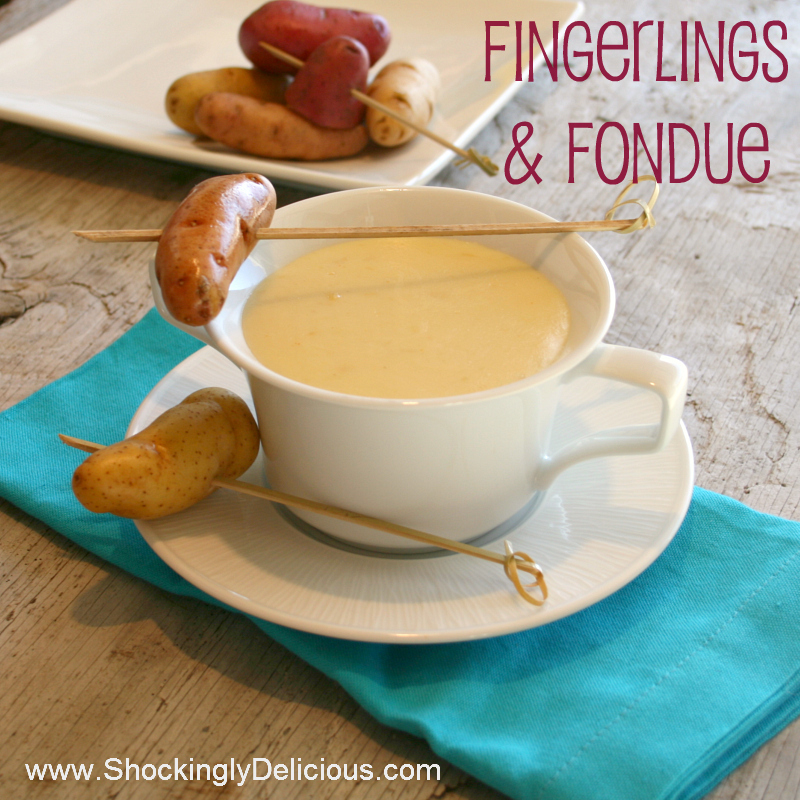 So let's dip steamed Idaho fingerlings in a cheese bath, instead of using the usual chunks of bread as the dippers. Fingerlings are small, finger-shaped potatoes that naturally grow small and thin when mature.
Although small in stature, they are big in flavor. You can often find a medley of fingerlings in the grocery store, and it's nice to have the different colors and shapes in a dish. They have thin skin, so leave it on.
Recipe: Fingerlings and Fondue
Summary: Steamed Idaho fingerling potatoes take a dip in a delicious Swiss cheese fondue bath for a heavenly pairing in a substantial appetizer.
Ingredients
Dippers:
1-1 1/2 pounds Idaho Fingerling potatoes (such as Russian Banana Fingerling, Ruby Crescent Fingerling, French Fingerling, Red Thumb Fingerling, Purple Peruvian Fingerling, or a medley of fingerlings)
Broccoli and/or cauliflower florets
Raw apple slices (skin left on)
Raw fresh small button mushroom
Toothpicks or mid-size bamboo or metal skewers.
Fondue:
3 cups shredded Gruyere or Swiss cheese (12 ounces)
2 cups shredded Emmentaler, Gruyere, or Swiss cheese (8 ounces)
3 tablespoons all-purpose flour
1 1/2 cups dry white wine
1 garlic clove, crushed
1/4 cup milk
2 tablespoons kirsch or dry sherry
1/2 teaspoon dry mustard
1/8 teaspoon ground nutmeg
A grinding of fresh black pepper
Instructions
First, get the dippers ready: Scrub potatoes and place them in a steamer basket over 1 inch simmering water. Cover and steam until tender, about 10-15 minutes. You may also steam them without additional water in the microwave, about 4-5 minutes. Test with a fork to make sure they are done; they should be tender but hold their shape. Cut any large fingerlings in half, and leave the small fingerlings whole. Your goal is to have bite-size pieces. Place steamed potatoes in a serving bowl.
Lightly steam broccoli and cauliflower florets just until they are crisp-tender (the broccoli should still be bright green), and place them in serving bowls.
Core and slice the apples (leave skin on) and place in a serving bowl. Clean the mushrooms and place them in a serving bowl.
Now, make the fondue: In a bowl, toss shredded cheeses with flour; set aside.
Heat wine and garlic in a large saucepan over medium heat until small bubbles rise to the surface. Just before it boils, reduce heat to low and stir in the cheese mixture, a little at a time, stirring constantly. Make sure the cheese is melted before adding more. Stir until mixture bubbles gently.
Stir in milk, kirsch or sherry, mustard, nutmeg, and pepper.
Transfer cheese mixture to a fondue pot and adjust fondue burner flame to low. Keep mixture bubbling very gently over the fondue burner.
Serve with bowls of prepared dippers alongside the fondue, and toothpicks or skewers for guests to use to dip the potatoes and other items into the cheese bath.
Preparation time: 20 minutes
Cooking time: 20 minutes
Diet type: Vegetarian
Number of servings (yield): 10-12
Culinary tradition: Swiss
My rating 5 stars:  ★★★★★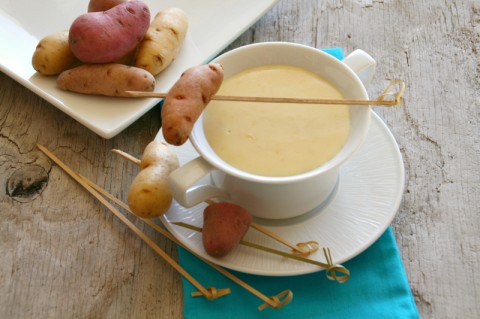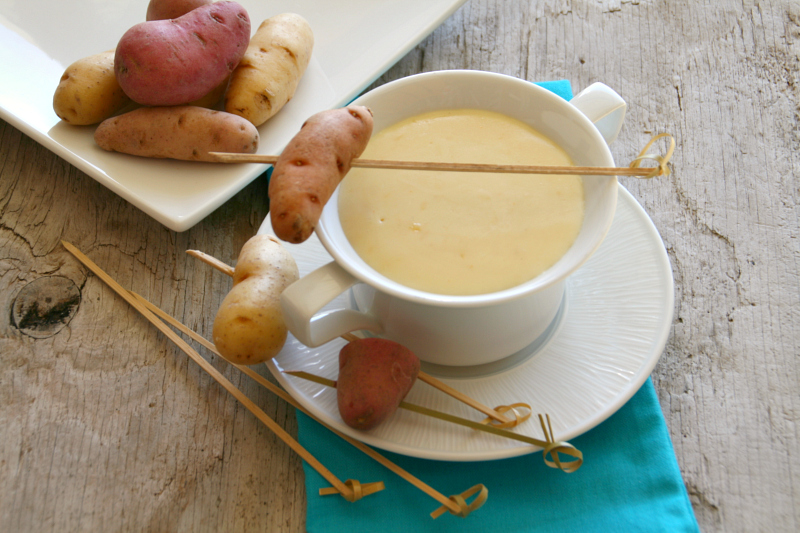 The Idaho Potato Commission hired me to create this recipe.