Print This Post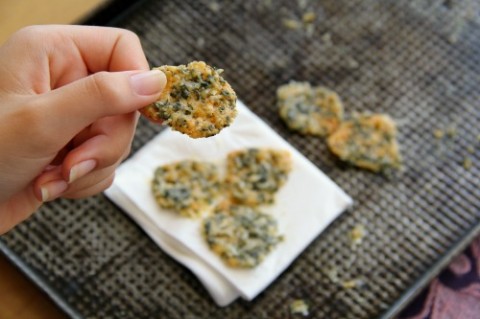 Have you ever had frico? It's one of the little pleasures bestowed upon the world by the Italians.
It's basically a lacy wafer of fried cheese, a "little trifle" in Italian.
Frico are baked or fried, very crispy, crunchy and delicious. They can be eaten as a pre-prandial nibble with cocktails, an hors d'oeuvre, or used to garnish soup or a green salad. If you're fancy, while they're warm from the oven you can drape them over a rolling pin to give them a curve, or over the back of a cup to create a little cheesy bowl.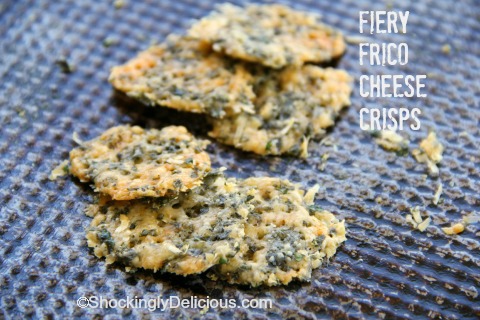 Although they danced in my peripheral vision for years, I hadn't made them before. But when the folks who make Tabasco challenged 10 bloggers (including me) to a 10-ingredient challenge, Frico were the first thing I thought of.
The Tabasco challenge: Using the 10-ingredient shopping list developed by Tabasco, make 5 recipes in 5 days. The limits were my imagination and the ingredients, which could be used in any combination, as long as Tabasco® Original Red Sauce was used in each recipe.
Easy peasy? I thought so, until I saw the list: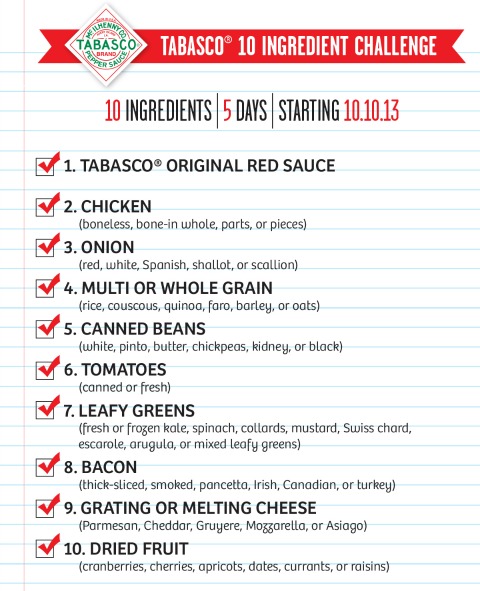 Freebies: salt, pepper and oil
Now that's a lot of wonderful ingredients, but where are the eggs, the dairy, the flour, the vinegar or lemon juice or acid of some kind, the fresh fruit, the…ah, well, this WAS a challenge!
Luckily, with Frico, you need only fantastic cheese, and in this case I added the leafy green of Italian green parsley just to amp up the Italian aspect, and, of course, Tabasco. The hot sauce, which has only three ingredients – vinegar, red peppers and salt — enhanced and played against the rich, nutty cheese.
Feisty, fiery Frico, at your service!
Here's my running tally of what I made for our Tabasco Challenge:
Day 1: Fiery Frico Cheese Crisps
Day 2: ? (hint: condiment!)
Day 3: ? (hint: salad!)
Day 4: ? (hint: angry!)
Day 5: ? (hint: bawk, bawk!)
Please come back tomorrow for another Tabasco-inspired recipe!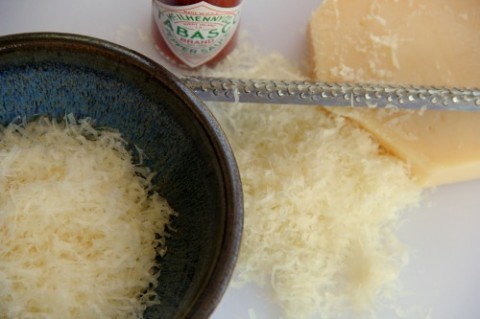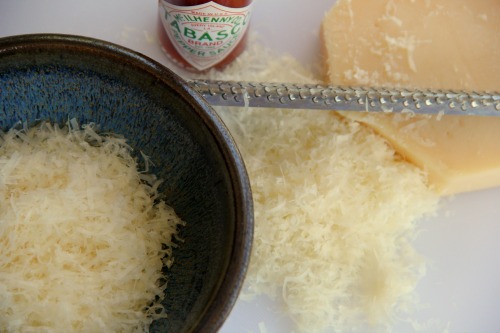 Recipe: Fiery Frico Cheese Crisps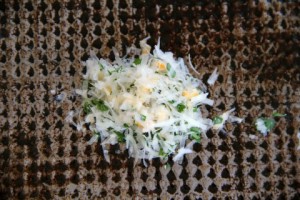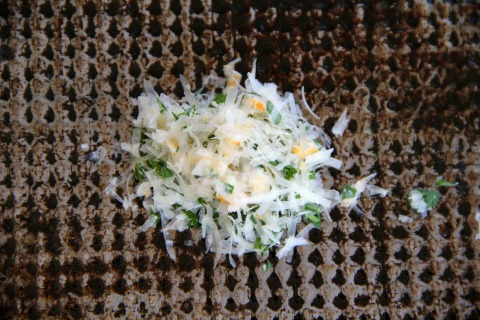 Summary: Feisty Tabasco flavors rich, nutty Parmigiano flecked with parsley in these Frico Italian Cheese Crisps, perfect for an hors d'oeuvre or salad garnish.
Ingredients
1 cup grated aged Parmigiano-Reggiano cheese (or Grana Padano if you can find it)
½ teaspoon Tabasco® Original Red Sauce
4 teaspoons finely minced fresh Italian parsley (flat parsley)
Instructions
Heat oven to 325 degrees F. Lightly mist a baking sheet, or use parchment or a Silpat sheet.
In a small bowl, using your hands, mix the cheese, Tabasco and parsley, until well blended. If the Tabasco creates little clumps, tease them apart with your fingers to spread out the fire.
Drop the cheese into 12 mounds on the baking sheet and spread out/flatten them slightly.
Bake for 10 minutes. Remove sheet from oven, allow to rest for 1 minute, and then remove crisps with a sharp spatula to a rack to cool further. If you allow them to cool on the sheet, they might cement themselves to it.
Makes 12 crisps. Serves 4.
Source
Dorothy Reinhold | Shockingly Delicious
Tabasco note
These crisps have a pronounced but not unbearable heat. If you feel a bit wimpy, reduce the Tabasco by a snitch. Tabasco® Original Red Sauce has a Scoville Unit Rating of 2,500-5,000. (Tabasco Habanero has a Scoville of 7,000.) Scoville units are a standardized way of measuring the capsaicin in peppers.
Preparation time: 10 minutes
Cooking time: 10 minutes
Diet type: Vegetarian
Diet tags: Gluten free
Number of servings (yield): 4
Culinary tradition: Italian
My rating 5 stars:  ★★★★★ 
Disclosure

: I was compensated for this post by the McIlhenny Co., the makers of Tabasco. All opinions are my own, and this recipe is a Shockingly Delicious original.