Print This Post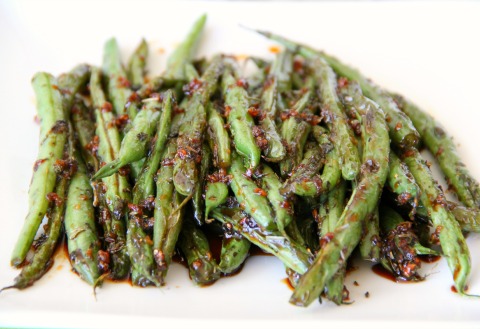 You're not going to make those same-old, same-old gloppy green beans for Thanksgiving again, are you? Step away from the creamed soup, food friends. You'll thank me for it in a coupla days.
What if I convince you to try something new, something less goopy, something every bit as comforting and tasty and certainly even better for you? This is it – Sweet and Savory Green Beans, amped up with garlic and herbs, seasoned with soy and sweetened with agave.
Yowza, these are good!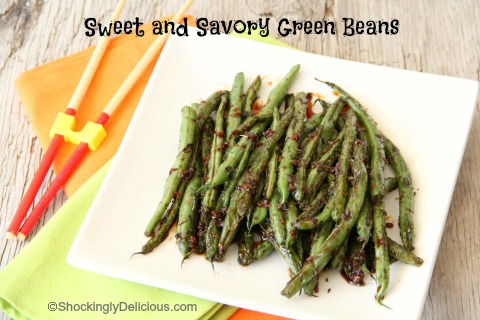 Recipe: Sweet and Savory Thanksgiving Green Beans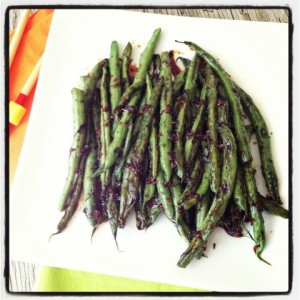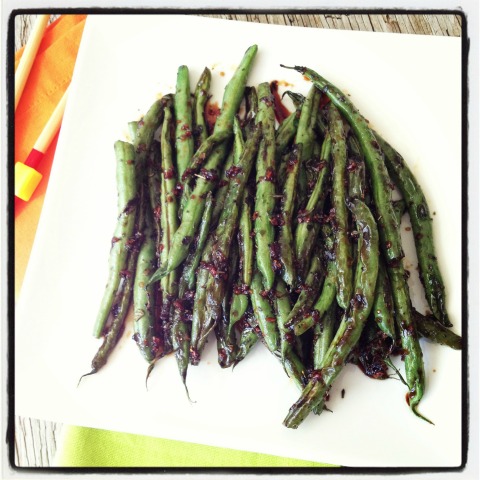 Summary: A new green bean side dish for Thanksgiving, amped up with garlic and herbs, seasoned with soy and sweetened with agave.
Ingredients
8 ounces trimmed fresh green beans
1 tablespoon extra virgin olive oil
3 cloves garlic, finely minced or pressed
1 teaspoon herbs (I used ¼ teaspoon

EACH

of dried oregano, thyme, marjoram and basil)
1 tablespoon soy sauce
1 tablespoons agave or honey
1 tablespoon water

Garnish

: crispy onions or sliced Marcona almonds (optional)
Instructions
Add beans and stir-fry for about 3 minutes.
Add garlic and herbs and stir-fry for another minute or 2.
Add soy sauce, agave and water and stir-fry until beans are crisp-tender, another minute or 2. Add another tablespoon of water if the soy-agave coating gets too dry or begins to scorch.
Place on a serving platter and sprinkle with crispy onions or sliced almonds if you like (or not if you want to revel in simplicity).
Serves 4.
My Secret Recipe Club Creations
Here is a list of what else I have made for the Secret Recipe Club since I joined the group. Check it out!
Preparation time: 10 minutes
Cooking time: 5 minutes
Diet type: Vegan, vegetarian
Diet tags: Reduced fat, Gluten free
Number of servings (yield): 4
My rating 5 stars:  ★★★★★

I found inspiration for this recipe on the blog Troyers Loving Life  by blogger Kirsten, who describes her site as a "come sit and be a friend" blog. That's a great description, isn't it?
I was spelunking into this site because it was assigned to me for Secret Recipe Club,  and I spent a long time perusing her delicious suggestions. I nearly made her Banana Nut Cornbread because I am in love with the Jiffy mix, and her Candied Spiced Chickpeas just cried out to me at 5 p.m. (with some wine?). Summer garden abundance might be a good purpose for her Oven Baked Zucchini Fries, and her Blueberry Chia Seed Jam is right up my chia seed alley.
But Thanksgiving looms, and the green beans won the day! Join us in the Secret Recipe Club this month for some delicious eats, from Kirsten's blog and many others!
You can see what other cooks in the Secret Recipe Club made this month, right below here in the array of photos. Click any of them to be transported to that particular recipe!