Print This Post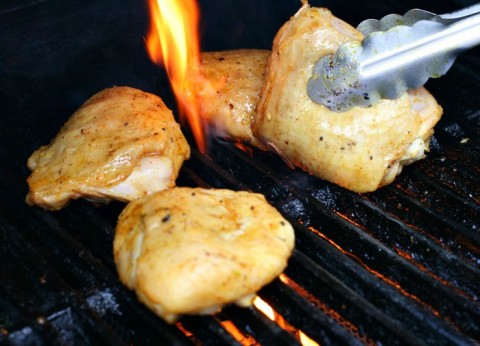 One of my most popular recipes here is the Better Than Pollo Loco Chicken Thighs. Yeah, it's better than any chicken chain, and you're in charge of what goes into the marinade.
Seasoned well but not overly spicy, this chicken is a workhorse for a busy home cook. It always tastes good, and is useful with lots of different side dishes. Very often I grill a large batch and freeze it in family-size portions for later.
But when I saw a new-to-me product at the grocery store, I was inspired to tweak my original recipe. Simply Orange® with Tangerine juice sounded uber refreshing, and since tangerines are one of my favorite fruits, I thought this juice blend might be a great addition to the recipe to substitute for the pineapple juice.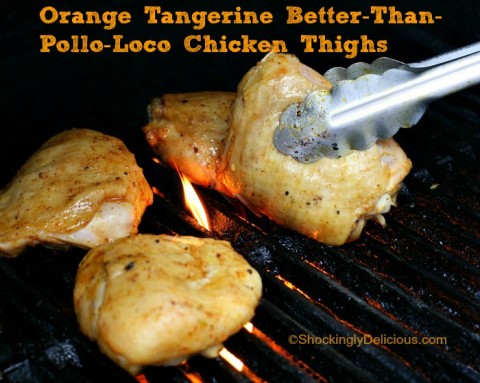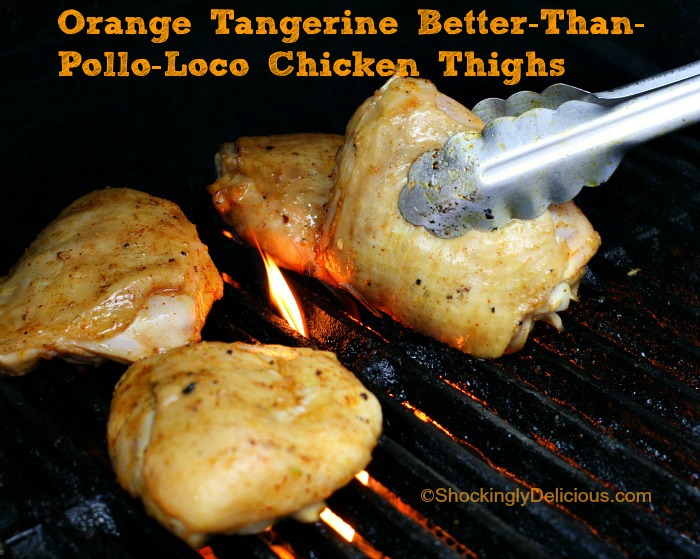 It was! The color is gorgeous; the tangerine flavor is a perfect marriage to my favorite chicken part – thighs. I did it with both bone-in/skin-on thighs, and with boneless, skinless thighs. Both were great, so suit yourself. But may I just encourage you to use the bone-in/skin-on thighs, though? Just eat one, and thoroughly appreciate your meal. Do not fear the skin, my friends.
And I also changed up the spicing in my newly tweaked version, just a tad, to keep it lively. It's as good, or perhaps even better (!) than my original. You judge for yourself!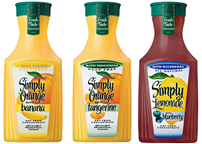 Meanwhile, try this Simply Orange® with Tangerine  juice in your recipes that call for orange juice, or drink it as a beverage. I not only used it in the marinade, but then mixed it 50/50 with club soda for an orange-tangerine soda perfect for these sweaty summer days. There are two other new juice blends that are a new twist on the classic Simply Orange and Simply Lemonade varieties:
So let's make a winner, winner chicken dinner, and then be sure to enter the great giveaway right below the recipe. You want $100, don't you?
Recipe: Orange Tangerine Better-Than-Pollo-Loco Chicken Thighs
Summary: This lively marinade with Orange-Tangerine juice makes juicy, flavorful chicken thighs that are better than the best chicken chain out there.
Ingredients
Marinade
1 cup (8 ounces) Simply Orange with Tangerine juice
2 tablespoons Meyer lemon juice (or use regular lemon or lime juice)
1 tablespoon white vinegar
1 tablespoon olive oil
2-3 cloves garlic, crushed
1 teaspoon finely minced jalapeno, seeds included
1 teaspoon kosher salt
1 teaspoon dried ground turmeric* (see note below)
1 teaspoon dried ancho chile powder
¼ teaspoon freshly ground pepper
2 1/2 pounds bone-in, skin-on chicken thighs
Instructions
Mix all marinade ingredients in a 2-cup measuring cup. Place chicken in zipper-top plastic bag, pour marinade in and squeeze out or suck out air from bag before sealing. Massage chicken in bag to make sure all pieces of chicken are bathing in marinade. Marinate in refrigerator for at least half a day, or even better, overnight; turn bag occasionally to ensure chicken is entirely covered.
When ready to grill, remove chicken from marinade (discard marinade) and grill chicken over medium heat until done, about 20-25 minutes, turning once for nice grill marks. You can add some moist mesquite chips to the grill for a smoky flavor.
Serves 4-5, depending on size of chicken pieces and appetites.
*Turmeric
Turmeric will stain, so try not to spill the marinade on light colored clothing or even on white grout on tile counters. You have been warned.
Make-ahead strategy
I make this all the time, and sometimes I even put the raw chicken in the marinade and then freeze the whole shebang in a zipper-top bag. When I want some, I pull it out and put in refrig to thaw, and by the time it is thawed it is marinated perfectly and ready for the grill! How's that for efficiency? Or marinate and cook the chicken, then cool it and freeze for an instant chicken dinner down the road sometime.
Serve with:
Salsa and chips as appetizer
Pinto beans (spiced with chile powder, cumin, onion powder, garlic powder, paprika, cinnamon)
Mexican rice
Coleslaw spiked with the rest of the jalapeno
Flan for dessert (or how about coconut pudding?)
Don't forget the margaritas and cerveza!
Preparation time: 8 minutes
Cooking time: 25 minutes
Number of servings (yield): 4-5
Culinary tradition: USA (Southwestern)
My rating 5 stars:  ★★★★★ 
Giveaway!
UPDATE 8-3-13: Tammy S. from Portland, Oregon is the winner! Thank you, everyone, for playing along! Now go make this chicken! Simply Orange Juice is giving away a $100 American Express gift card and coupons for their new blends, to one lucky reader of Shockingly Delicious. To have a chance at winning, simply do any or all of the following:
1. Leave a comment on this post telling me which two things YOU would like to blend together.
2. Like Shockingly Delicious on Facebook and leave a comment telling me you did.
3. Like Simply Orange Juice on Facebook and leave a comment telling me you did and what your Facebook name is.
4. Follow Shockingly Delicious on Twitter and leave a comment telling me you did and what your Twitter handle is.
To participate in the giveaway you may do any of these, and each is considered a separate entry, so leave a separate comment for each one you do.
This giveaway is for one winner of a $100 gift card and Simply Orange Juice coupons. This giveaway is open to those with mailing addresses in the USA only. Submissions will close at noon Pacific Time on Monday, July 29, 2013.  Winner will be notified via email within 24 hours of the close of the giveaway, and given 24 hours to respond. If I do not receive a response in 24 hours, I will draw a new winner. There is more legal fine print here.
Ready, set, GO!
Disclosure: Simply Orange Juice Company has asked me to help promote the new products. I am being compensated for my participation in the program but all opinions expressed in the post are my own and not those of Simply Orange Juice Company. And the recipe, of course, is a Shockingly Delicious original!