Print This Post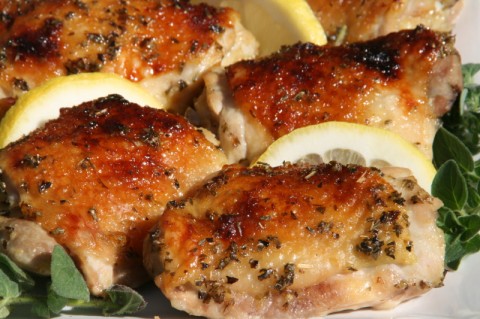 Roasted chicken or turkey skin is my guilty pleasure. I have always loved sneaking into the kitchen to pick off the crispiest, brownest pieces of skin before anyone else gets at them, or – horrors! – before some well-meaning cook discards the fatty skin.
I know we're only supposed to eat skinless chicken in these vigilant nutritional times, but I don't care. Chicken cooked with the bone in and the skin on tastes so much better as to be an entirely different experience than the underdressed variety.
This slightly sweet, lemony, herbaceous recipe tastes fabulous — meat, skin and all. And it's a slight change of pace for chicken without being so weird you only want to eat it once. I've been known to make it twice in one week.
Fear no food! Eat the skin!
I submitted this recipe to the national food magazine "Taste of Home" and they renamed it Oregano-Lemon Chicken and published it in Country Extra in Nov. 2004.
Sticky Lemon-Oregano Chicken
Serve with rice, mashed potatoes or bread, any of which will soak up those great juices.
6 meaty chicken thighs (bone-in, skin left on), about 2 to 3 pounds
3 tablespoons fresh lemon juice
2 tablespoons honey
1 tablespoon olive oil
3 cloves garlic, crushed
2 teaspoons dried oregano
Pinch of kosher salt
Heat oven to 375 degrees. Mist a roasting pan or 13- by 9-inch baking dish with non-stick spray.
Using a poultry/food shears or knife, snip off and discard any big fat globs, leaving skin intact. Place chicken in pan. In a small bowl or cup, stir all remaining ingredients together and pour over chicken. Sprinkle with a pinch of kosher salt. Roast chicken, uncovered, for 45 minutes, basting with the accumulated juices once, at the halfway point.
Remove chicken from oven, let rest for a couple of minutes and serve, spooning the pan juices over top.
Serves 6.
Make quick gravy: If you like thicker juices or you want to create a sort of quickie gravy, pour the pan juices into a small saucepan (you'll have about 1 cup-ish, depending on how much chicken you used). In a small bowl, put 2 tablespoons of the chicken pan juices, and stir in 1 tablespoon cornstarch, until well blended. Stir this slurry back into the juices in the saucepan. Cook and stir over medium heat until mixture boils; it will thicken as it reaches the boiling point. Boil 1 minute. Remove from heat and spoon thickened sauce over chicken and serve.