Print This Post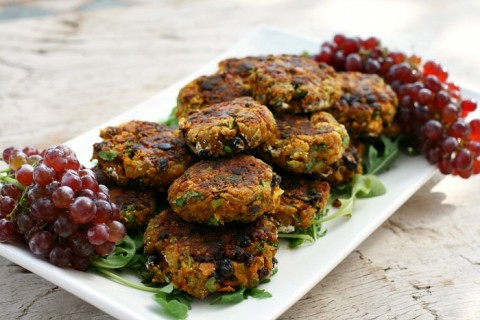 Summertime, and the livin' is easy…especially when you can throw together a big-flavor, meatless patty that won't weigh you down in the heat.
This one is packed with kapow! flavors and perfect for Meatless Monday. I made them two days in a row, which is a testament to their deliciousness and popularity here.
Make them small, as I did here for appetizer bites, or larger as full-size patties to nestle in a bed of fresh-dressed salad greens.
Either way, dinner is delicious.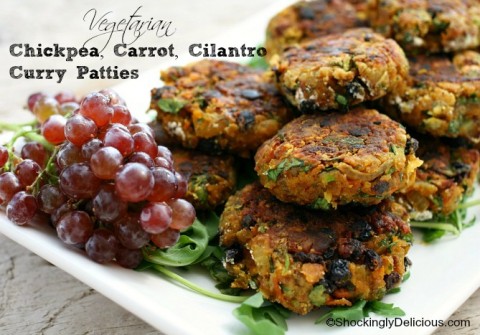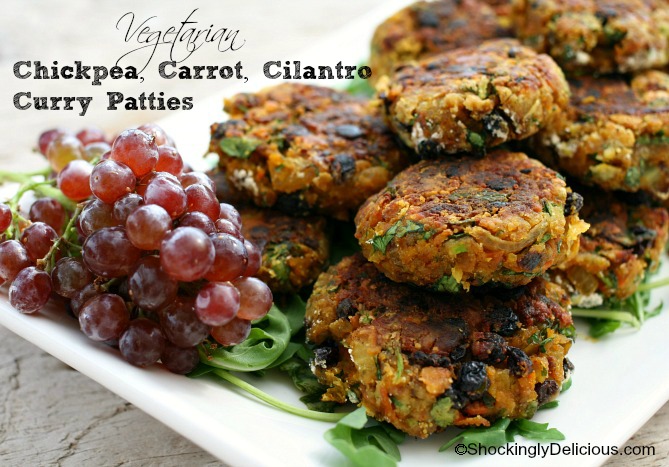 Recipe: Vegetarian Chickpea, Carrot, Cilantro Curry Patty
Summary: Indian-inflected vegetarian patty with big flavors can be eaten for an appetizer, or atop a salad for a light summertime lunch or dinner.
Ingredients
1/3 cup currants
1 brown onion
2 large carrots
½ cup fresh cilantro leaves
2 cloves garlic
1 (15-ounce) can (425g) chickpeas, drained and rinsed
4 tablespoons olive oil or grape seed oil (divided use)
2 teaspoons curry powder
1 teaspoon ground cumin
¼ teaspoon kosher salt
1 egg + 1 egg white
1 cup fresh multigrain breadcrumbs
1/3 cup chickpea (besan) flour
Dipping sauce: Mango chutney, to serve
Salad greens
Instructions
Put currants in a 1-cup measuring cup and cover them with hottest tap water. Set aside while you work on the rest of the recipe so currants soften.
Finely chop onion and set aside. Grate carrots to make 1 cup grated carrot (I used a food processor) and set aside. Chop cilantro and set aside. Mince garlic and set aside. Whirl chickpeas in a food processor until finely chopped, and scrape them into a big mixing bowl and set bowl aside.
Heat 1 tablespoon oil in a non-stick skillet. Cook onion over medium-high heat for 3-5 minutes until tender, stirring often. Add grated carrots and cook for another couple of minutes. Stir in curry, cumin, garlic and salt. Cook and stir for 1 minute (spices will smell amazing!). Remove from heat and set aside to cool for 5 minutes.
Into the bowl with the chickpeas, add egg, egg white and bread crumbs. Add slightly cooled onion mixture, cilantro and drained currants and stir to combine. (Use your hands if you like!)
If making appetizer portions, divide mixture into 20 lumps and shape each into a small tight patty with your hands. Spread chickpea flour in a wide, shallow bowl or pie plate and lightly coat patties in chickpea flour, shake off excess and place on a plate. If making larger patties for a main-dish salad, portion into 4 or 5 and repeat process described above.
Heat 2 tablespoons oil in the same skillet. Cook the patties over medium heat for 4-5 minutes per side, or until golden brown and cooked through. If making 20 small patties, you will need to do this in 2 batches, adding another tablespoon or so of oil for the second batch.
Remove to a wire rack to drain.
For appetizers, place on a serving platter lined with lettuce or another green (for pretty), and decorated with grapes. (Melissa's Produce sent these champagne grapes for recipe review. )
For main dish, dress the greens with a light dressing and portion onto 4 dinner plates. Place a patty atop each bed of salad.
Offer mango chutney as a spread or dip.
Serves 10 for appetizer (2 per person), or 4-5 for a meal.
Ingredient notes
Preparation time: 20 minutes
Cooking time: 15 minutes
Diet type: Vegetarian
Number of servings (yield): 4 (main dish) to 10 (appetizer)
Culinary tradition: Indian
My rating 5 stars:  ★★★★★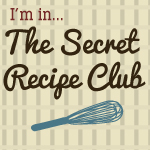 I found this recipe on the charming blog Food.Baby.Life, penned by Susan, a mom of two carrot-topped boys in Australia. It was my Secret Recipe Club assignment this month, and I enjoyed perusing her creative ideas.
She is quite the baker and dessert maker, participates in several Internet baking groups, and has made several very fun kiddo birthday cakes. I wish someone would make ME a Digger Cake or a Dinosaur Cake for my birthday.
I have my eye on her Christmas Rice Salad, which would be perfect at any summer potluck or barbecue, and I have her Rustic Potato Loaves bookmarked for when the weather cools down.
I need to look away from her "slices" — No-Bake Lemon Slice, Apple Streusel Slice, Chocolate & Coconut Slice and Scrummy Six-Layer Slice.
What is a slice? It's Australian slang for a dessert bar. See, that's one of my favorite parts of Secret Recipe Club – finding out new words and ideas from other places.
You can see what other cooks in the Secret Recipe Club made this month, right below here in the array of photos. Click any of them to be transported to that particular recipe!