Print This Post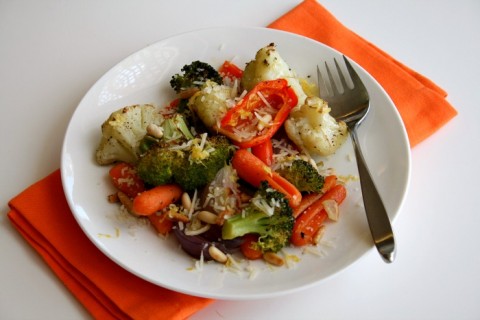 I'm pretty much a sucker for any recipe that claims to be "the best." Oh yeah? We'll see about that!
So when I saw Best Broccoli of Your Life on the blog Fantastical Sharing of Recipes, I knew I needed to write broccoli on the grocery list, and get it, stat.
Fantastical Sharing is a site created by Sarah, a sweet 20something with two kids, an Army husband and a coupla cats. Her subtitle — "Just one bite away from happiness" – gives you a clue that she is a happy home chef.
I was assigned to her site as my Secret Recipe Club food blog to explore this month, and she gave me plenty to contemplate.
She has an incredible collection of yummy-looking pizza-ish things, including Homemade Pizza Rolls, Pepperoni Pizza Omelets, DIY Pizza Lunchables, Sweet N Spicy Hawaiian Pizza, Hawaiian Pizza Grilled Cheese, and Philly Cheesesteak Pizza. I'm pretty sure the only thing she doesn't have on there is pizza ice cream. Wait, though, maybe I didn't look deeply enough…
She has a culinary bucket list for 2013 with 60 recipes on it (she figures 1+ per week), and crosses them off as she makes them. Every one of those looked good to me, too. Maybe I should just browse HER list when I am feeling uninspired.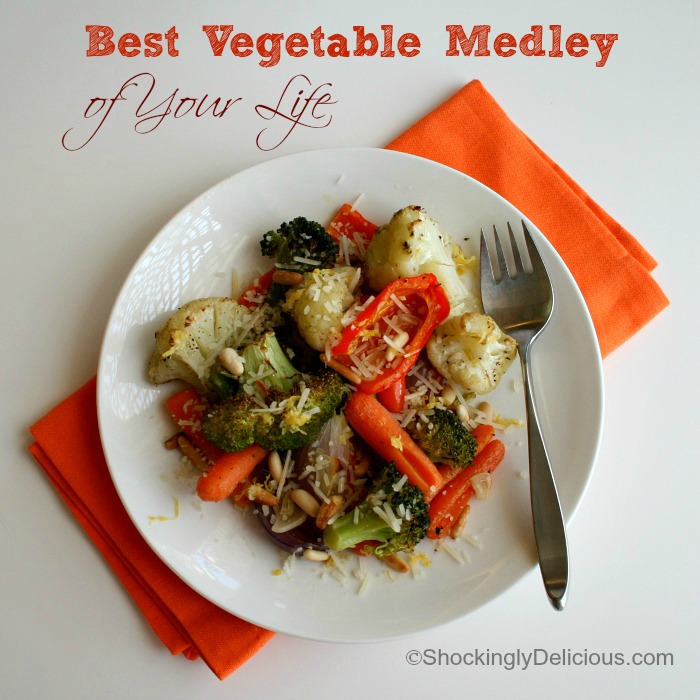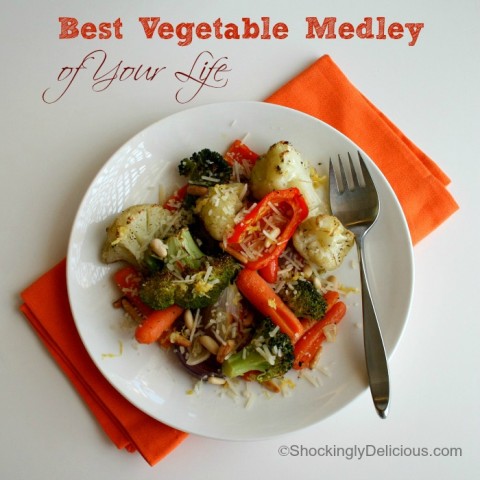 But that broccoli, oh my, that broccoli. I might be a little looney that broccoli can make me so happy.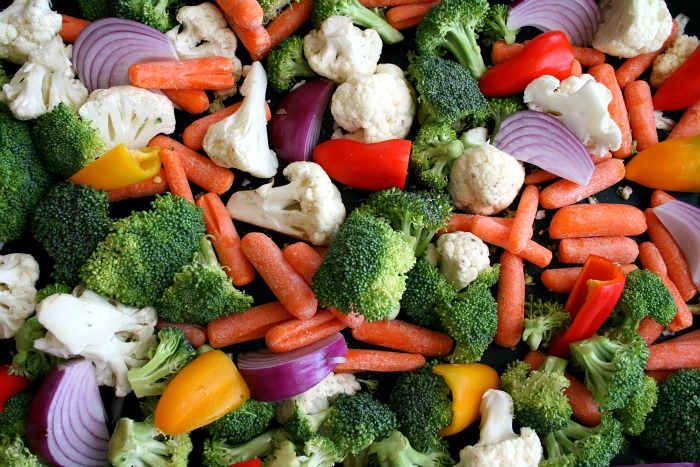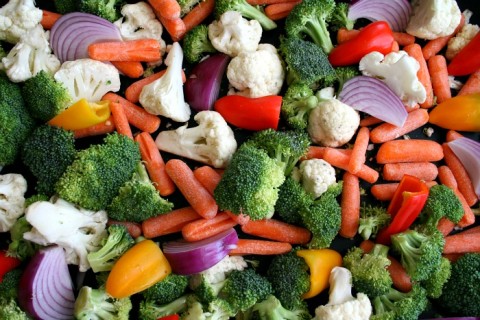 I took her recipe and tweaked it, adding carrots, cauliflower, peppers and onions, simply because I am a tweaker, not because it necessarily needed to change. A few more colorful veggies = great in my book.
Never mind my mental illness over broccoli. Apparently Sarah and I are in the same club.
Go write veggies on your list, and turn on the oven.
Recipe: Shockingly Delicious Best Vegetable Medley of Your Life
Summary: If ever a plate of roasted vegetables will make you forget the meat, it is this one. Roasting sweetens and concentrates the flavors, and the Parmesan and pine nuts add body, while the lemon zest adds zing. 
Ingredients
1 (2-pound) bag vegetable medley — broccoli, cauliflower and  carrots
5 mini colored sweet bell peppers, stemmed and halved
1 red onion, peeled and sliced into 8 wedges
5 tablespoons extra virgin olive oil, divided use
3 big pinches kosher salt
Freshly ground black pepper
4 cloves garlic, thinly sliced
Zest from 1 extra large lemon (1 1/2-2 tablespoons zest)
1 (2-ounce) bag Melissa's Italian Pine Nuts, toasted (about a scant 1/2 cup; or substitute toasted slivered almonds)
1/2 cup Parmesan shreds
2 tablespoons chopped fresh basil (optional)
Instructions
Heat oven to 425F degrees. Line a large, flat baking pan or sheet with foil for easy cleanup later. (I forgot to do this and it worked out OK because I had a nonstock roasting pan.)
Place vegetable medly into pan, along with peppers and onions. Drizzle with 4 tablespoons olive oil, sprinkle with salt and pepper, and toss until coated.
Fling garlic slices on top and roast for 25 minutes, undisturbed.
Remove from oven, add remaining tablespoon olive oil, lemon zest, toasted nuts and Parmesan shreds and toss with spatulas to mix.
Garnish with basil if you like, and serve!
Serves 4-6, depending on appetites.
My Secret Recipe Club creations
Here is a list of what else I have made for the Secret Recipe Club since I joined the group. Check it out!
Preparation time: 10 minutes
Cooking time: 25 minutes
Diet type: Vegetarian
Diet tags: Gluten free
Number of servings (yield): 4-6
Culinary tradition: USA (Nouveau)
My rating 5 stars:  ★★★★★
You can see what other cooks in the Secret Recipe Club made this month, right below here in the array of photos. Click any of them to be transported to that particular recipe!