Print This Post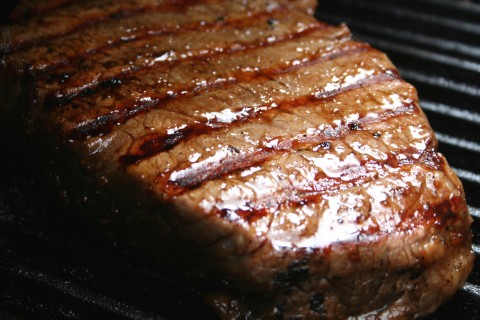 Hey, wait a minute there…who are we calling cheap and easy? 😈
Me, I guess. I've always been frugal, and prone to trying to simplify things to their essence. So yeah, I guess that makes me cheap and easy. I yam what I yam.
Take this steak, though. There are some occasions you want to go all out, buy the best cut of steak you can, and go to town. Other times (most times, especially for families!), you probably want a cheaper cut, for everyday occasions like family dinners.
But the bottom line is you still want it to taste fabulous. So use a simple marinade that elevates a cheaper cut of beef, ramps up the flavor and satisfies everyone.
Cheap and Easy: Marinated London Broil
1/4 cup soy sauce
1/2 cup dark brown sugar
2 tablespoons olive oil
3 cloves garlic, minced or crushed
1/2 teaspoon ground ginger
1 1/2 to 2 1/4-pound piece of London Broil
Measure soy sauce in a 2-cup measuring cup. Add sugar, olive oil, garlic and ginger and stir until sugar is dissolved. Put meat into a heavy-duty zipper-top plastic bag and pour marinade into bag. Remove air from bag and refrigerate for 24-48 hours.
Remove meat from marinade (discard marinade) and grill meat until it reaches desired doneness for your taste buds; medium rare is perfect!
Remove from grill, let rest for 5 minutes, slice and serve.
Serves 4-8, depending on amount of meat and size of appetites.