Print This Post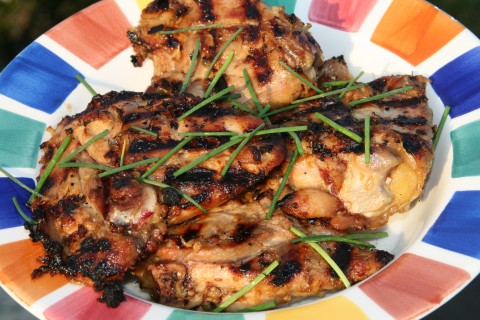 Look no further if you want to resuscitate your moribund weekly grilled chicken dinner. You have found the answer here. After they taste this, your family will certainly NOT be saying, "Oh. Chicken again?"
The aromatics in here are amazing – lemongrass! ginger! garlic! hot pepper! fish sauce! soy sauce! Wait…back up there…fish sauce? Most definitely yes. Don't be afraid of it; this is one of the keys to authentic Vietnamese flavor. When you open the bottle and sniff…uh, whoa…aquarium! Not to worry. Your finished dish won't taste fishy at all. It will be scary good, and so it is worth getting to know fish sauce for that reason alone.
A recipe handed down from a first-generation Vietnamese-American mother to her daughter, this is one tasty gift. Kim at Rusticgardenbistro.com is the lucky daughter who has been eating this her whole life. You can see her version here; she makes it with a whole bird, but I wanted to get two dinners out of it, so I made it with a boatload of my favorite chicken piece – skin-on, bone-in thighs.
In this case, a boatload = 8 meaty thighs, so I tweaked her marinade recipe to accommodate. In tweaking, I also simplified the preparation for my needs, while keeping true to her original. This is one flavor-packed dish! Even though it has a pepper in it, it is not overly spicy. My kids gobbled it up.
The flavors in here may be complex, but this chicken is a simple pleasure. Thank you Kim and Kim's mom!
Grilled Lemongrass Ginger Chicken
This is best eaten if marinated for at least a day, so get it into the refrigerator a day before you want to cook it. It can marinate for two days if needed.
2 stalks lemongrass
2-inch piece fresh ginger (about 3 tablespoons finely minced)
5 garlic cloves, finely minced
1 jalapeno or Serrano pepper, finely minced
4 tablespoon palm sugar (or use brown sugar)
3 tablespoon fish sauce
2 tablespoon soy sauce
2 tablespoon canola oil
2 tablespoon rice vinegar
8 meaty chicken thighs, with skin on and bone in (about 3 1/2 pounds)
If you haven't used lemongrass before, this is what you do for this recipe: Peel outer layer of lemongrass. Cut off top third of stalk, then cut off root end of stalk; discard. Thinly slice rest of stalk crosswise, and then finely mince it. It should smell lemony!
Peel and finely mince the ginger and garlic. Finely minced the pepper (if you like a milder flavor, begin by slicing pepper in half and removing seeds before mincing). I have done all this mincing of ginger, garlic and pepper by hand, or the short way in my mini food processor. Suit yourself.
In a small bowl or measuring cup, stir together lemongrass, ginger, garlic, pepper, sugar, fish sauce, soy sauce, oil and rice vinegar.
Trim any big globs of fat off chicken (leaving skin on), and place chicken in large zipper-top plastic bag. Pour marinade into the bag and massage the chicken and the marinade together with your fingers. Zip the top, squeezing air out, and marinate in refrigerator for at least 1-2 days.
When ready to cook, heat grill, remove chicken from marinade (discard marinade) and grill chicken over low heat for about 15-20 minutes. Serve immediately.
Serves 8.
Source: Adapted from RusticGardenBistro.com